Yesterday was Camberwell Art College Alumni Day, and I got to hear talks by a bunch of fabulous illustrators to the current Master's Degree Illustration students. So interesting! From left in the back row: tutor David Williams, Mark Oliver (who studied at the same time as me), Thomas Flintham, amazing course leader Janet Woolley, Will Morris, Howard Hardiman, and in the front row there's Mark Long and me. I had a brilliant time from 2005-2007 doing a part-time MA Illustration course with Jan. She was wonderfully supportive and it gave me a lot of confidence to bulldoze my way into the profession. I definitely recommend it for people who have been working in the field of illustration for awhile and want to hone their skills.




We all worked in slightly different ways and in different fields, so I think the students got a great overview. Here's Thomas Flintham, who remembers me giving a talk to his group at college in 2008. He talked about working so hard on this Marvellous Mazes book that he made his appendix burst, and got a big telling off from the doctors for it.





Ha ha, isn't this a great pop-up in Feel the Force? A bed of nails, excellent! But I don't think that little flat dude is feeling it, ha ha.




Mark Oliver talked about self-publishing his own comics and also working as a teacher. We're both keen on the idea of kids learning to make their own books, and see their project through from start to finish. So many kids we meet have no concept that there are real people who make these books, and they don't understand reproduction, I've even had kids think I draw every single book that's in the shops. So showing kids that they can make a book, photocopy it and have more books is a very important step for them.




Here are some books Mark made with kids, having them assemble photocopied collage material, then adding text and photocopying it again to make books. Such a simple idea, but the kids' results were remarkably bold and graphic.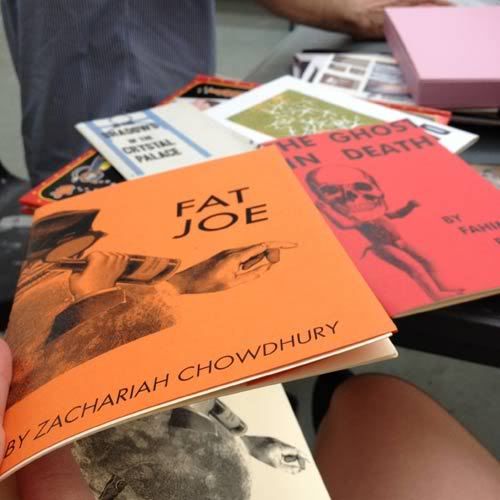 I'm a big fan of Will Morris's work, so I was thrilled when he took part in our NELSON comics anthology. Here he is, talking about his upcoming book, The Silver Darlings. You can get a peek at some of the pages over on the Blank Slate Books website.




Really looking forward to seeing this launch this summer; Will does some of the loveliest drawings I know of right now.




When we met up with the students after our our individual presentations, I got to have a look at Will's sketchbook. Here's his sketch for a comic page layout:




I was also very pleased to hear again from Mark Long, who I'd met briefly at his degree show, when I raved about his screen-printed book Selected Football Chants on my blog back in 2009.




Such lovely work, I'm sure you'll be seeing a lot more of Mark. And I bet he could do a great football-themed comics making workshop. In the group of students, it was lovely to see a couple familiar faces: John Riordan and John Cei Douglas, both very talented chappies. This photo makes me laugh, the students look rather grim.




Howard Hardiman only graduated last year, but he gave some excellent insights into how he went about self-publishing his comics for adults. I was intrigued that he found Indigogo much more useful way of raising money to self-publish something in the UK than US-based Kickstarter, which is also quite popular.

When my literary agent, Jodie Marsh, heard I was coming to Camberwell, she sent me a few tweets to share with the group:




I was looking on the walls at the students drawings, and spotted this little figure on a big poster labelled What is your project? (Sounds great, good luck, Tim!)




After our talks, we headed next door to the South London Gallery and had cake. Thanks, so much, Janet Woolley for inviting us all! I owe Jan a lot, for looking after me at college and being such a source of inspiration. She's a fabulous teacher and an amazing person.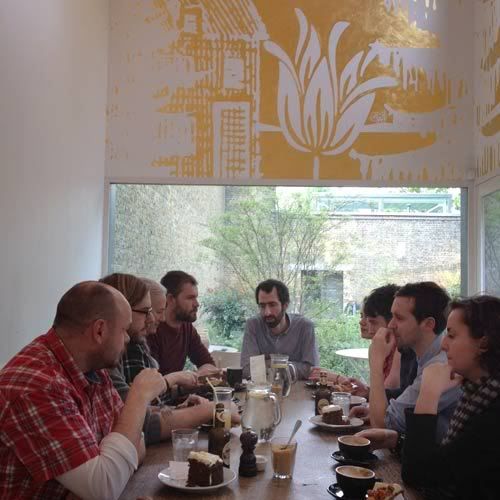 Just to finish, I thought I'd give you a peek at some of the conversation on Twitter before I went into art college. If you're already on Twitter, this will look terribly redundant, but I know not everyone uses it. This morning's chat mostly revolved around illustrator wardrobe malfunctions at events...




If you're not on Twitter, consider signing up; it's free and you can keep tabs on and connect with some of your favourite illustrators and writers! I sometimes post photos there first, but I try always to post them on my blog here, since this place is where I keep my memories when they won't stay inside my head.