Her Maj arrived with her faithful lady-in-waiting, my studio mate Ms
Deadly Knitshade
. (Who doesn't do much waiting around, more like a heck of a lot of knitting.) Look, here she's paying a visit to my desk and meeting Vern and me! You, too, can knit such marvels if you get a copy of the fabulous book that is
Stitch London
.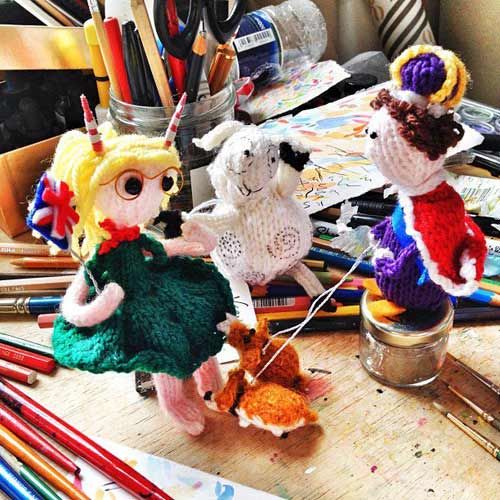 I probably shouldn't say this, but I think a corgis did a widdle on one of my pencils. In the afternoon, Deadly (aka
Lauren O'Farrell
) and I walked over to a nearby warehouse to take measurements for the phonebox she's cosying for the
BT Artbox
project.
She'll have to work fast or the whole project might go a bit wonky...
Come visit my comics friend and me as we hold court at at the
Hay Festival tomorrow
! Hopefully see you there!
(Read a
review of Stitch London here
!)
Happy Jubilee weekend, everyone! Yesterday the Queen herself came to our studio. Hurrah! Here she is, just before her visit, with the corgis at the London Overground Palace.