If you follow my blog, you might have noticed that I'd been at the Hay Festival in Wales last weekend to do a comic event for adults. Well, I went back! This time it was all about mucking in with the kids. And nothing goes down better than a storming pirate session. My big new hat is working even better than I could have hoped.




We had some great pirate drawings come out of the session. Everyone drew Captain Waffle from You Can't Scare a Princess! with me, then everyone did a freestyle pirate. Check out this girl Alice's! Her name is Beauty Bibble Bops and the front of her pirate dress reads, Here Be Toilet Roll. She does not say ARRR like Waffle, rather, Hmph. Most excellent!




I had way too much fun swanning about the festival in over-the-top outfits. Radio presenter James Naughtie (pronounced 'nockety', people, not naughty) told me I looked 'magnificent', which pleased me to no end and gave me a good excuse to nab him for a quick photo. When I first moved to Britain and didn't know anyone, I learned a lot of what I know about the country from BBC Radio 4, so I've heard a lot from this Jim chappie.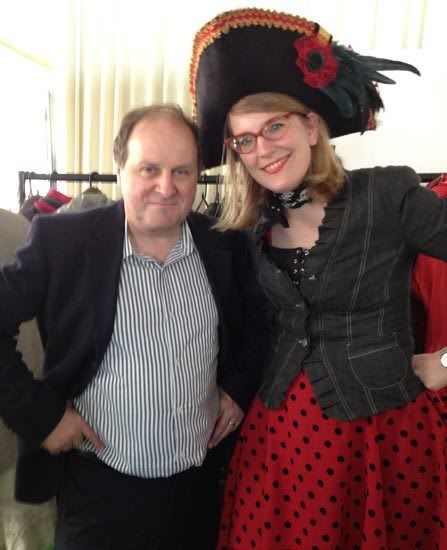 Oh, and look, there is Horrible Histories' lead illustrator Martin Brown, and why is he about to fall off the stage? This I do not know, because I was busy drawing a giant comic at the time and only saw it later in the photo.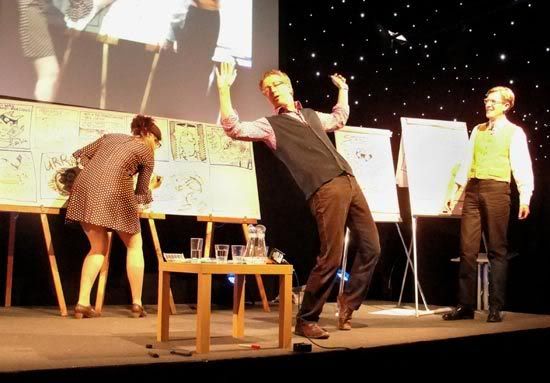 For our joint event, Martin, Philip Reeve and I introduced ourselves with silly drawings, took suggestions from the audience, then started to build up characters, based on their suggestions, into a story. And gosh, does it take some lightning-fast drawing reflexes to whip together a three-way comic in front of a huge group of onlookers! Fortunately the crowd was amazingly friendly and helpful and didn't mind that we were bashing out pictures and words at the kind of speed that didn't let us draw the way we would for our own books. And the ideas were flying thick and fast, and it was terribly silly, and it was LOADS OF FUN. Here's our final comic strip!




Funnily enough, Philip drew just as fast as Martin and me, but somehow his work managed to look weirdly polished. Which amused us to no end, and it was hard to focus on my own drawing when I kept wanting to watch the other two!





Yup, you'd never believe this panel was drawn in, like, two minutes. And by the one of us who claims not to be an illustrator anymore. Whatever. Philip also used to draw for Horrible Histories, which must be an awfully good training ground. And funnily enough, the guy I did an event with the previous weekend at Hay, Rob Davis, also draws those books! There's a bit of a theme going on there.




A brown-haired kid in the audience had the idea of drawing a cheetah with wings, so I took on that character. Martin took the zombie suggestion, and Philip drew a space dog. And since kids were involved, there's no surprises that the story started on the toilet.




With a zombie creeping up the toilet pipe! Oh my, Martin has drawn the zombie with a cheetah poo on its head.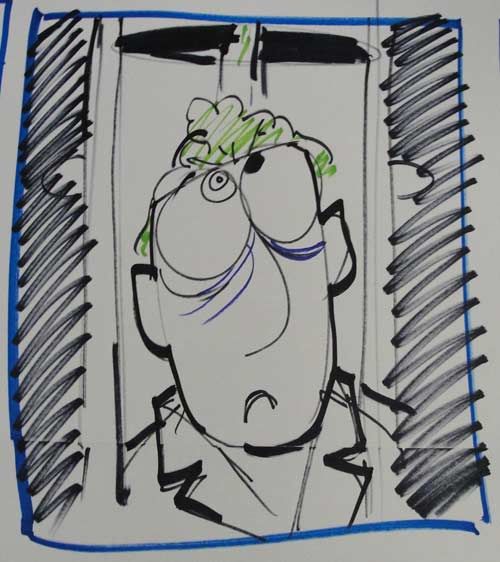 We did a lot of 'helping' each other. Here I am, drawing a nice floral pattern on Martin's Roman helmet.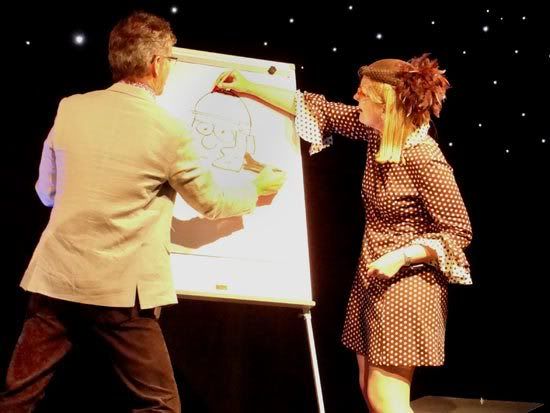 The story got awfully exciting. And time was pressing... would we finish it?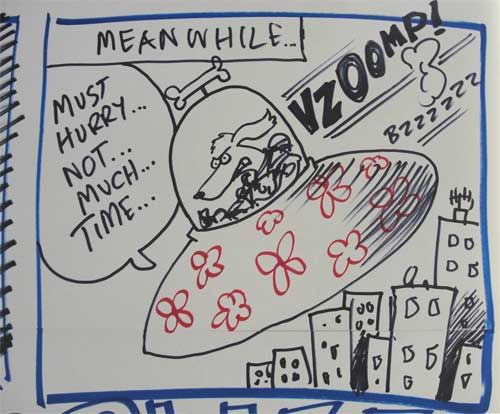 And somehow, we did! Just in the nick of time!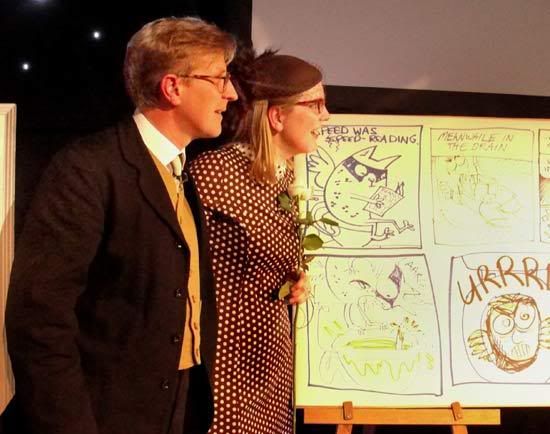 Of course, our story couldn't have a nice, sweet ending, oh no. The audience was baying for blood, and our winged cheetah got RIPPED IN HALF.




Then we retired to the Green Room and affected an air of civility. Here's Philip with our fabulous event host, Paul Blezard, who really made the event come together with his remarkable crowd-working skills. He knew just what to do, in the moments when Philip, Martin and I all had our backs to the audience, to keep the momentum going. Thanks so much, Paul! Here, he and Philip are having a moment, having spotted that they both have suits made by the same Norfolk tailor. Bravo, chaps.




And here's Martin with one of Britain's all-time favourite writers, Dame Jacqueline Wilson. I know a lot of kids who don't really read, but who can't get enough of Jacqueline's books. They're great, I think my favourite of hers that I've read it The Illustrated Mum.




And I got to meet one of my favourite writers! A real fan-girl moment. Here's Chimamanda Ngozi Adichie, and I absolutely love her novels Purple Hibiscus, Half of a Yellow Sun and her collection of short stories, The Thing Around Your Neck. She notices the most interesting things, and there's something about the way she straddles two cultures that really resonates with me, even if her cultures are Nigerian and British, and mine are British and American. I came to her book, Purple Hibiscus after doing a bit of a study on Chinua Achebe's African classic, Things Fall Apart, and hers was such a great follow-up to that story. I'd really recommend starting like that if you haven't read her work yet, although each book works well on its own.




Now what is this contraption that Philip and Sam Reeve are trying out in the Green Room?




This, dear friends, is a BRATAPULT. And what is a bratapult, you ask? Why, it's a contraption for hurling pesky goblins, of course, and it features at the start of a certain new book by Philip Reeve. (My, does he look camp here, even without Mr Blezard.)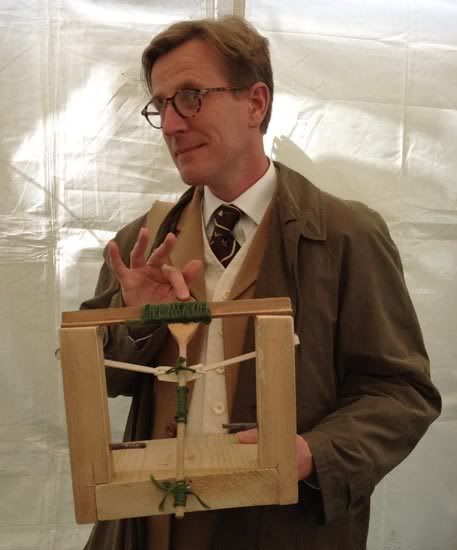 I stitched a little goblin for said hurling purposes before the festival, but since Philip lives on Dartmoor, we weren't able to test it on the Bratapult and my goblin turned out to be too large and heavy. Not to worry, Philip had a smaller back-up goblin. So my goblin spent much of the festival riding guest-house tractors instead.




The first thing you'll notice about the GOBLINS book is that it is very GREEN. And as luck would have it, I spotted this fabulous hat in a vintage shop a couple weeks before the festival. So I had to try it out on journalist Simon Jenkins. He was mildly bemused.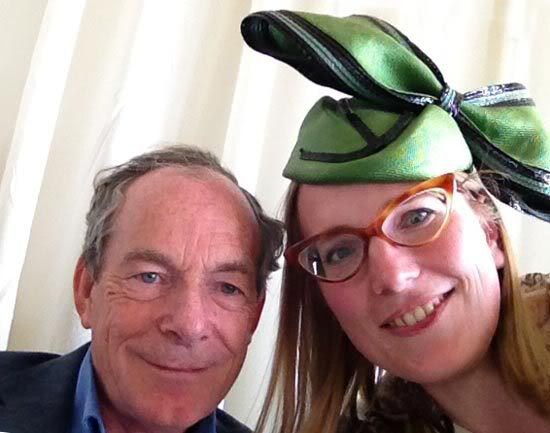 So I interviewed Philip about Goblins and he drew a big map of the goblins' land, Clovenstone (which, he mentioned, was a name he saw written on a bus in Edinburgh on the same day I met him for the first time). We started out by having volunteers fire goblins from the bratapult at the map of Clovenstone, and Philip would explain the place where their goblin hit. But the bratapult's aim was hard to calibrate, and eventually we turned it around and fired it into the audience, so whoever it hit could decide which area Philip would explain next.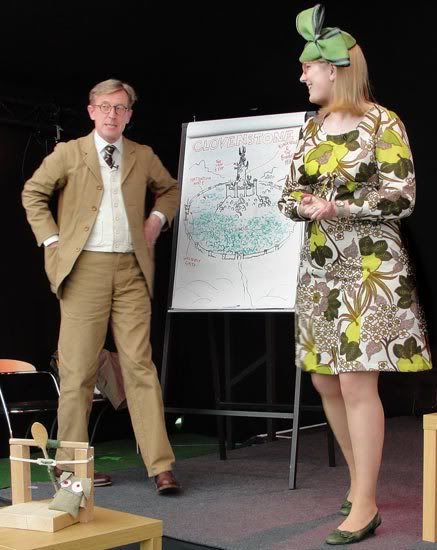 I did a drawing of the main character, Skarper, that looked a bit like this: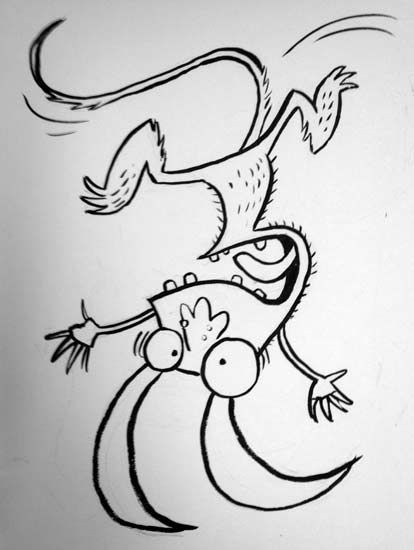 Right at the end, we talked about the first of four books we'll be working on together, Oliver and the Seawigs. He's reading a bit from the work-in-progress manuscript and I'm drawing Iris the mermaid.




If you haven't read Goblins yet, get out there quick and get a copy! It's not just for kids, adults will love this book; there's loads of funny and clever things hidden in there at lots of different levels. Oh, and there's also an addictive GOBLINS bratapult game, which you can play free over on Swapit Gamezone.




And then it was time for the whole Reeve family to wear the Goblins Hat: Sarah, Sam and Philip. Don't they look smashing?





After our event, we drew on Korky Paul's wall:




And at this point, the sun had actually decided to show its face. Whoa! Until then, we'd had solid rain and cold, and the car park looked like chocolate brownie mix.




Fortunately we came prepared! I'd ruined a pair of dress shoes at my comics event the week before, so this time I brought WELLIES.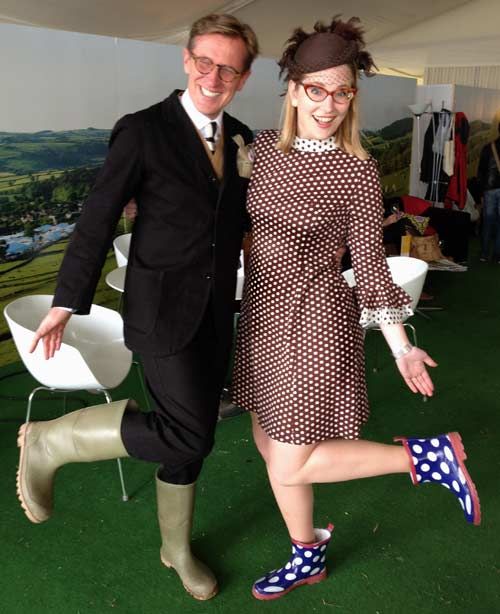 Here's Martin Brown with Lisa Edwards (@Redwoods1 on Twitter) from our publisher, Scholastic UK, showing another pair of fine wellies. Just the thing for a tipping-it-down Diamond Jubilee.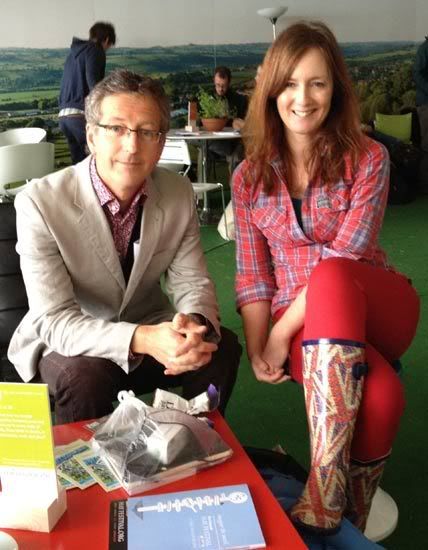 One of my recent discoveries has been the Agatha Parrot books by Kjartan Poskitt (who wrote Murderous Maths books that Philip illustrated. And it's pronounced 'JAR-ten'). And the other great find is Kjartan himself, whose events can make me ill with laughing.




Here's a scribbly review I wrote of the latest book, Agatha Parrot and the Mushroom Boy. The guy really has an ear for the way girls talk, it's uncanny. (Having four daughters has been good training.) Kjartan is pure fabulousness.




Hay was full of funny moments of running into people who are very famous and not having any clue who they are. I started chatting to this fellow named Julian Clary, and when he left, found everyone around me busting a gut laughing. Anyway. He's written a book about Noël Coward, Briefs Encountered, and he was slightly disturbed to find the cover featured some girl on the front, not Coward, but that won't stop it from being a good read.




And it was great to see the dazzling Moira Young, Costa Award winner for post-apocalyptic YA novel Blood Red Road. (Here's Martin Chilton's Telegraph review of it.) Here's Moira with her architect husband, Paul: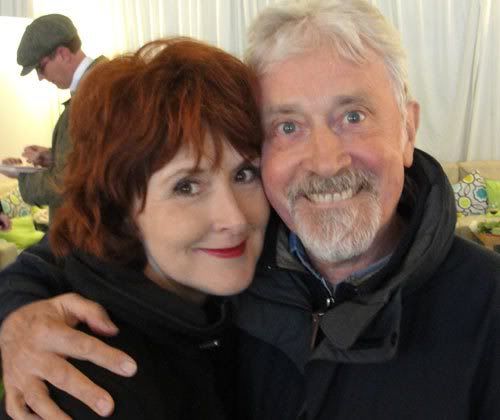 This year was the Hay Festival's 25th anniversary, and they threw a party at Baskerville Hall Hotel:




I was so glad Stuart, Moira and Paul came because the place was, well, downright creepy. In a good way. Kind of. ...I wouldn't want to be stuck alone there during a storm.




And we still felt a bit odd until we teamed up with Guardian women's editor Jane Martinson and her partner, and suddenly being freaked out turned into a sport and we had fun running all over the place, exploring and being a bit silly. You'd never guess that Moira used to be an opera singer.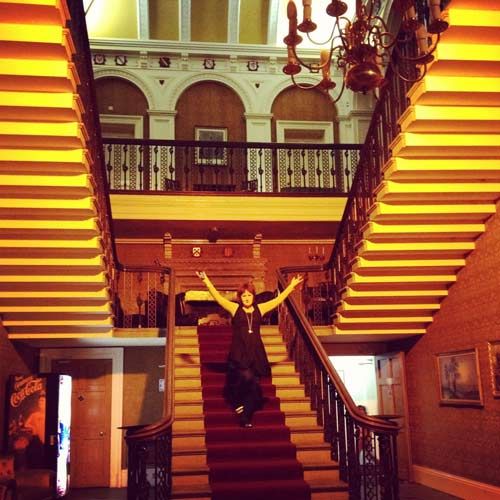 There were quite a few jaw-dropping moments. Like watching writer and historian Simon Schama and actor Lisa Dwan go crazy on the (carpeted) dance floor.




On a somewhat more sedate evening, Scholastic took us out for a lovely dinner with Martin, Philip, Moira and Roahl Dahl Funny Prize winner, writer-illustrator Liz Pichon.




Sam was quite star-struck by Liz, he loves her Tom Gates books. She'd even painted her characters on her fingernails!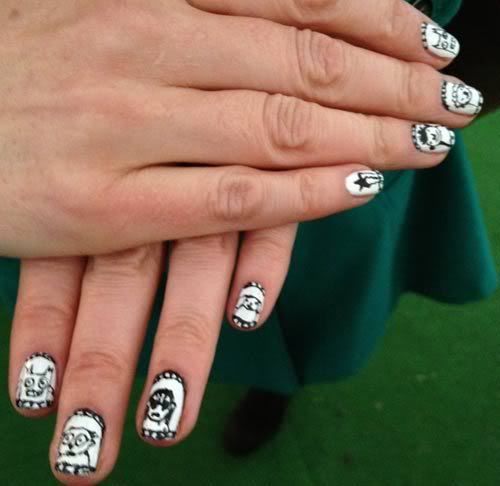 So at dinner, Sam hid his emotion behind cool space-age eyewear.




More Green Room fun... here's the fab Philippa Perry, psychotherapist and writer of a comic called Couch Fiction and of a new book called How to Stay Sane. She liked this photos because it shows us clutching the Green Room pillows like they're a duvet, to stay warm.




Here's Guy Bass (who's a marvellous funny writer) with his partner, Ruth:




And Stuart and I got to meet writer-illustrator Paul Howard for the first time:




Here's Jasmine Richards (or 'JD Sharpe') with her new book, Oliver Twisted. Warning: contains LOTS OF GORE.




Here's Telegraph writer Martin Chilton (@MartinChilton on Twitter), modeling my fine pirate hat while Philip collects his cava. You can read Martin's Top Ten Highlights of the festival over on the Telegraph website. I think my highlight was drawing the giant comic with Martin and Philip and the moment when everyone in the audience did a simultaneous zombie impression.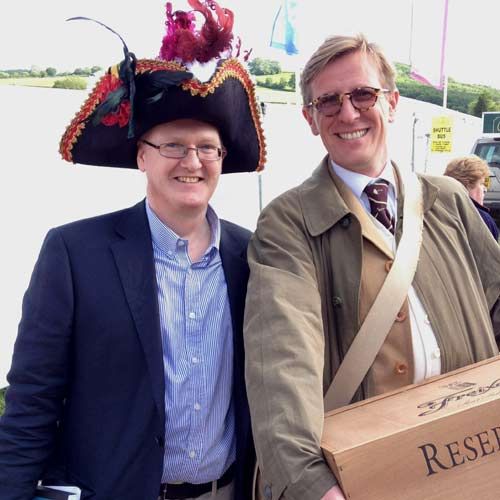 And a lovely welly dispensing CAKE POPS at the Telegraph garden party. Yum!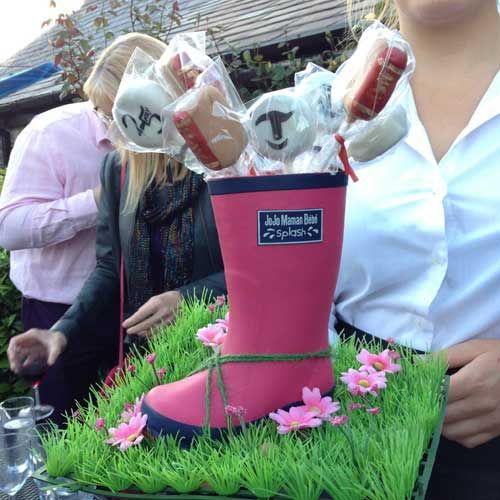 A Green Room portrait: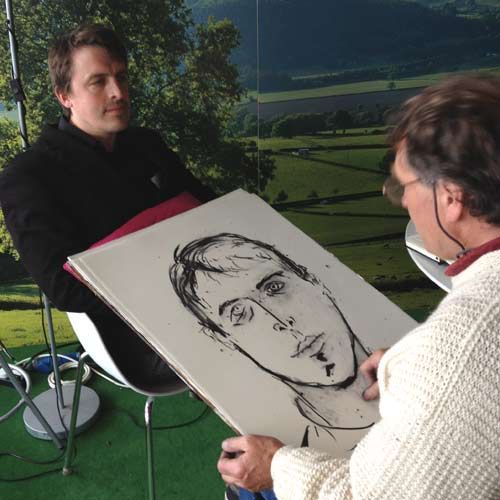 Another photo of Chimamanda Ngozi Adichie, 'cos she looked so fabulous: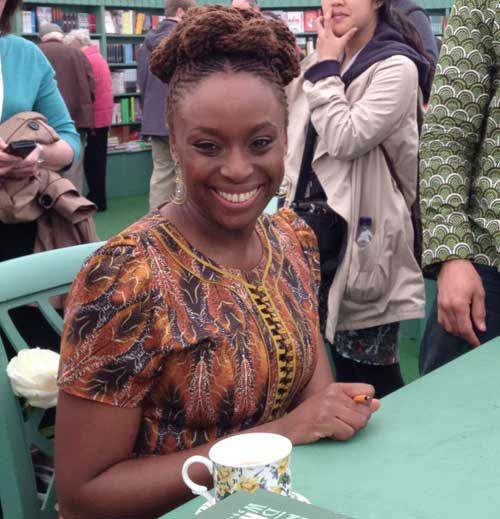 A huge thank you to organiser Sophie Lording (@sophielording on Twitter) for all the hard work she'd put into planning Hay Fever, the families part of the festival. You can read some blog posts by the festival's various creators over on the Hay Fever Blog. And thanks to the Telegraph sponsors and the whole team, who pulled off the complicated logistics of running a big festival and made the visit run so smoothly and be so much fun.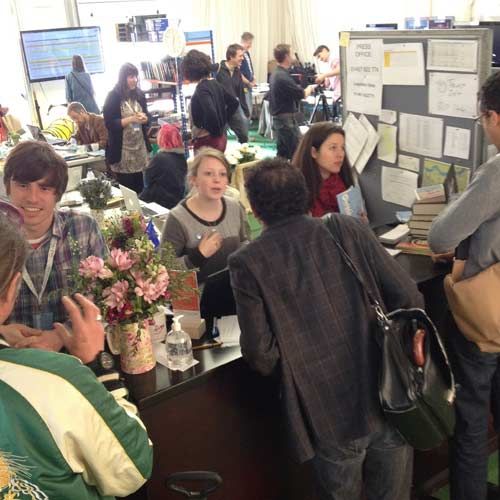 Special thanks to the drivers, who had us buzzing back and forth to the various rail stations.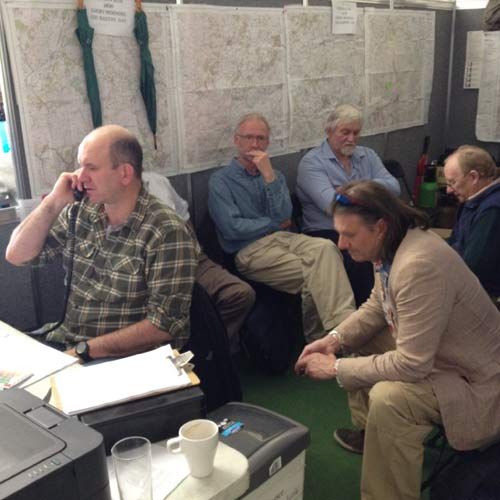 Now, I just have to put in a word about the place I stayed... wow, did I get lucky! It's a beautiful Georgian B&B called Sycamore House, right in the centre of town, on Broad Street, across from the Three Tuns pub.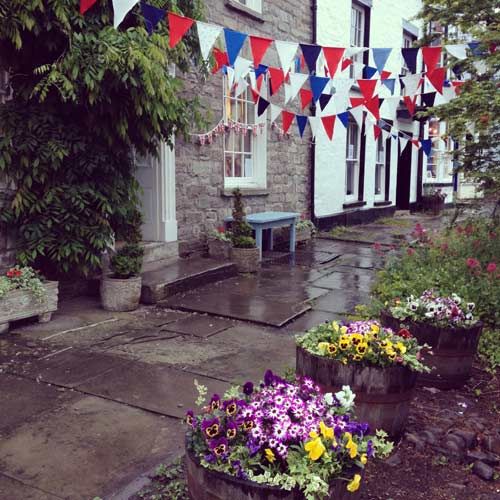 It's run by wonderful John and Susie, who looked after us so well.




John bakes his own bread and the breakfast toast is amazing. We spent a lot of time bonding with the toaster. ...and with the Queen, who appeared in a portrait above it. But what is this? I mentioned the Queen portrait on Twitter, and the next day, there was a DIFFERENT Queen portrait in its place!




The house is full of paintings by Susie's daughter, Louise Dear.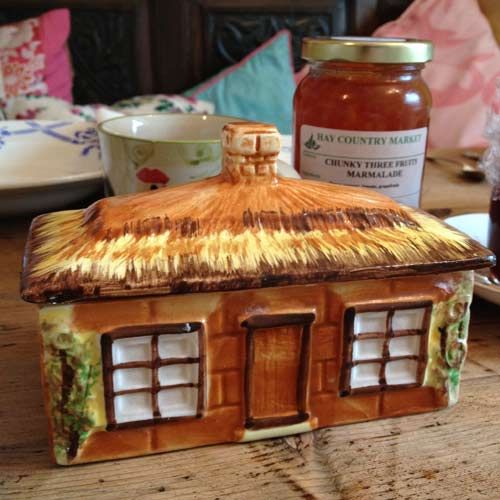 The lounge was always occupied by several elderly residents, but they didn't talk much.




Here's the lovely garden out back, where Susie and John had a tea garden running on the sunny day. That's the tent where they stay during the festival, so they can let out all the rooms.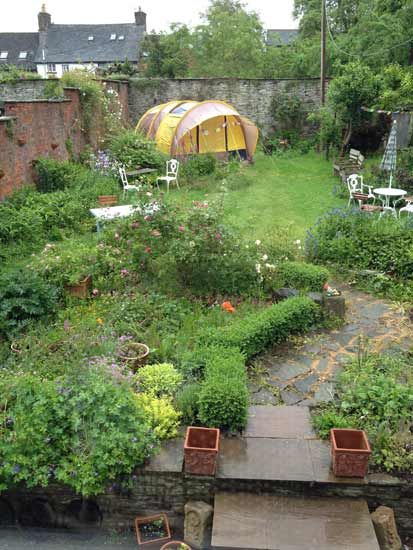 Do think about staying at Sycamore House if you're ever in Hay-on-Wye, it's a lovely place to visit. Here are some of the old almhouses you see on the way over to the festival: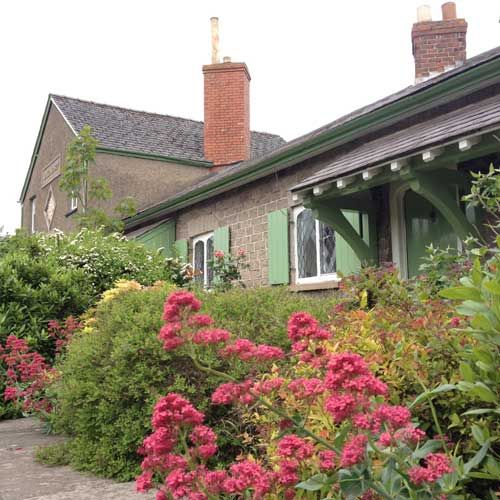 And that was that! On the way home on the train, I saw evidence that Stuart had been paying attention during my pirate gig... look, it's Captain Waffle in the pages of his Economist. ARRR!