I had to draw this when I saw this fascinating photo of the two models for the famous painting
posted on Retronaut
:
The woman looks much more glam than she does in the painting,
American Gothic
by Grant Wood. Same tight mouth, though. The man looks exactly the same. I posted it on Facebook and my friend Alice wrote, 'I'll bet he never dared wear dungarees again'.
My dad's been sort of obsessed with this painting; he thought it summed up a certain American-style, salt-of-the-earth religious correctness but complete joylessness, and he was always doing his impression of it at dinner parties. I went to see the original painting in Chicago when I was sixteen. I was supposed to be looking at universities there, but I went to one and instantly disliked it, so I skived off and went to the art museum instead.
Here's the joyless picture I drew for my new Facebook profile photo. (Don't worry, you're not really missing anything over there.)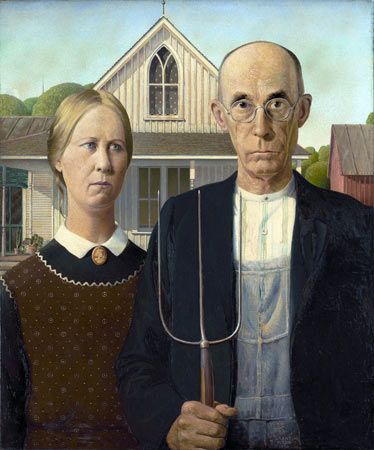 And my sister just posted this song of the day:
Vern and Lettuce took a road trip to America and found it wasn't quite as rock 'n' roll as they thought it would be.