Children's Book Circle
always run very helpful London events about publishing, and last night, I took part in a panel at the Penguin Books headquarters about authors and the Internet. We had a great line-up: two people I know - ace blogger and book reviewer
Liz de Jager
(
@LizUK
on Twitter) and one of my Random House publicists,
Clare Hall-Craggs
(
@lovesswimming
, on the right) - and one I hadn't met, writer
Justin Somper
(
@JustinSomper
).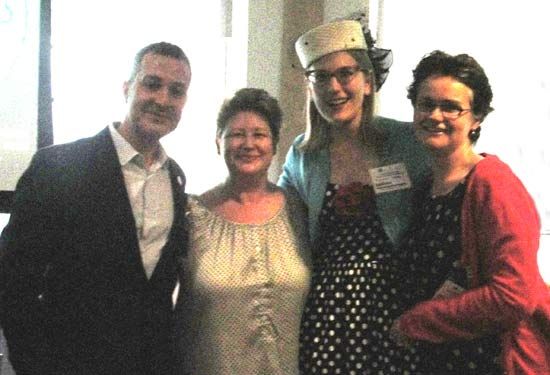 And excitingly, someone has already blogged the event, fellow
SCBWI
member and LiveJournalist
Caroline Hooten
(
@carolinehooten
). So read
Caroline's great notes here
! Funnily enough, Liz has also been active on LiveJournal, and the three of us had a little nerd-fest after the talks about why we still love LJ.
I was fascinated talking to these two guys,
PJ Norman
and Justin, who run their own 'author training and coaching' business called
Author Profile
(
@authorprofile
). Justin and PJ work with people like me who want to learn how to do better events, or hone their marketing and internet networking skills. Which is FABULOUS, usually no one tells you how to do this stuff when you first get published.
I was lucky, my studio mate
Gary Northfield
came along with me to
one of my very first events
and showed me how to do it, and the success of it made me braver about doing more events.
Emma Vieceli
also gave a bunch of us
an impromptu workshop
at a festival on how to do a comics event, which was incredibly valuable. But I remember at one of my first events, someone asking me, 'So what are you going to do for your show?" and me thinking, WHAT? MY
SHOW??!
Often writers and illustrators are very shy and inarticulate, and we're good at writing and drawing because those are the only way we're able to communicate. So it can be quite a shock to find out suddenly that people don't just want us to read from our books, or say a few words about our work, but they want a whole theatrical performance.
Photo by Heather Kilgour - thanks, Heather!
Funnily enough, I really enjoy doing stage events. But if you'd asked me ten or fifteen years ago, I would have laughed in total disbelief. I remember when I was about ten years old, auditioning for a role in
The Jungle Book
at Issaquah Village Theatre, near Seattle. I managed to sing my way through
The Sun Will Come Out Tomorrow
, but when I started to recite my poem (
My Shadow
), I freaked out, burst out crying and ran off the stage. (Gosh, the memory is SO VIVID.) In school plays, I never got even a minor part. I remember auditioning for the part of Mole in
The Wind in the Willows
, not having considered that Mole is usually a male role. But Mole was the only one I thought I could portray, because he's a bit shy and bumbling. My best friend Adam got the part, and I tried not to be jealous.
...Possibly one of the shaping forces behind the anarchist moles in
Vern and Lettuce
?
After that, I was convinced that I'd never be able to do anything on stage, and I had so little confidence about myself in front of people. But when I became an illustrator, it was the first thing I'd done where I really felt I could be good at it, and that I was interested in it enough to know quite a lot about it. And even where I wasn't very skilled at some aspect of it, I could see that if I worked to be better, I could improve. And blogging really helped with that; I was able to set challenges for myself - learn how to draw comics, learn how to draw landscapes, learn how to look better on stage - and the almost-daily online updates kept me accountable to myself, I could track my own progress, and get feedback from like-minded people.
So that's partly what I talked about at the event - growing and developing personally and professionally through blogging - and it was great to hear how Justin's providing an opportunity for other people to get training. If you're interested in working with
Author Profile
, you can either hire them individually, or publishers or organisations can hire them to work with groups of authors. I haven't gone through one of their courses, but from what they say, it sounds like they could be incredibly helpful.
Thanks to Liz, Clare, Justin, Children's Book Circle (
@ChildBookCircle
), organiser Ruthie Knowles (
@ruthiemknowles
) and Penguin for taking part and hosting a lovely evening! Keep an eye on
CBC's website
for future events.
The