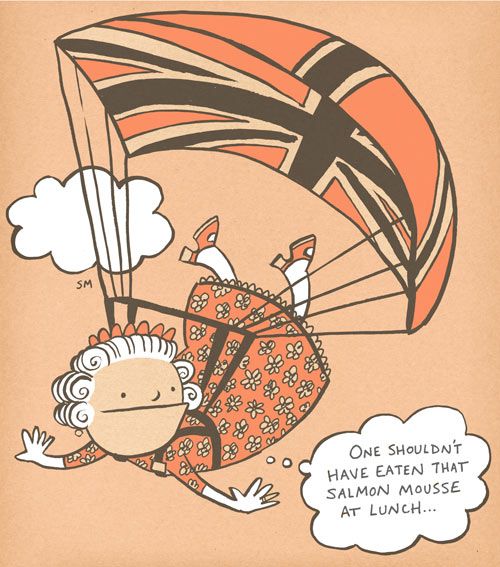 So did everyone watch the Olympic Opening Ceremony the other night? When I first saw the fields of hobbit-y, happy farmers, I thought, uh, oh. Like my writer friend Candy Gourlay said in an article on Rappler, she thought it might be painfully twee (definition of 'twee' for non-Brits). But then it all kicked off, and there were huge industrial smoke stacks, and Kenneth Branagh reciting Caliban's lines from The Tempest, Mr Bean's brilliantly stupid musical number, hundreds of Mary Poppinses, beautiful bicycle-driven giant doves... it got more and more exciting and, well, I was hugely taken with the whole thing. It had cheesy moments, but they didn't stop it from being an absolutely amazing spectacle. I bet it will spark off countless cartoons, but here's another great one of the Queen's parachute jump with Mr Bond, by Alex Paterson: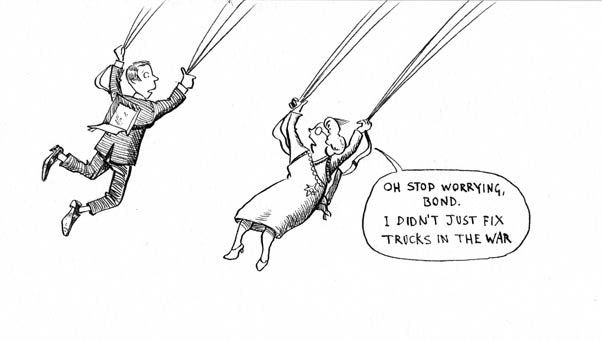 Lots going on around here this summer! Are you going to Caption Comics Festival? It's in Oxford on the weekend of 18-19 August, and it's a wonderful place to meet comic creators and find out more about comics. It's one of the very first comics events I ever went to and where I decided that small press comics are definitely something I'm very interested in. Here's a comic I made about Caption my first year, and if you follow this tag, you can see my reports from years past. And I've designed the t-shirt this year! Go ahead and buy one, whether you're going or not. But I hope you can come!




And to back up that small press interest, here's a comic to which I've recently contributed six colour pages. My copy of ink+PAPER, Issue 2 just arrived this morning! It's looking FABULOUS. You can order a copy here! Be sure to browse the lovely website created by its editor, David O'Connell.




So while I certainly wouldn't call myself a sportswoman in any way, I've had my own little role in the Olympics this week, with StoryCloud over at the Discover Children's Story Centre in Stratford. And I got called into give an interview about it on the Breakfast Show on the Olympics site with BBC London radio, how exciting! I'd stayed up very late watching the Opening Ceremony, so the early morning start was a bit hard-going. But I was surprised by how many sport fans were already on the rail station platform, and how wildly jubilant they all were. It all got incredibly silly. At 7 IN THE MORNING.





I met up with Racheal Brasier from Discover, and we stopped to admire the new Olympic Park:




The BBC radio hut was just off to the right.




And here's our presenting team, the lovely Joanne Wood and Simon Lederman.




And the presenting crew, who were all very friendly! That's Racheal there with the laptop, to show off the StoryCloud story library (which you can read, free, online here!).




Here's the broadcaster, Stevan Bennett, who asked me to sign him a copy of Vern and Lettuce, lots of animals running around in a parallel-universe London.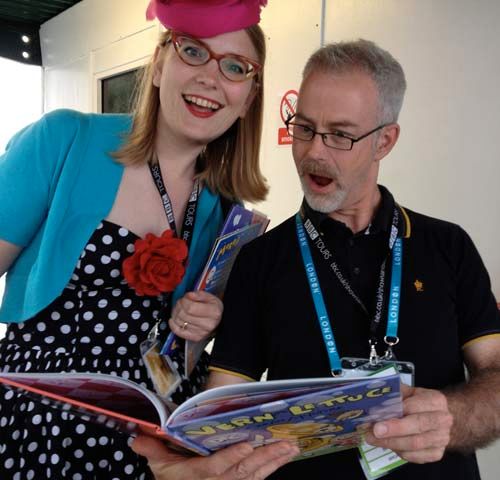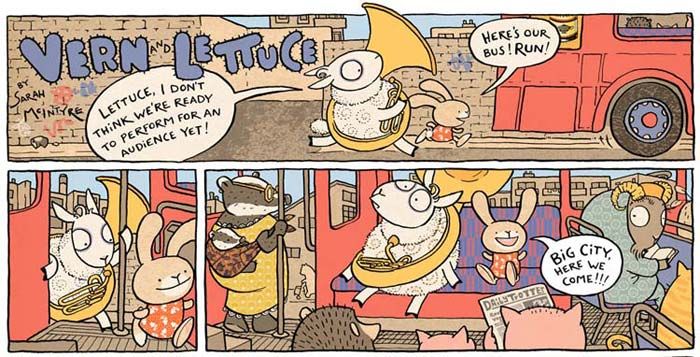 Gosh, Stratford is really buzzing!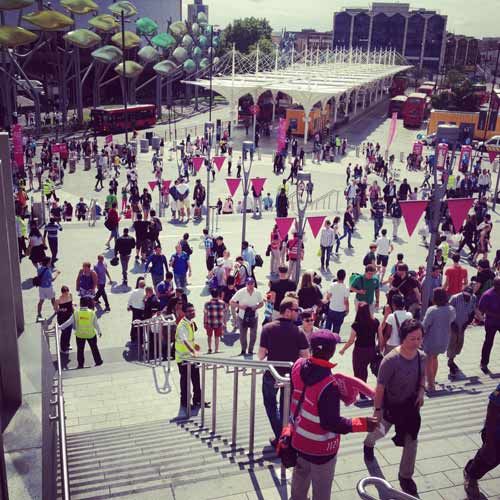 I like how the Olympics have hired people with the sole job description of standing around pointing at things.




Inside the shopping area, there's a big portrait of the young Queen in jelly beans. Very clever.




I've been cycling up and down the Thames, just to see what's going on. Here's a peek at a modified Greenwich, all set for the games. Check out these new walkways over the road by the Royal Naval College:




And the deer park fencing appear to have gone viral! Getting into the National Maritime Museum is like going through Checkpoint Charlie, complete with soldiers.




This foot tunnel used to be the only way to cross the Thames around Greenwich without a boat:




But now you can soar high over the river by cable car! I MUST try this, my studio mates Gary and Lauren have both gone on it and say it's fabulous.




Such beautiful construction, I love it.




And a last parting summery shot of one of London's fine beaches. We're a city well known for our beaches, oh yes.