I knew writer and illustrator Shaun Tan was going to be in London this summer, over from Australia, so I was pleased as punch when IBBY Conference organiser Ann Lazim asked me if I'd introduce Shaun before his talk. (IBBY stands for International Board on Books for Young People and it's a big global organisation dedicated to rooting out the best children's books from all over the planet and making sure they can find their way into kids' hands.)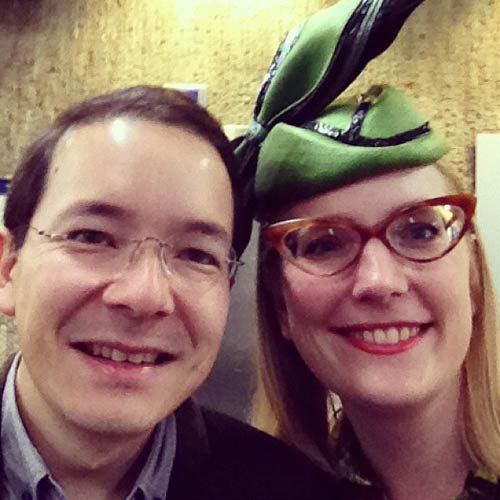 I knew all the delegates would be more than aware of who Shaun is, so I thought I needed to do something a little different than just list his awards and stuff. The night before the conference, I made a short picture book-thing out of book packaging material. The conference theme was 'Crossing Boundaries: Translations and Migrations', so I picked out some of the made-up foreign language from Shaun's book The Arrival.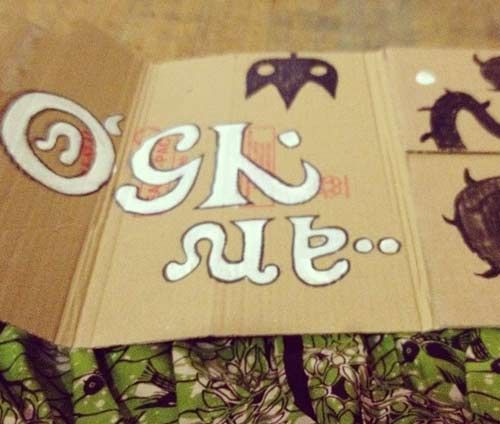 It's a perfect book for that theme because it puts you, the viewer, into the position of being a new immigrant to the country Shaun's created. You don't understand the language, the customs, the food, and as you explore, recurring images begin to present themselves as new symbols to you: a strange white tadpole creature on legs, paper birds, cryptic runes.




I talked my way through the booklet, opening its flaps, then at the end, unwrapped a little box with a paper bird in it, and... ha ha, launched it into the audience. This delegate caught it! Actually, mine didn't look much like a bird, more like an airplane.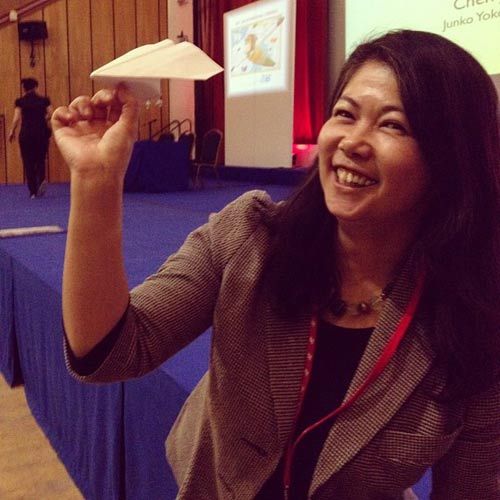 So the lady made some clever little modifications and showed me at the end. Yay!




Here's Shaun talking about his book The Lost Thing. He described this scene: "like when you walk into a cocktail party and don't know anyone".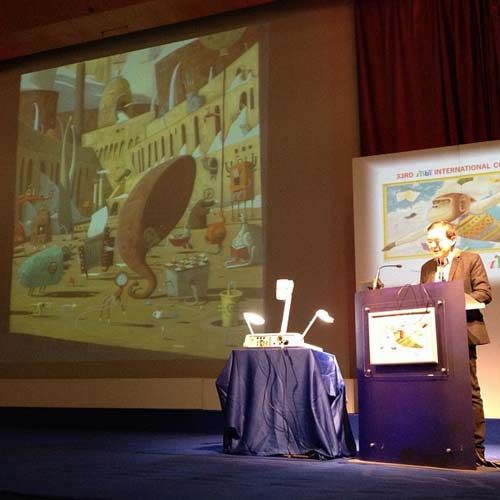 If for some bizarre reason you haven't read any of Shaun's books yet, get yourself down to your local bookshop or library and start now.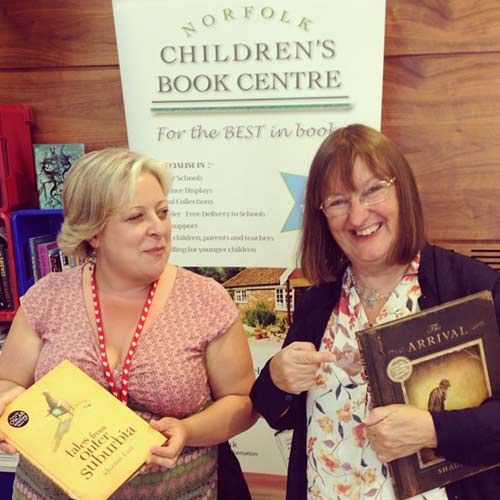 A big cheer to Ann Lazim and the team who made the IBBY Conference happen! It was no easy feat, pulling it off at the same time as the Olympics and Paralympics, but they did a great job.




I took a peek at Candy Gourlay's notes from Shaun's talk. Candy's a writer (and author of Tall Story) but she started out as a cartoonist and journalist in the Philippines, and she's working her way back into illustration. You can see more photos from the IBBY Conference on Candy's blog here.




Whenever I used to run into The Gruffalo's Axel Sheffler, he looked a bit scared of me, so now we always grab photos of us looking more and more terrified.




So... bank holiday weekend almost over, event number two! Shaun Tan and Quentin Blake in conversation at Comica Festival! It was great to see one of the pillars of British illustration talking with Shaun, who's only lately become a household name, and who grew up reading books with Quentin's illustrations, including the Roald Dahl books (being quite disturbed by The Twits).




Here's the fabulous Comica Festival team, who are bringing comics to a wider audience: Paul Gravett, Megan Donnolley and Peter Stanbury. (Lovely shirt, Megan!)




The event was a sell-out, and we all packed into the St Alban's centre, a fancy modern extension tacked on next to the old church wall, the same place we heard the talk by Craig Thompson.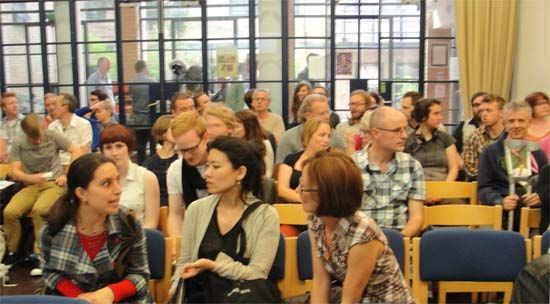 Shaun and Quentin both have huge respect for each other's work, partly because their pictures are so entirely different to each other's. Shaun's are heavily built up, 'sedimentary' he called them. He doesn't like starting with white paper, he first creates a base of collage and paint splatterings before adding layers of acrylic, then oil paint. Whereas Quentin does a scribble in pencil, then uses a light box to redraw the picture very quickly and simply in ink onto the white paper. ('Not tracing', he adds, 'drawing the picture again, as though it were the first drawing'.) He then paints with watercolour, which allows a lot of the white of the paper still to show through. Shaun recommended Quentin's book Words and Pictures for understanding his view of illustration, and you can read essays by Shaun here on his website.




We all had a great time at the end watching Shaun and Quentin draw subjects given to them by the audience. Here's 'gluttony of sausages'.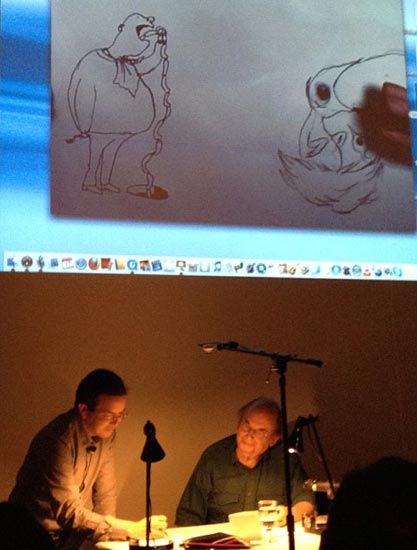 I didn't have the greatest vantage point, but here you can get a gist of them drawing 'Disguise':



Shaun briefly mentioned the project he's working on now, about an older brother and a younger brother, with a younger brother who's always doing things wrong. Based on his own relationship with his brother. Really look forward to seeing this one!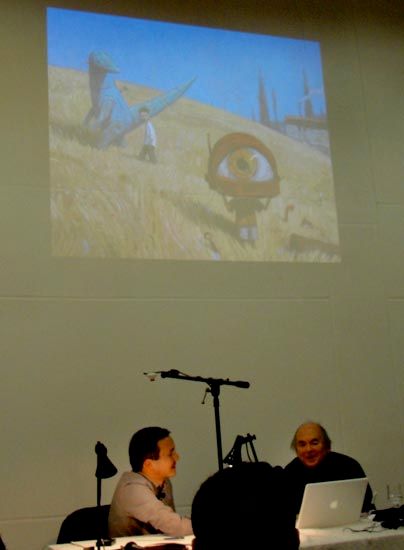 I've always been aware of Quentin's work. Reading Roald Dahl books was possibly the first time I ever read a book and thought, a person drew these pictures. I didn't really think about it before, I just assumed they came out of a machine or something. And funnily enough, I think it's because the pictures seemed very imperfect to me, a bit scribbly. Which made me look down on them slightly; I thought, I could do that. I remember reading through a paperback copy of George's Marvelous Medicine on a long car journey, carefully connecting all the lines that didn't meet up (how sloppy!), and colouring them in. It's only when I grew up, I think I really appreciated the liveliness and fun of Quentin's drawings, and appreciated his skill in making them. But I've always loved the Dahl books, and I think, even then, their pictures are a part of that.




I took some notes and made a couple sketches during the evening, but I couldn't see very well over the heads and I don't think the portraits are terribly good likenesses. Ah, well.




A few more shots from the evening:

I much prefer Joe Decie's sketches from the evening, which are more scribbly but better capture the two men. You can see the rest of the sketches over on Joe's Tumblr blog. (And check out his comics, they are brilliant!)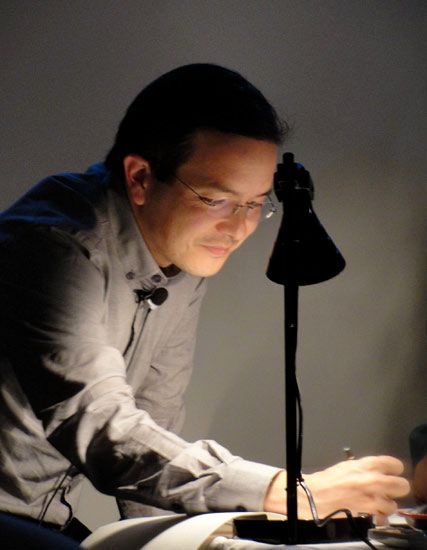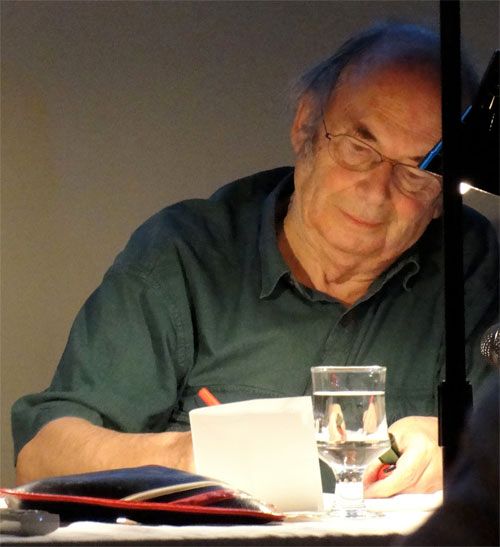 In the audience, writer and illustrator Layn Marlow:




A very happy Deadly Knitshade: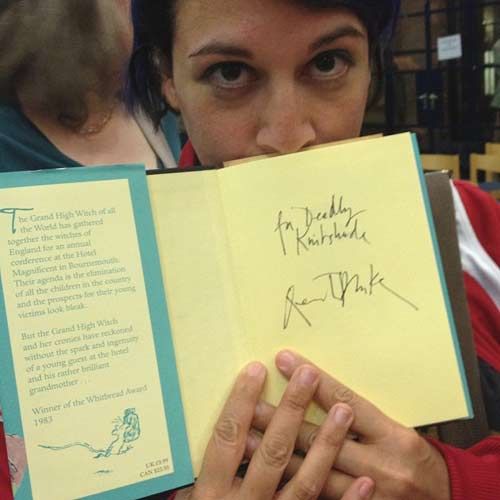 And writer illustrator Guy Parker-Rees: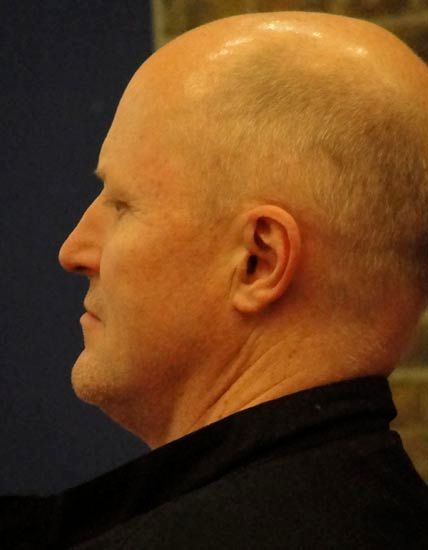 I hope Shaun enjoyed his visit to London. He said in his Comica talk, "I do a lot about journeys because I rarely have them. I'm a stay-at-home kinda guy." And he talked about the vast amount of time it takes to run a small business, and the onslaught of e-mails involved in doing events. Oh boy, do I know about that. But I'm awfully glad he took time out to make the journey - thanks, Shaun! - and I hope he now gets lots of time back home to get stuck into his work.