Some exciting things coming up! If you're anywhere near Dublin and Dun Laoghaire, I'm taking part in the amazing Mountains To Sea Festival from 4-9 Sept, do come along! There's a fab line-up, including Philip Reeve, Marcus Sedgwick, Steve Cole, Jeremy Strong, Chris Judge, Michelle Harrison, Steve Simpson, David Mackintosh, Robert Muchamore... and much more! Here's a You Can't Scare a Princess! poster I made for the big picnic on Sun, 9 Sept: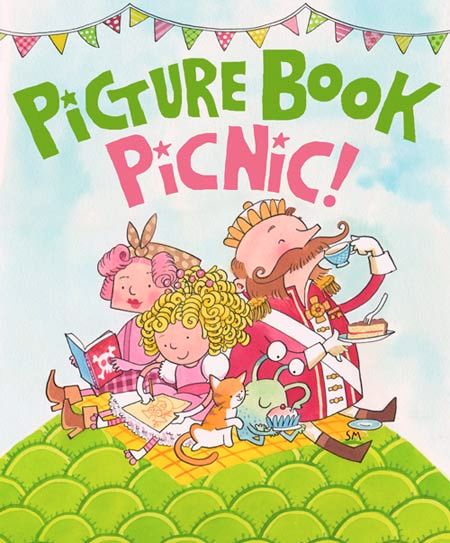 And there'll be an exhibition, too! If you're in the County Hall, look out for artwork in the Concourse. You can peek at some of my picture book artwork that no one's even seen before! Tom Donegan just sent a photo of one of my pictures in situ. Nice to see someone already admiring it...




I'm hugely excited to be doing a two-hour Monsters & Goblins event with Philip Reeve! We're going to go crazy with monster comics and goblin drawing, and get kids to make their own comics, too.




And here's something for the grown-ups, ideally people interested in making your own picture books: The Big Picture Panel Discussion with Chris Judge, Steve Simpson, David Mackintosh and me; Sun, 9 Sept, 1-2pm. Bring along your questions! ...Oo, just noticed that if you comment on the Inis Magazine website article about it, you could win some free tickets!




There'll also be a Monster Book Lunch and loads more, see the Mountains to Sea website for more details!

Back in London... are you a fan of Oliver Jeffers and David Almond? Well, book your tickets now - tel: 0843 290 8549 - to see them in action at Waterstone's Piccadilly, on Wed, 26 Sept, 6:30pm. I've read the book, The Boy Who Swam with Piranhas and it's super-fab.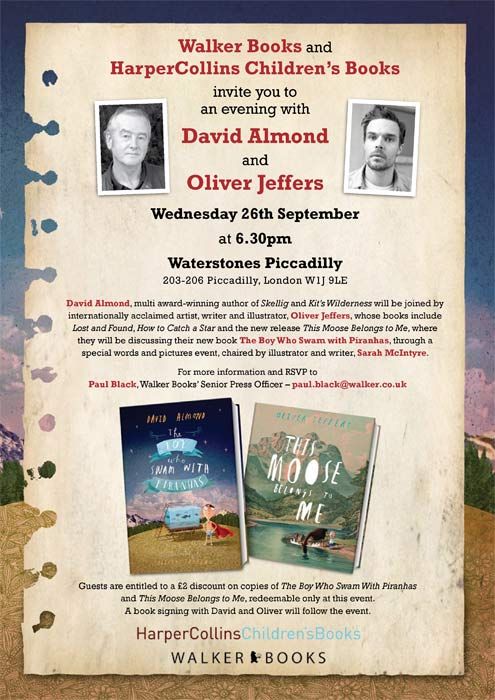 And there are a very few places left if you want to come along just on the Saturday, 15 Sept, to the Society of Authors CWIG conference. It's going to be amazing, loads of my storybook heroes present.