Candy Gourlay
at the holiday place she rents out,
Tide Cottage
.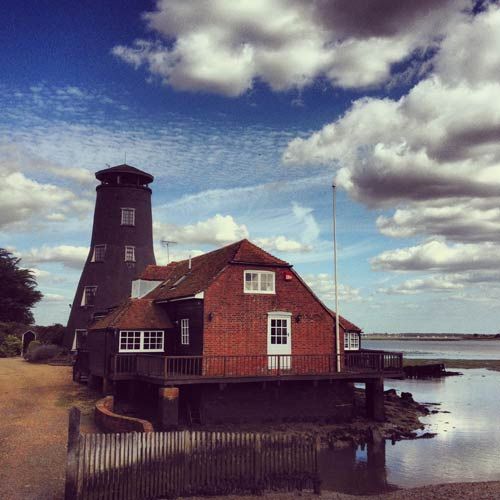 I love the sweeping views along the sea front between Emsworth and Langstone. And I was having fun with my phone camera. I love it that I can make pictures look like they were taken on an old box camera. I'm sure I'll get over this soon and start taking normal pictures again, but please put up with me for now.
Hey look, this wall must have been made out of concrete-filled sandbags, and then eventually the bags rotted away, leaving just the bricks. They also flop a bit like cookie dough.
When you get outside of London, you start seeing where all these great British printmakers get their inspiration. The plants on this coastal bluff look like
Angie Lewin
prints.
The clouds, the clouds! I wish they looked this dramatic in real life. Well, they almost did. Wow, filters are just SO MUCH FUN.
Oops, I think I took the filters a bit too far and plunged this pub photo back into the 1970's. You, too, can tastelessly corrupt your pictures by downloading
Instagram
to your camera phone.
Oh, the joy of making everything look like a scene in
Local Hero
.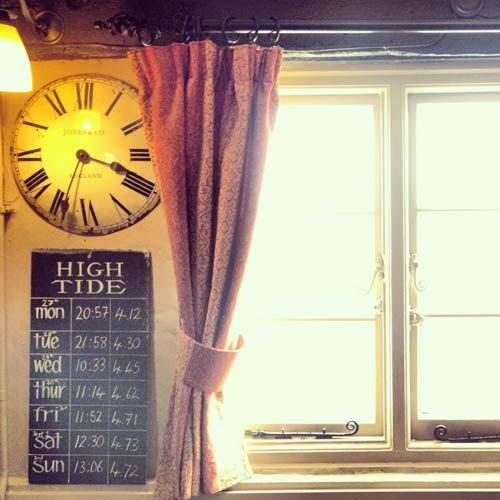 Here's my lovely host, Candy! This weekend, she and her husband, Richard, entertained a whole flock of us from the
Society of Children's Book Writers & Illustrators
.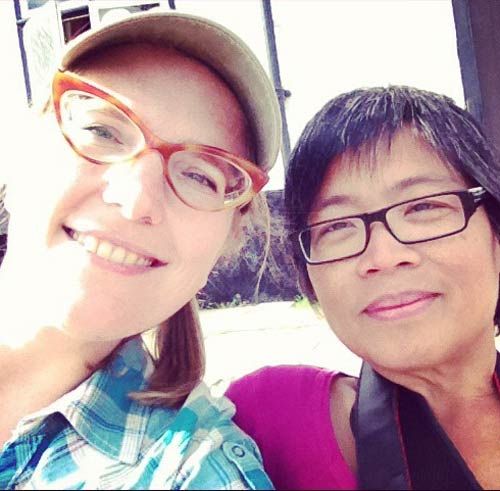 I see a lot of their names flitting about online, but it's great to meet these people and find out a bit more about them. Like writer
Kathy Evans
, who just happens to be an ace belly dancer and run an
industrial-scale fruit farm
! She brought these beautiful raspberries she'd grown herself. Her farm supplies Sainsbury's, but also Buckingham Palace, how cool is that. And she still gets time to write.
Writer
Juliet Clare Bell
brought along her picture book that's launching this week! It's
The Kite Princess
, illustrated by
Laura-Kate Chapman
, with an audio CD read by
Imelda Staunton
and published by
Barefoot Books
.
Clare's daughter treated us to an impromptu reading of
The Kite Princess
. (Juliet Clare goes by 'Clare' because she used to get teased in school for being a 'Juliet'.)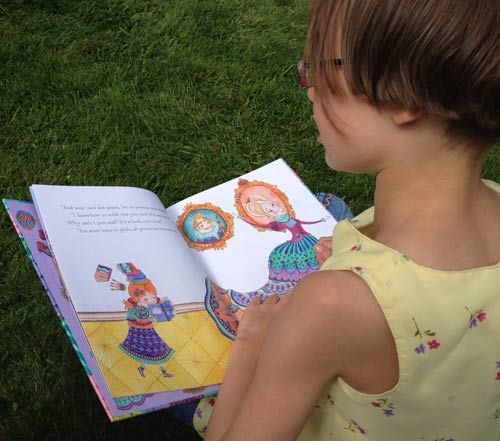 Anita Loughrey
brought along her picture books, too.
Four of 'em!
One for each season.
Here's
Fiona Dunbar
with her new Kitty Slade book,
Raven Hearts
, and Candy and Kathy being mega-impressed.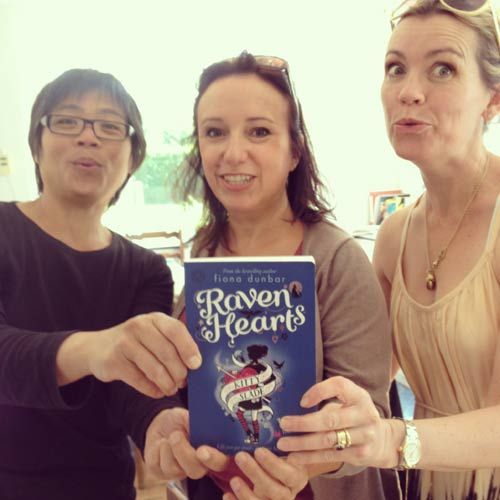 Here's the gang down on the sea front by the amazing mill house.
The be-hatted lady on the far left in the last shot is
Penelope Bush
, and when we were having lunch, I idly doodled her a cover for her new book with Piccadilly Press, about twins,
Me Myself Milly
. (But her real cover is much better.)
Okay, indulge me in a few more photos. Check out what happens if they go black and white!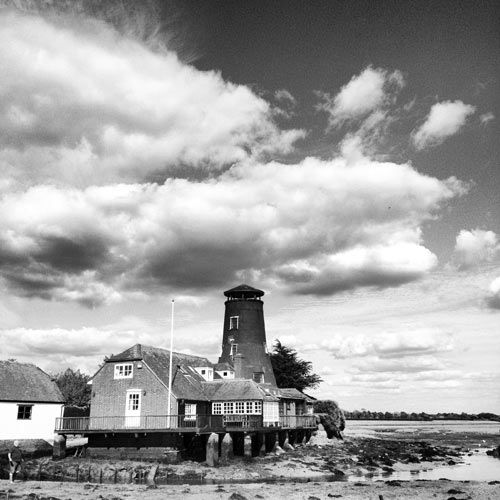 If I didn't have to do any repairs on it, and could take it with me wherever I went, I think this might be my dream house. I saw this place when I went to the south coast between Portsmouth and Chichester to visit my writer friend