Yesterday I met up for lunch with writer, illustrator, printmaker and painter Audrey Niffenegger and got to meet her younger sister, Jonelle, who was visiting from Chicago. Audrey's working on a ballet to run at the Royal Opera House next spring called Raven Girl, so on the way home, I doodled the three of us surrounded by feathered friends.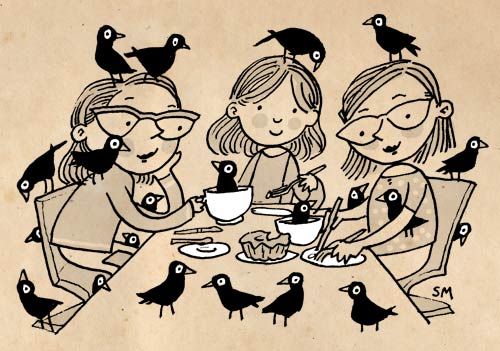 The ballet sounds fascinating, and Audrey's been collecting stuffed ravens to draw from, creating the overall look of the ballet, as well as writing it. I just spotted an online interview in which she talks about it:

It's called The Raven Girl — about a young girl whose parents are a raven and a postman. They have a really good relationship. It's a good family and all, except that their daughter looks like a girl but can't speak. She can only make sounds like a raven and inwardly feels that she really is a raven. So, she goes to a plastic surgeon to get turned into more of a raven-looking person, and it doesn't really work out that great. It's sort of meant to be a fairy tale of gender re-assignment. It just seems so applicable to me, because in fairy tales things are always changing. Not necessarily because they need to, but just because you say so, and I thought to myself, "Well, these days, we can really do that." I wanted to kind of bring the fairy tale full circle to the modern capabilities of transforming people.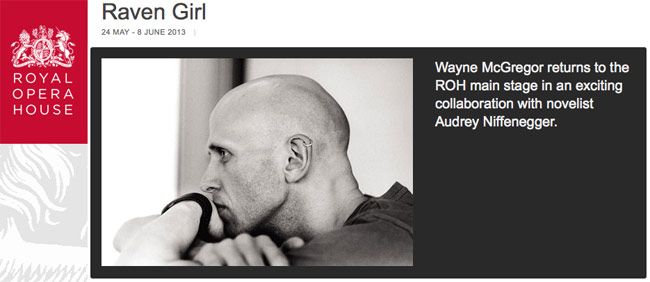 Audrey's been doing loads of etchings on raven themes, and listening to her always makes me want to go back to art college and do another degree in printmaking. Not a Master's degree (the college people expected me to know how all the equipment worked by then) but a Bachelor's, when I'd get training and loads of time to do projects and experiment with etching, lithography and screen printing. This isn't a print, but here's today's tribute morning sketch, based loosely on some of the stuff Audrey's been getting up to.




I first met Audrey at the Cheltenham Festival of Literature, and then got together with her through a mutual friend, writer Hayley Campbell (who's working super-hard right now on a book about Neil Gaiman). Last time we met up, we at at Ottolenghi and it was so good, I really wanted to go back again. Jonelle's good fun, I can see why Audrey likes travelling with her. (That's Jonelle in the centre.)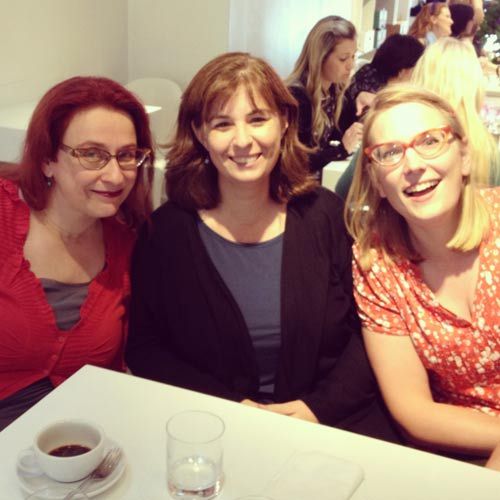 Mmm, check out these treats in the window! We were very good and all had salads, and only split one piece of cake.




...But these aren't just any salads at Ottolenghi, they are the kind of salads you would cross town for. So so so yummy. They publish a whole bunch of cookbooks, I really ought to get one.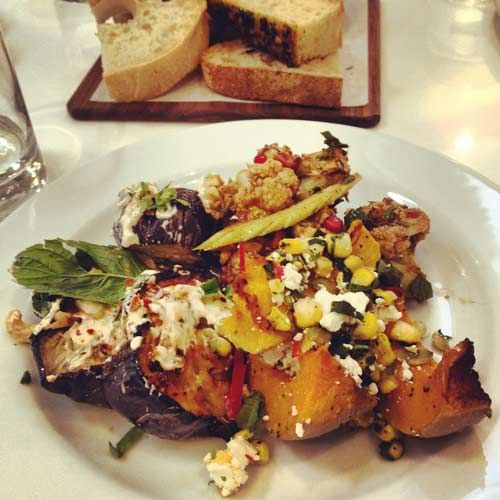 One more thing, I saw this video on Daniel Hahn's Facebook page. A happy library story, for a change: