Another peek at how I'm getting on with Oliver and the Seawigs... here's a new character: Iris the near-sighted mermaid! She thinks she's found a lovely prince or something, but actually, it's just a walrus. But at least he's polite about it. This is a work-in-progress inked version, I still need to add the blue tone.





Speaking of yummy, scrummy ink (I love ink!), here's some more ink, in an exhibition I just missed, the MA Sequential Design/Illustration show at Brighton University. And here's the super-distinguished Woodrow Phoenix, whom you might know from his contributions to The DFC (reincarnated as The Phoenix comic), Donny Digits and That's a Horse of Different Colour.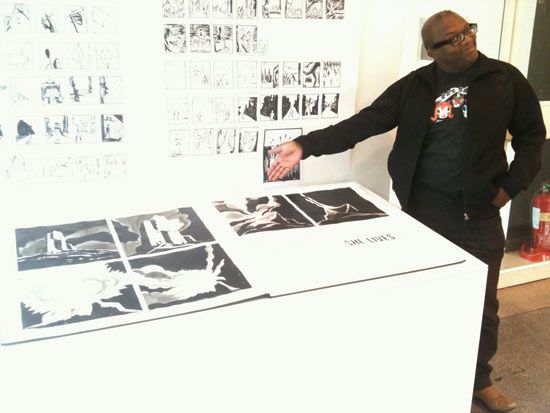 Photo from Tim Pilcher's blog

Woodrow's created a comic book that's nearly a metre square, two metres wide when it's open. When I saw this, it reminded me that I'd just been talking with someone about digital books, how so far, an e-book can't recreate the picture book experience a child has, of being wrapped up by the book. Think about when you were child-size, how an open picture book was almost as big as you were. Everywhere you looked was the world inside that picture book. And Woodrow has recreated this, for grown-ups, a book large enough to fill your whole field of vision. I found these photos over on Tom Pilcher's website, and you can click over to see a video of Woodrow turning the pages of his book. Note: Tim's comics website isn't generally child-friendly, but that particular post should be all right: link here.



Photo from Tim Pilcher's blog

The show also featured a paper theatre by Rory Walker, in a long tradition of cut paper theatres. (If you've ever been to Pollock's Toy Museum in London, you can see theatres of this kind from centuries past.) I love this kind of thing, it's not something small on a flat page, but something that wraps around you and sucks you right into the story world. (Oo, and Rory's made a lovely blog post with images of paper theatres and how he makes them!)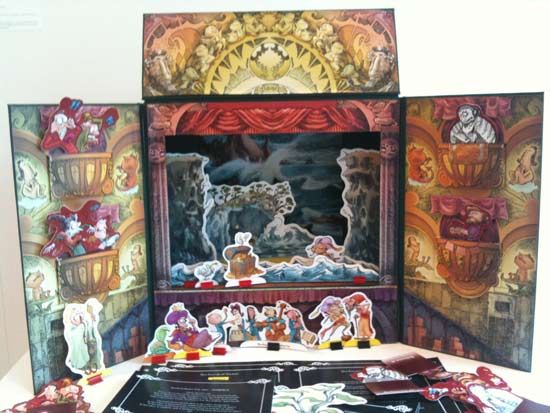 Photo from Tim Pilcher's blog

I think the feeling of being sucked into another world is something we can achieve through very good writing and the way our imaginations respond to that. It's why I wanted to work with Philip Reeve, who builds the most amazing worlds in his books, and he's built another, marvellous world for Oliver and the Seawigs. But it makes me think about ways I've tried to do that with images, too. Here's a version of the paper theatre I made to illustrate the line of a poem in a project I was doing with another artist in China, the London-Foshan letter project.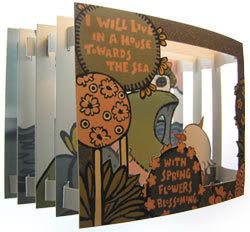 I had so much fun creating a picture that, if I got down to the right level and looked in, felt like I could step into it.




As a kid, I loved the opening to CS Lewis's The Voyage of the Dawn Treader, when Lucy, Edmund and Eustace are examining a painting of a ship, suddenly get splashed by a big wave, and get sucked into its ocean. Awesome. I remember reading in one of Lewis's books, about how he spent ages building a little garden out of moss, twigs and pebbles in the lid of a biscuit tin, and looking at it made him ache, very painfully, with its enchanted beauty. (Does anyone remember which book that was?)



Illustration by Pauline Baynes for The Voyage of the Dawn Treader

I tried to create something similar in this diorama I made with my neighbour friend. She made the cave out of playdough, and then we created a world to put it in. (More photos here, if you want a peek.)




I remember the same thing with expensive Easter eggs as a child, the ones with little scenes inside them. It's strange, how looking through a peephole into a miniature world can be so much more enchanting than looking at the larger world around us. Somehow it sharpens our focus. Perhaps the tiny scale makes us feel more in control, like gods or giants. And the artificiality allows everything to be perfectly placed, and reminds us of places we wish we could inhabit, but never seem to be as perfect when we're actually there. It's a sort of longing for a perfect world, or an exciting world, or a cosy world. One of my earliest memories of having this experience in a book was reading Ezra Jack Keats' The Trip. Keats is one of my all-time favourite illustrators and all his books are magic.




In The Trip, the little boy builds a world in a shoe box, then looks through the hole in its side at the fantasy world he's created. Whenever I read this, it always filled me with a sort of awe, and I immediately wanted to go away and make my own shoe box world. Even now, I still save boxes that are the right size, planning to do it whenever I get a bit of time.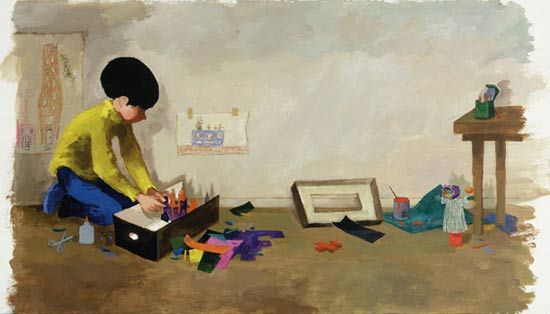 I just found this video of children talking with a librarian about the book, and it lets you get a closer peek at the book's pages.


Direct YouTube link


I've drawn up a quick-and-easy guide for starting off your MAGIC SHOEBOX WORLD, just like the one in The Trip. One place to get coloured cellophane: it's that clear, coloured shiny stuff that florists put around flower arrangements. People usually throw away this stuff, but hang on to it.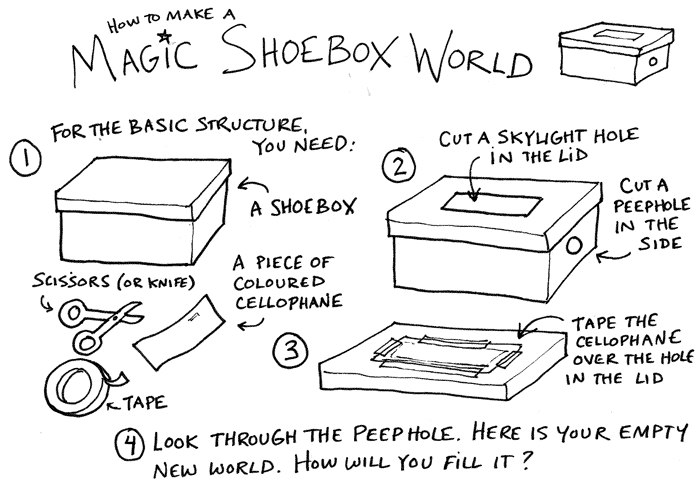 From The Trip by Ezra Jack Keats

Right, back to the studio and on to world building. In the last post, someone asked me about scanning artwork, so I'll try to answer that soon. ...If you do go away and build a shoebox world, can I have a peek?