Last night my graffiti-knitting studio mate Lauren O'Farrell and I put on our best fish faces and went along to the launch at Waterstone's Piccadilly of the new book by writer David Almond and illustrator Oliver Jeffers, The Boy Who Swam With Piranhas.




Here's the lovely cover artwork by Oliver, using paint and collage from a travel magazine and cut-up endpapers of an old book.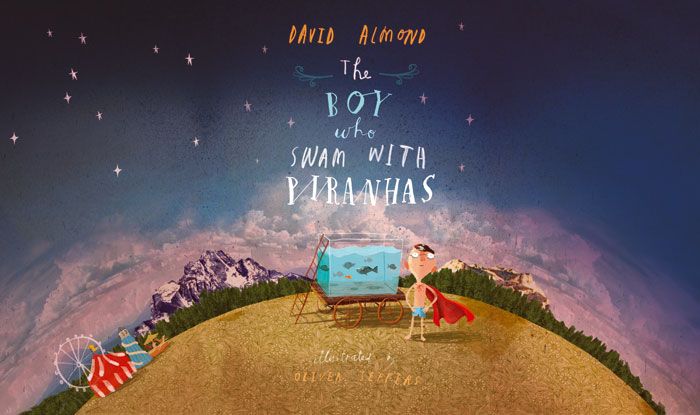 Paul Black from Walker Books and Mary Byrne from HarperCollins asked me to chair the event, and it was lovely seeing these guys, I'm big fans of their work. Lauren took this photo as my PA for the evening. (We take turns being each other's PA!) Oliver and David had only met each other for the first time that day.




It's always fascinating seeing people's early sketches for their books. Oliver let us see some of his ideas for the cover:





Actually, we were able to see the slideshow of artwork thanks to the hero of the evening, Alex Fitch, who gave up going to another event and stepped in with his iPad to let us run the slideshow off that when the Waterstone's laptop couldn't be found. Thank you, Alex! He recorded the event, and you'll be able to listen to excerpts from it on his bi-monthly book show, Book List, on Resonance FM. (You can listen to earlier episodes here.)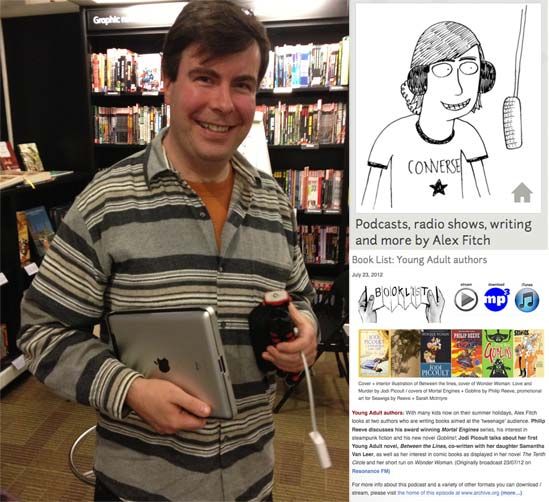 It seems that no one gets out of drawing when I chair an event. Oliver drew us a piranha:



Photo tweeted by Walker Books @BIGPictureBooks

And David drew one, too!



Photo on left tweeted by Walker Books @BIGPictureBooks

David read from The Boy Who Swam With Piranhas: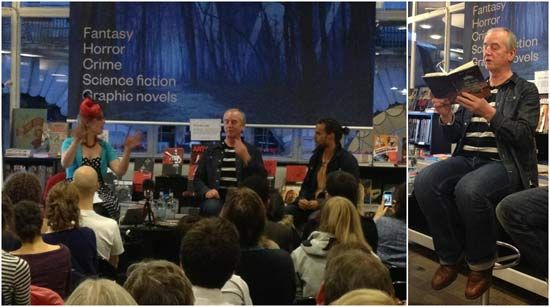 He's from Newcastle and lives in Northumberland, and I love listening to the Northern tones in his voice and the expression he gives to his reading. Here's a sample of him speaking about another book, but you can get the sense of it:



And here are a couple pages from his writing notebooks. Lots of lovely scrawl and doodles.




And a detail:




For Oliver, The Boy Who Swam With Piranhas is a slight departure from his usual way of working, bringing in more charcoal and grey tones. I love this scene of the story's hero, Stanley Potts, with his new employer (and surrogate dad), Dostoevsky.




Dostoevsky and his daughter, Nitasha, run a Hook-a-Duck stall in a travelling fairground.




The book starts out with Stan living with his aunt and uncle. His Uncle Ernie is a real entrepreneur; after the factory where he worked was shut down, he turned their house into a fish canning plant. Ernie didn't go to school anymore, but canned fish all day, every day, from 6am. Ernie's quite an abusive father figure because his fish always come before everything else. Aunt Anna gives Stan one day off work for his birthday (and has to threaten to go on strike to make Ernie let him go) and Stan wins and befriends some goldfish at the fairground down the road. But Ernie gets a wild idea that tinned goldfish will be the Next Big Thing and fries up Stan's goldfish before he's even out of bed the next morning. Gutting. Here's a sketch of that, and some final artwork of fish from the book: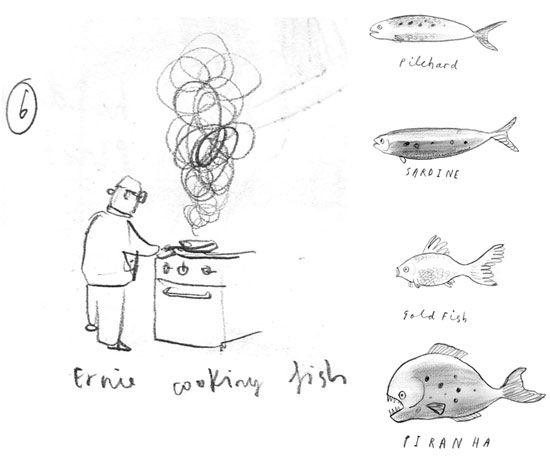 But even though Ernie's such a terrible dad, there's a stirring moment in the book when he and Stan lose themselves in the joy of running their canning machine. Here's Oliver's sketch and final drawing:




I commented that there were a lot of people in the book who could be construed as 'well dodgy', but who turn out to be a rather comforting part of the new community where Stanley finds himself. Kind of a nice antidote to our society where strangers are immediately seen as potentially harmful to children. Here's Stanley meeting the great Pancho Pirelli, with his entirely invented heroic history, who inspires Stan to think he can swim with piranhas, just like Pancho. (Will he? Will he SURVIVE?)




Oliver talked about about his studio in Brooklyn, where he keeps loads of old books, scraps and cuttings carefully filed away under different labels. (He even has a suitcase labelled 'Nothing'.) This video from the Seven Impossible Things Before Breakfast blog gives you a peek:



Oh, and go on, here's a trailer from the Lost and Found animation, adapted from Oliver's book by the amazing Studio AKA:



Besides this book, we also got to peek at Oliver's new picture book with HarperCollins, This Moose Belongs to Me.
I asked Oliver what the book was about and he laughed and replied, 'Communism'. Wilfred meets a moose, names the Moose Marcel and decides he owns the moose. They play and the moose follows most of the rules Wilfred sets for it. Here's a development sketch: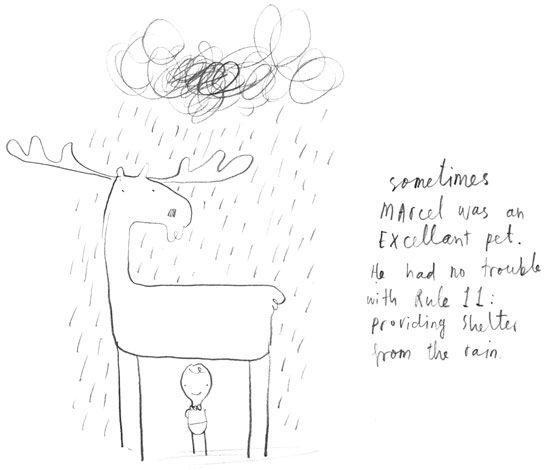 But when Marcel wanders off and Wilfred discovers him with an old lady who calls it Rodrigo, he is most perturbed. Another sketch:




Oliver doesn't lose his friend, but by the end of the story, realises that he can't own a friend, that a friend has to come willingly. Here's some artwork from the book:




Oliver compared it to Native Americans taking money for their land from Europeans and laughing at them, thinking they had been tricked, because, after all, who can own land? Jeffers explained how he painted his characters on top of older landscape paintings by other people. See how it works with this beautiful cover design: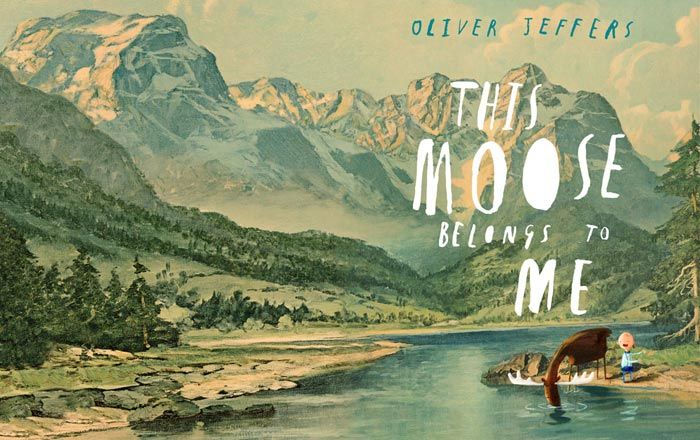 Oliver said he tracked down the original owners, some deceased, and got permission from the relevant people, either to paint directly on to the paintings or to transpose his separate paintings onto them in Photoshop. He grinned and said, 'It's like I'm collaborating with dead people'. Here are some happy fans at Waterstone's, displaying the special slipcover version that comes with a print:




And it was lovely meeting Oliver's brother. I think he said his name was Rory. They look very much like brothers.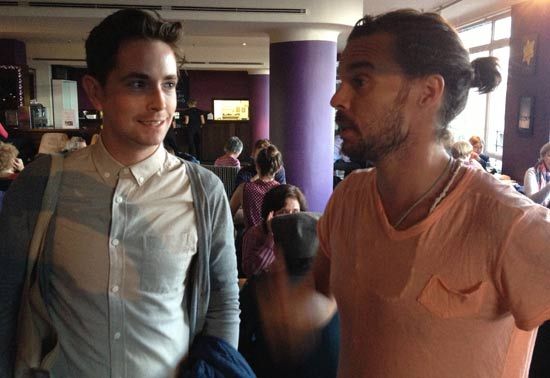 If you missed seeing Oliver this time, he's doing another event on Monday at Gosh! Comics on Berwick Street in Soho, where he'll be talking with Lisa Dwan about his new painting book, Neither Here Nor There. See more book images over on the Gosh! Events page.




And comics fans will also be pleased to hear that David Almond and Dave McKean are launching a new illustrated book/ graphic novel in May, called Mouse, Bird, Snake, Wolf:




Edit: And here it is! Alex's podcast, where you can listen to almost the entire event:




Thank you to Paul, Mary, Gary Deane and the team from Waterstone's, Walker Books and HarperCollins for setting up this event, and to Lauren and Alex for all your help. At the end of the talk, there was a massive signing queue, and I signed some books, too. Then I left...



...and Lauren and I made our way to the deep, dark cavern that is The Phoenix Artists Club for the launch of a comic collection by brothers Gary Pleece & Warren Pleece called The Great Unwashed. It's published by Escape Books, the same gang who run Comica Festival and the Comica Social Club: comics expert Paul Gravett, graphic designer Peter Stanbury and events coordinator Megan Donnolley. (But their jobs all overlap and they really do all three.)




Here's Lauren with comics dudes John Miers and Mike Medaglia. Do come along to the monthly Comica Social Club meetings, they're a great place to talk shop and hang out with other comics creators and comics readers.