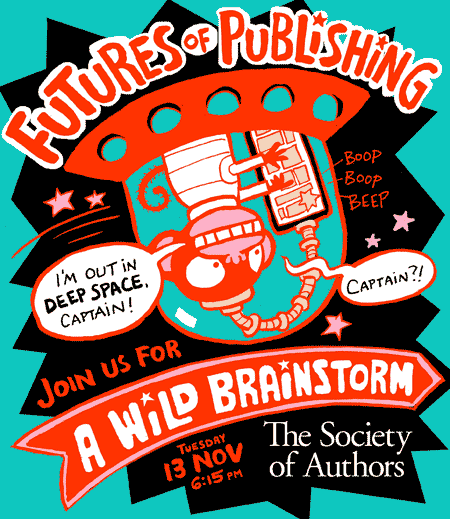 Recently I've been to several state-of-the-industry publishing talks, and they've all focused almost exclusively on eBooks and digital storytelling. At one talk, the speakers were saying it costs something like £50,000 to make a decent app. And during the coffee break, I kept hearing people glumly saying that it was all right for some publishers, but they just couldn't stump up that sort of money, and that they suspected no one will make any money from apps for awhile. I've talked with a lot of sorrowful writers who said they used to be able just to write good stories and make money, and they're feeling left behind. Basically, lots of people who are good at making stories are getting depressed because they can't see a way into this whole new world of books-that-aren't-books because they either don't have a vast amount of digital skills or their publishers aren't willing to invest much money in them. ...But what if eBooks and apps aren't the ONLY way forward? What ELSE might be happening? Does the book have a future only in eBooks or does it have many futures? And what might these be? Are there ways we can branch out into new territories? Let's think creatively, pool our experiences and discuss!

The Society of Authors CWIG committee asked me to come up with another event, and this is a follow up from the Futures for Comics brainstorming I've been doing online (see idea No1, idea No2 and idea No3). But this panel discussion/audience conversation will cover all sorts of different kinds of storytelling for children, not just comics.

These SoA events always sell out, so book this one super-quick!




With Gary Northfield, Nana Li, Jamie Smart and Alex Milway; chaired by Sarah McIntyre

Everyone's talking about eBooks, but what other exciting things are happening in publishing for children: in print, digital media and beyond? What could we make happen? Might books have not just one future but many futures? Join us in looking forward toward new possibilities in storytelling and marketing our work. Bring your ideas!

TUESDAY, 13 NOVEMBER, 6.15 - 7.45pm at the Society of Authors, 84 Drayton Gardens, London SW10 9SB (Nearest tube stations: Gloucester Road, South Kensington) More details on the Society of Authors website.

Some of the authors may bring a few copies of their books to sell on the night, so bring some money if you're keen to get something signed.

Tickets are £10 members, £15 guests (including VAT and refreshments).
To reserve a place, please email Neha Matkar: nmatkar@societyofauthors.org. Cheques should be made payable to the Society of Authors and posted to 84 Drayton Gardens, London, SW10 9SB. Please ensure that you write the event ID 408 on the reverse of the cheque. Alternatively you can telephone 0207 373 6642 to pay by debit/credit card.

And here's our discussion team! (Mentally slot yourself in with these, since we want your ideas, too).

Gary Northfield Both Gary and Jamie Smart played a big part in the media discussion (Sky News, Al Jazeera, The Sun) following The Dandy comic's switch to digital format. With a printmaking background and a long history of small press and self publishing work, Gary's comics have appeared regularly in The Beano, The Dandy, National Geographic Kids Magazine and the Horrible Histories magazine. His book Derek the Sheep featured in Booktrust's Booked Up reading scheme and he writes and draws a weekly strip in The Phoenix comic called Gary's Garden. His latest graphic novel for children, TEENYTINYSAURS, launches with Walker Books this spring.





Jamie Smart: Jamie has spread his talents over many different areas in publishing, including editing and creating self-published books, publishing regular web comics, designing t-shirts, and creating a powerful online presence on Twitter and with insightful blog articles. He writes and draws a regular comics strip for The Phoenix comic called Bunny vs Monkey, and gave The Dandy a fresh look with his vibrant covers and new take on Desperate Dan. His books with Scholastic UK include Find Chaffy and Find Chaffy Now, and for the BBC, Doctor Who: Where's the Doctor?.




Nana Li: Nana works as Illustrator at Moshi Monsters, an online world of adoptable pet monsters aimed at children ages 6-12, with 65 million registered users in 150 territories worldwide. Moshi Monsters also markets related Moshi Monsters magazine, toys, a video game, a music album, books, trading cards and even pasta. Nana is a grand prize winner of Tokyopop's Rising Stars of Manga UK & Ireland and her Manga Shakespeare adaptation of Twelfth Night was nominated for the Sheffield Children's Book Award. She has also contributed to Telling Tales, a fairytale anthology organised by Cambridge-based Sweatdrop Studios.




Alex Milway: Alex is known in the children's book world for thinking creatively about marketing, leading him to found and organise the Crystal Palace Children's Book Festival. He experiments with digital apps, online readers and creating digital soundtracks, as well as leading talks and workshops around the country. Alex likes to mix different formats in his books, which include the Mythical 9th Division series, published by Walker Books, and the Mousehunter trilogy, with Faber & Faber.




Sarah McIntyre: On the committee of the Children's Writers & Illustrators Group, Sarah led a seminar at its recent conference about find inspiration for her work by blogging and engaging with social media. She owes much of the inspiration for her work to indie comics publishing, keeps an active blog and is a frequent sight at book festivals around the country. Her books include You Can't Scare a Princess! with Scholastic UK, Morris the Mankiest Monster and Vern and Lettuce with David Fickling Books and she's currently working on four books with Philip Reeve and Oxford University Press. Her Scholastic picture book, Superkid, with Clare Freedman, launches this spring.