The Sunday Times
!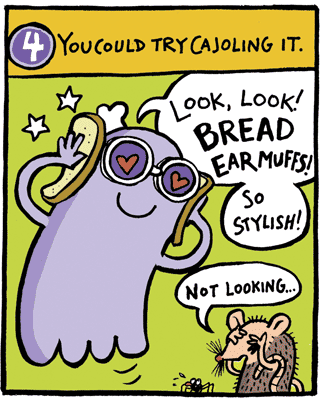 I came up with a new
Ghost Chef
character just for the occasion. You can find the half-page comics strip tucked inside the paper in the children's section, called
The Funday Times
. This supplement used to come out weekly, but now only comes out every so often, this time to celebrate the release of Tim Burton's latest animation,
Frankenweenie
. It usually has a Scooby-Doo strip, but I'm hoping their latest commission might mean they're interested in having home-grown comics on a more regular basis. Fingers crossed!
Thanks to Sunday Times Supplements Editor
Karen Robinson
for commissioning the strip, and
Damian Kelleher
for pointing her in my direction.
Event update! I'm doing a London event with
Booktrust
and their comics-artist-in-residence
Hannah Berry
:
You can
find out more here on the Booktrust website and book your tickets!
(And here's a
a drawing I made of Hannah
a few months ago.)
I'm pleased to say that the excellent
Alex Fitch
has made a podcast of the event I did at
Waterstone's Piccadilly with David Almond and Oliver Jeffers
. You can listen to almost the whole event
here
! Ours is the first part of the podcast. (You can see my original blog post about the event
here
.)
Hey, my comic strip is going to be in this week's copies of