Here it is, a peek at my comic strip, GHOST CHEF, in today's Sunday Times! I love how the goggles mirror each other, I had no idea there'd be goggled young Pet Shop Boy look-alikes above my comic.




My comic's in the Funday Times, page 7, but it's a little tricky to find because it's tucked deep down inside the DRIVING section. Huh? Anyway. So even if you don't have a car, don't throw away this section.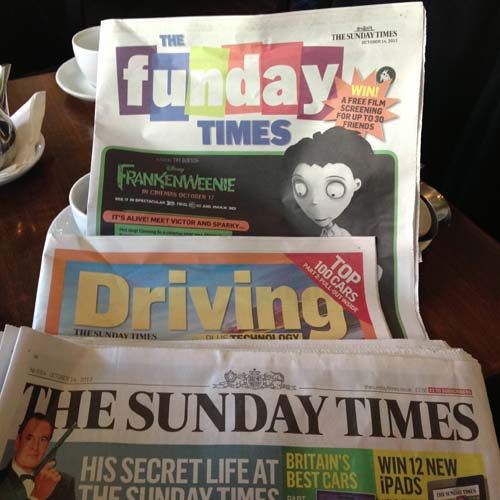 The rest of the Funday Times is all about Tim Burton's new animation, Frankenweenie. Here's the trailer!



And while I was in a cafe in East Dulwich rooting around for my comic (unsuccessfully on the first attempt), my former Scholastic UK editor, Katherine Halligan was bemusedly looking on. Katherine commissioned and edited my first Princess Spaghetti book with Gillian Rogerson, You Can't Eat a Princess! and she's been off on maternity leave. I hadn't seen her in ages, it was great to catch up.




Other good things! I got a very exciting parcel from Nobrow Press, the new Luke Pearson book, Hilda and the Bird Parade! I'm a huge fan of his first book, Hilda and the Midnight Giant, and the second one picks up perfectly where the last one left off, diving me straight back into Hilda's beautiful, magical world. The books have a very Scandinavian, arts and crafts feel to them, with remarkably well-chosen colour palettes. If you like Tove Jansson's Moomin books, I can guarantee you will adore these. Although there's a bit of Hayao Miyazaki influence creeping in there, too, so fans of Howl's Moving Castle and Spirited Away, these are also your books.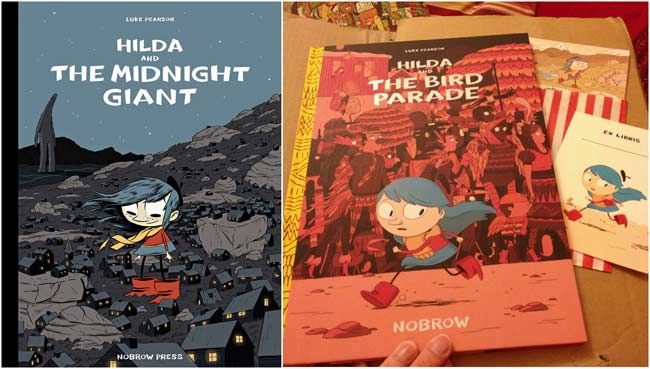 These two books are the cosiest thing in the world to curl up with, I can't recommend them highly enough. My 10-year-old neighbour friend was also smitten with the first book and was begging Luke on Twitter (@thatlukeperson) to come out with a second; can't wait til she gets to see this one! You can get some lovely peeks at the pages over on Luke Pearson's website here. And you can order a special bookplate edition from Nobrow here. Luke has an exhibition of original artwork from the book at Foyles, Charing Cross Road, until 17 Oct, details here. (Give yourself time to come back to Foyles, in case the exhibition space is closed for a meeting; that happened to me last time I went to see Jonathan Edwards' exhibition.) You can also read a shorter Hilda story in Hildafolk.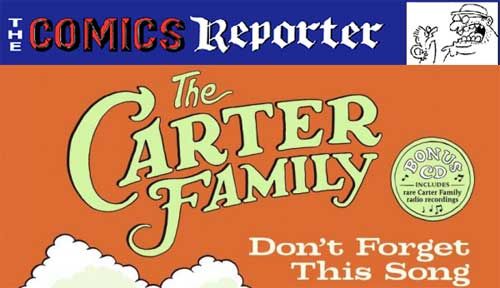 Other comics news: The Comics Reporter has just run an interview with my friend David Lasky and his writer Frank M Young, who recently came out with a graphic novel called The Carter Family: Don't Forget this Song. Click over to read it here!

Some weekend photos: Stuart and I took the tube up to Camden on Saturday to get him two pairs of new shoes, both British-made: a pair of Solovairs and a pair of Tredairs. (Sadly, the Tredair factory in Northamptonshire has now gone out of business.)




Stuart got his last pair of boots at the British Boot Company, just by Camden Town tube station, and he was so pleased with them that we went back. They know everything there is to know about British boots there.




I tweeted this photo and Anna J, who grew up in the area, tweeted back that it used to be called Holt's. And she sent a link to a Madness video for The Prince which shows the group filing into the shop right at the beginning of the video. (Thanks, Anna!)



Funny, my very first boyfriend was totally into Madness, they were his band. When we were about this age of these Camden Market hipsters, I guess.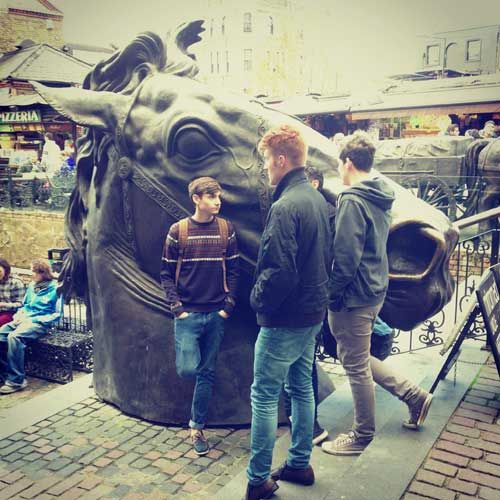 I hadn't been to Camden Market in ages, there were loads of horse-related sculptures that I don't think I'd ever seen before. I guess they're trying to bring back some of the horse stable history of the place.