Okay, everyone knows I'm a huge fan of Philip Reeve's books because I kept pestering him until he agreed to make books WITH ME. But aside from our joint books (which, of course, are sure to be top-notch), I'm a big fan of his books Goblins and the upcoming Goblins vs Dwarves, with illustrations by the excellent David Semple. I've been a Lord of the Rings fan for ages, and Goblins is set in Clovenstone, a similar kind of world. But whereas Tolkien writes off the orcs and goblins as all bad, Goblins swaps around the perspective so we're right there with the goblins, who are much more of a mixed lot than you'd expect. It's a book I'd recommend to adults and children alike; it's beautifully written and very funny. (Sister Spooky backs me up over on her review today of Goblins!)

AND... it's an excellent opportunity for DRESSING UP. Yes! You'll never guess what I've made as my Hallowe'en costume this year:




And you, too, can make your own GOBLINS MASK! (Which will also be handy if you're stuck for a costume on World Book Day, or your class decides to write a Goblins play.) Here's a printable sheet, which I may or may not have had something to do with. Colour it by hand, colour it on the computer, add your own bruises, bumps, lumps, scrapes, scars, scarification patterns, warts, boils, piercings, tattoos, whatever you think will make your goblin look particularly bad-ass.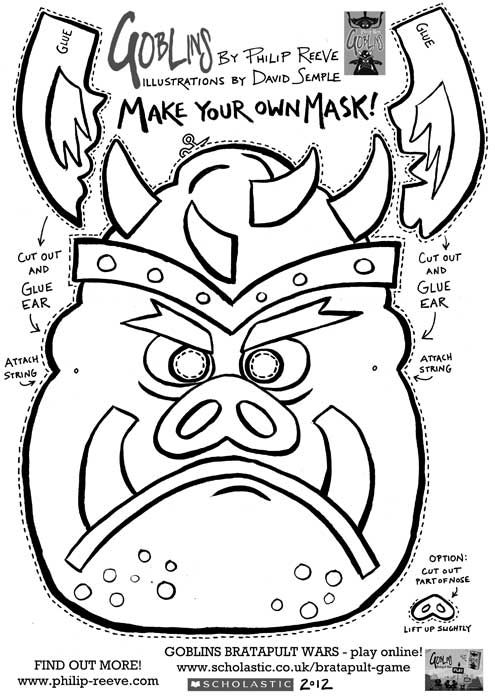 Links to Download! You can make a big mask by downloading it as an A3 PDF sheet here, or a smaller mask as an A4 PDF here. (Please let me know if the links don't work for you!) And I'd love to see photos of people in costume. I already hear from one mum who says her son's dressing up this year as the pirate Captain Waffle from You Can't Scare a Princess!, hurrah!

And have you had a chance to play the BRATAPULT WARS online game? If you like Angry Birds, this one has similarities, but it's wonderfully goblin-ish.




And, of course, you can find out more about Goblins over on Philip's website.




I'm also very curious to see the new stop-motion animation Paranorman. Have you seen it yet? LAIKA is the film studio who made Coraline, which was excellent, and the next film they're scheduled to make is - you guessed it - GOBLINS! Fingers, fangs and claws crossed that it all happens.