While Stuart, my sister, Mike and I were in New York City last weekend, we walked from Manhattan across the Brooklyn Bridge to pay a visit to remote Fleece Station Officer Ellen Lindner in her new studio in a massive old factory building in Red Hook. Here she is with comics artist Simon Fraser (whom Stuart and I first met with his brother in a Chinese restaurant in his native Inverness during Hi-Ex Comic Con).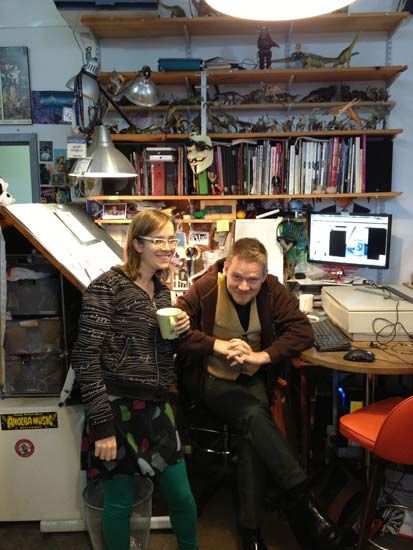 And I can report back that Ellen is well and working hard on a new graphic novel. And not only that, but the indie comics magazine she edits and contributes to, The Strumpet, just exceeded its Kickstarter fundraising goal, by almost double the necessary amount!




You can come along to its UK launch at London's Orbital Comics on Friday, 9 Nov, a joint event with the launch of the excellent ink+PAPER, edited by David O'Connell, (creator of the upcoming Monster & Chips with HarperCollins). More party details on the Comica Festival website, and you can also follow The Strumpet on Facebook and Twitter @thestrumpet.




And here's Ellen at her desk: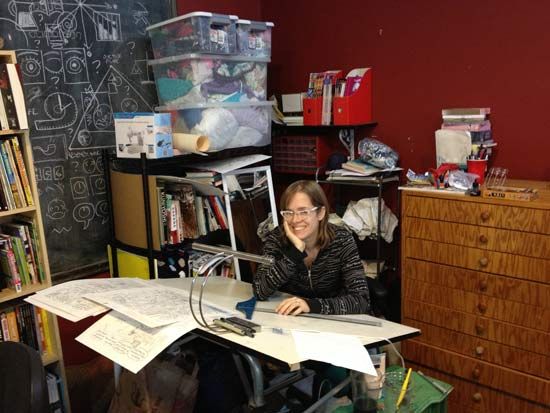 You can see some of her recent publications (including ink+PAPER and NELSON, to which I also contributed). More book details on her website and LiveJournal blog:
ellenlindner


While we're in the studio, have a peek at the doodles on the chalkboard next to Ellen's desk. I posted this photo on Twitter and Scott McCloud apologised for making her chalkboard unwashable during a visit with his comics diagramming.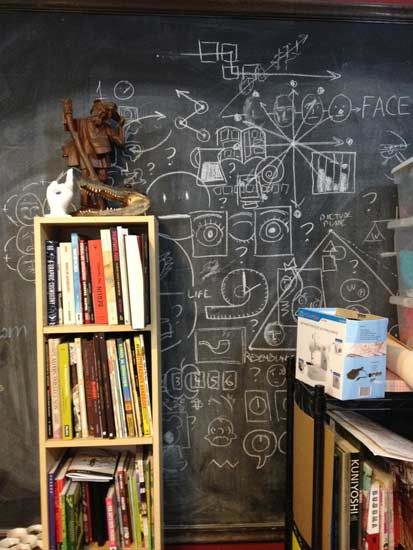 If you make comics, you'll undoubtedly know about Scott's books about comics and how they work (written in comic format), which have become a sort of bible in the industry. (Here he is, giving a TED Talk on the subject.) If you're interested in learning more about comics, these books are a great place to start, and should be a part of every school and community library.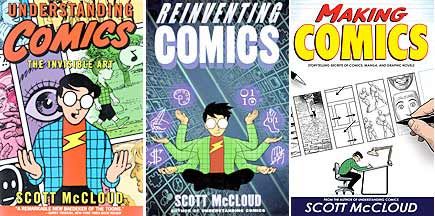 And now, turning the lens to Simon Fraser!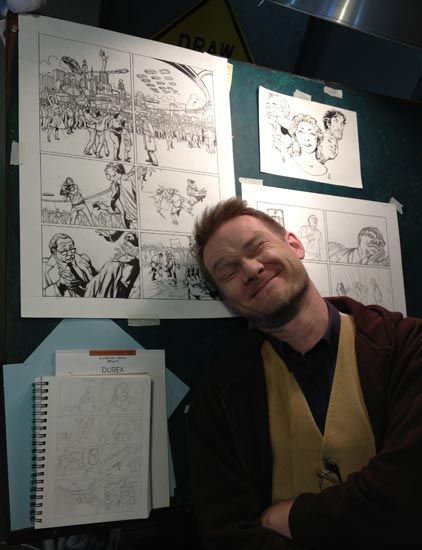 I hadn't actually seen much of his work, but among British comics lovers, Simon is legend for his prodigious outpouring for the Nikolai Dante comics. The story recently came to an end, and you can read Simon's blog post about it here.





He let me take a few snapshots of the work on his desk. Here's a pencil rough for a comic about a futuristic Cuba:




Here's a more detailed panel, with this machine keeping Castro alive and in power:




And an inked page. Simon:'Argh, another crowd scene!' Great stuff.




Two more studio mates: Khary Randolph and Reilly Brown! I only peeked briefly at their desks, but there was some good stuff going on there. Both have drawn for Marvel Comics.




Jason Little wasn't in the studio (he's working on some animation stuff) but I snapped a photo of his desk anyway: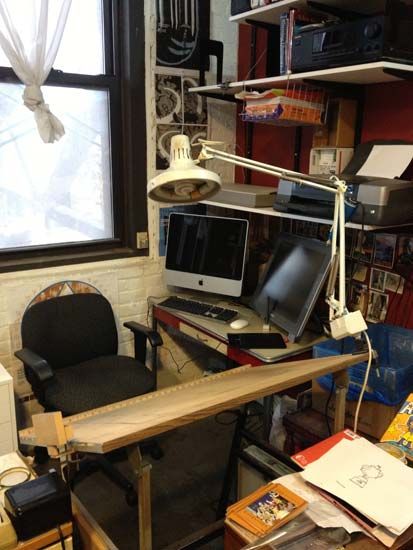 Here's the book of Jason's that I've read, and you can see some of my fan art on an earlier blog post.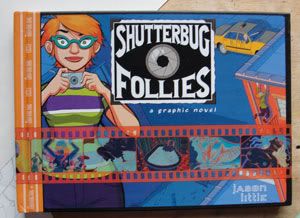 While we were in New York, my sister brought me a copy of our Seattle-based friend David Lasky's new graphic novel, The Carter Family: Don't Forget this Song: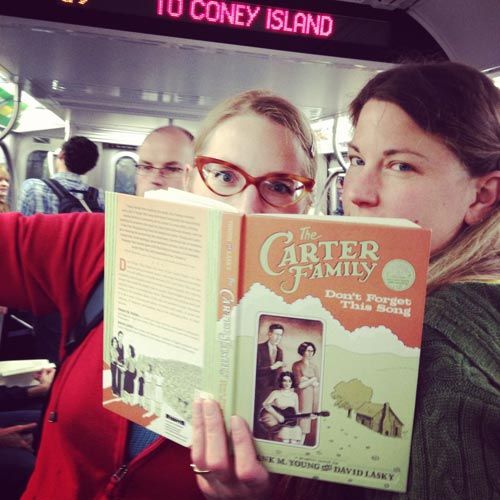 Thanks so much for signing it, David and Frank!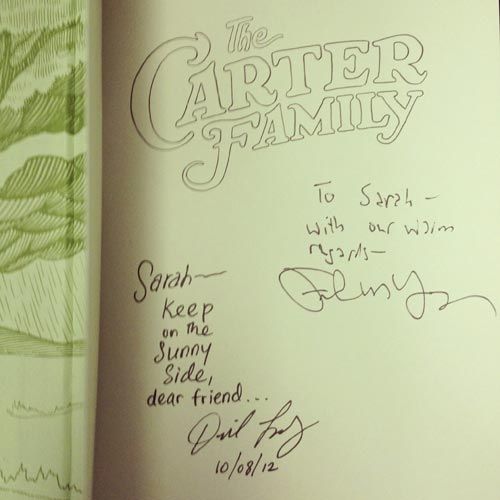 Here's a picture from our Brooklyn Bridge trek. And yes, that IS a penny farthing bicycle!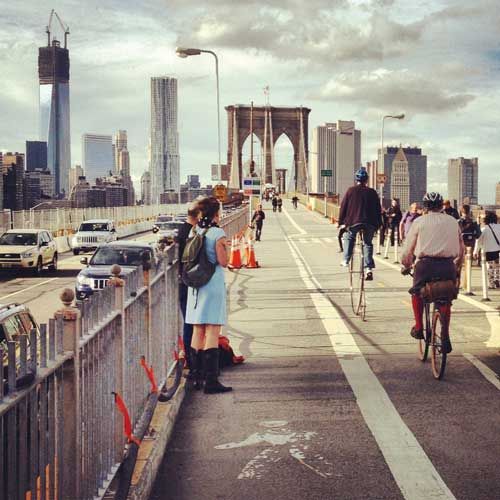 That evening for dinner, Ellen's husband Stephen Betts joined us (who runs comics translation website Comix Influx, as well as fab university friend Brynn Perrine, who works as office manager for landscape architect Michael Van Valkenburgh, and her husband, artist Chris Lucius. (You can read an earlier blog post about a tour Chris gave Brynn and me of the Google offices where he works.) Great to see you guys, and I look forward to The Strumpet launch!


Ellen Lindner, Stephen Betts, Chris Lucius, Brynn Perrine