On my recent visit to the Metropolitan Museum of Art in New York City, I got very excited by the paintings of American folk artist Ammi Phillips (1788 - 1865), and for some of my recent morning warm-up sketches, I looked at his work to make new sketches. There's some strange quality about the paintings, many of them are at once amazing and slightly awful. But I love the colour red, and I can't stop looking at these red dresses he puts on children in his paintings. Here's one:




And I made a rather twisted version of it. I kind of like how it makes a sequential jump. You look at Ammi's painting and think, what might happen NEXT? Well, the mother could sprout a few more arms...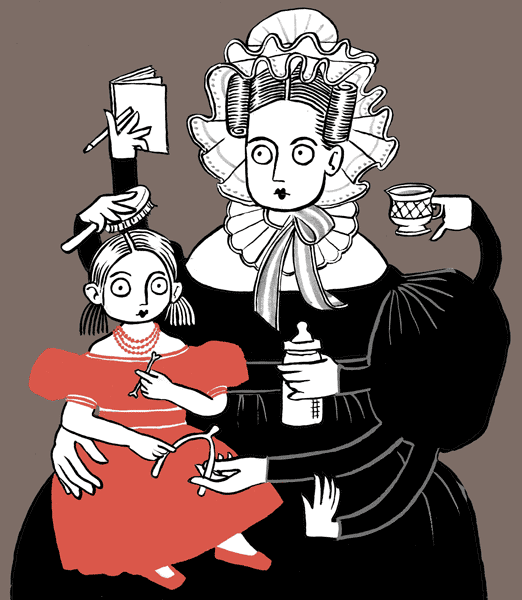 I didn't change quite so much in this picture.




I just wondered what the lady was reading, and if it was a ghost story, she might be a little scared, and in the next scene, be warily looking over her shoulder.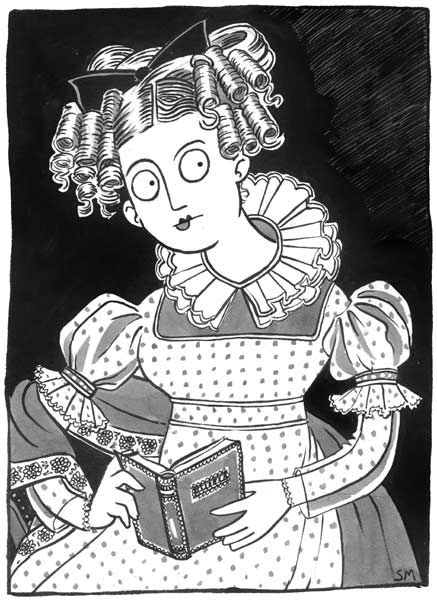 This one's a bit stupid, I was thinking about Pickwick Papers, how Charles Dickens started with images and had to write stories about them. So I thought I'd turn the boy into something that could jump-start a strange tale.




This one's for all the goths out there.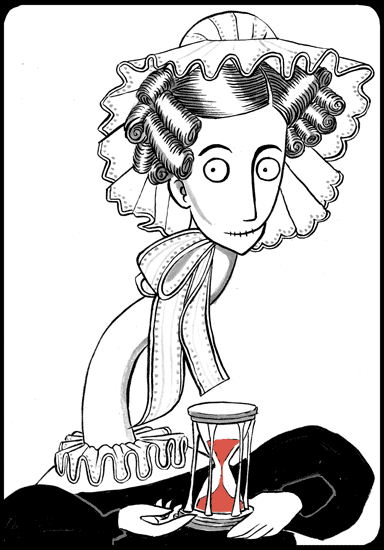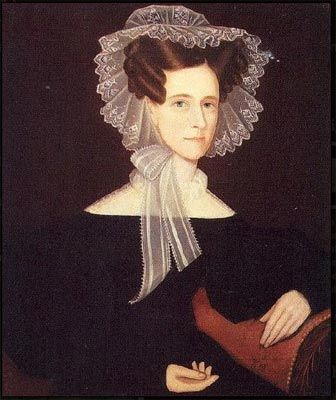 Here's the original picture I made (posted here), which started me off on the whole series, and my favourite of Ammi's paintings, the one I saw at the Met. The two-headed sister. My sister and I saw this picture together, and I'm sure it's something to do with us having been wild enemies growing up (with a cat who straddled the vicious divide), but now best of friends and really wishing we lived nearer each other.




It was fun reading a bit more about Ammi Phillips. He was a self-taught portrait painter and travelled around to different communities, getting to know people in the area and painting their pictures before moving on to the next town. Scroll down on this Folk Art Museum page to read more.

I love imagining that the characters in pictures have a life outside the image and after you've turned the page in the book or looked away from the painting, that they relax and stick out their tongues, go for a cigarette, or laugh at the things those painters or silly book people made them do. I think that's why I liked Jasper Fforde's Thursday Next series so much. I've only read the first four books, but they were crackers; looking behind the scenes, characters popping in and out of each other's books. I loved that Marianne Dashwood was smuggling cigarettes to smoke out back, naughty girl.





Stuart gave me The Woman Who Died a Lot for my birthday, but I've just realised there are two more books in between that I need to catch up on first.