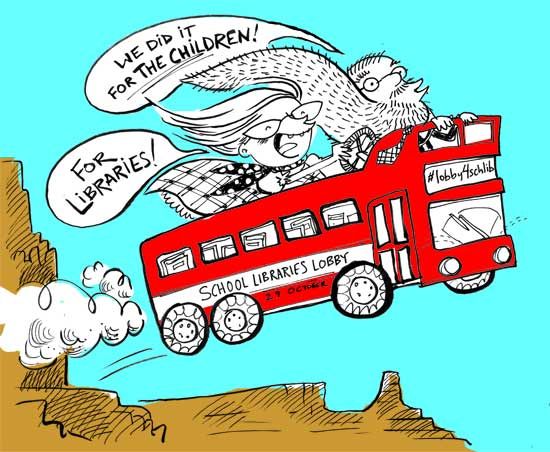 I just finished painting my sign for tomorrow's School Library Lobby! If there's any way you can get to London tomorrow, come along! And follow and retweet us on Twitter hashtag
#lobby4schlib
Libraries are massively under attack right now!
Support school libraries with trained librarians
, this stuff's IMPORTANT!!! There's a lot of information in the world, how are kids supposed to find the best stuff? Here's the
Press Release
, and if you've just jumped on board, see you tomorrow (Monday), 1pm at Victoria Embankment Gardens (by Embankment tube station), where we'll march to Parliament.
You can read about it more
on this fine library blog!
Here's the open
Facebook group
. And if you're one of our comics cosplayers, why not wear your superhero costume? Librarians are the best superheroes this country has!
(That's just my idea about the superhero costume, it's not official or anything.)Edit:
People have been asking, so I've created a printable version of this sign. Feel free to print it out and colour it up! I'll hopefully create an attractive colour version soon, but here it is in black and white for easy printing:
click here for an A3 PDF file
and
here for an A4 PDF file
. (Or, if you're stuck and those don't work, you can just blow up this low-resolution image, below.)
Anyone who loves books and care about school libraries should come! Of the illustrators and writers who've said they're coming, so far they include
Meg Rossof
,
Philip Ardagh
,
Candy Gourlay
,
An Vrombaut
,
Mary Hoffman
,
Francesca Simon
,
Cressida Cowell
... to name just a few!
Edit
: ***
CLICK HERE
TO READ ABOUT THE MARCH AND SEE PHOTOS!***