Stuart and I have had a couple house guests the past couple days, Lucy Knisley and Philip Reeve. It's great having people around who love drawing, and don't mind posing for drawings, either. I drew one of Philip that didn't turn out very well, but he asked if I was going to turn it into a lino cut print, and I managed to do this one quite quickly:




Here's the print, and the inked linoleum block. It's the picture in reverse; basically, a big rubber stamp.





Neither picture looks exactly like Philip - he thinks it looks like the actor Geoffrey Rush - but I don't mind so much with the lino cut print, because they never look like exact portraits anyway. Here's the drawing I based the print on:




And here's Philip (without his specs) at the Regency Cafe in Pimlico with writer/fanboy Sarwat Chadda. Sarwat brought along some of Philip's books for him to sign, and said he owed his own writing of Young Adult books to having read books by both Philip Reeve and Philip Pullman and then thinking, Ah, this is something I really want to do. If you read the Mortal Engines books (or Predator Cities in the USA), I'd recommend either starting with Fever Crumb or Mortal Engines. Philip's Arthurian book, Here Lies Arthur is also a cracking good read (and won the Carnegie Medal).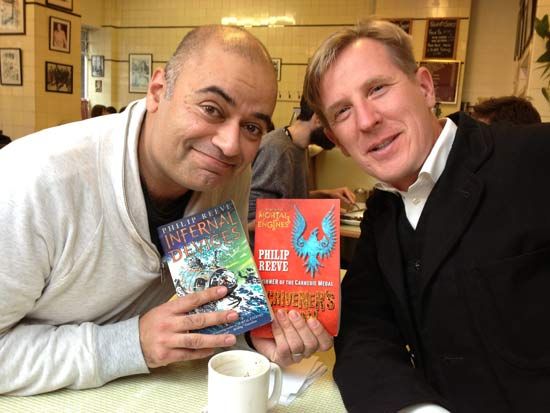 We went out to Chelmsford, Essex, to meet up with Nikki Gamble who runs the Just Imagine story centre and bookshop, and these guys interviewed Philip, while I chatted with Nikki and illustrator-writer Jan Fearnley.




A few doodlings from the day:




Meanwhile, Lucy Knisley was doing some essential research on her book about Oscar Wilde, taking my hat and a friend out for tea at Wilde's old haunt, the Savoy Hotel. She also managed to meet Stephen Fry after seeing him perform in Twelfth Night at The Apollo; how cool is that! She left for Dublin today, so Ireland, you're in for a good time. You can follow Lucy's trip on her Tumblr page here.




The three of us went to see The Pre-Raphaelites exhibition at the Tate Britain, where I spotted this lovely 1896 Works of Geoffrey Chaucer by Kelmscott Press, a collaboration between William Morris and Edward Burne-Jones.




And we saw some lovely window displays in the city centre, including these on New Bond Street, featuring Yayoi Kusama.




And a cat and canary on Conduit Street:




I'm hoping to do another lino cut portrait, of Lucy; fingers crossed I'll get the time. It was great getting to hang out with her in London and I can't wait to see the comics that come out of her trip.

Tonight's plan: a Comica talk by Mary & Bryan Talbot (Foyles Charing Cross, 6:30pm, details here), then the launch of The Strumpet and ink+PAPER at Orbital Comics. And tomorrow I'll hit Comica Comiket! That will be fab; lots of chances to buy amazing (and affordable!) handmade books and prezzies and meet their creators.