Hi, everyone! There are still a couple more places for the Society of Authors Futures of Publishing brainstorming session this Tuesday in London, with Jamie Smart, Nana Li, Gary Northfield, Alex Milway and me. Details here. And you can read about all the speakers here!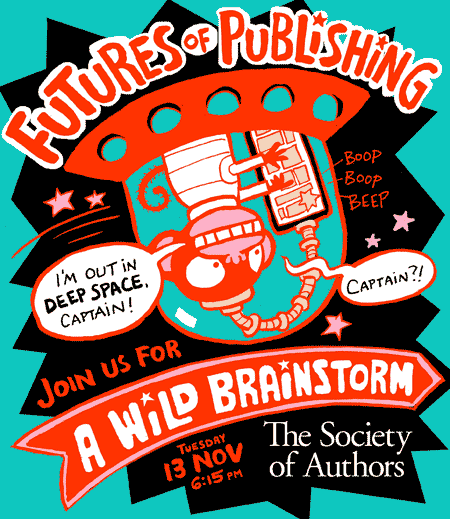 We're hoping to bring the whole audience into the discussion for much of the session, so I thought I'd give you a look at some of the questions we'll be asking the panelists, to see if it sparks any of your own ideas:

* What are your experiences of self-publishing? How do you get the word out there that there's something to buy?

* What are some exciting things you've seen by people who are innovating in storytelling/ fundraising / boundary pushing? In children's publishing and elsewhere?

* What do you think will happen to print, with this big digital surge forward? What are some benefits you've seen with digital formats? Might there be a print-loving backlash, with more emphasis on beautifully crafted books? Or collecting?

* What are some good ways to get things printed? (Bring along actual names and website addresses!)

* Where are places people can sell self-published work?

* What are some of the project fundraising routes you've seen?

* Editing: What do you think about the role of editors? What do you think is the role of an editor in anthologies?

* Is it possible to do stuff online for kids if we don't have a mega-budget? How? Or is it better to focus elsewhere?

* Stripping away the book format: what do you think are the core things kids really want? Is it good storytelling? Cute characters? Interactivity? What do WE really want when we express ourselves creatively? What would we really like to do? What are some of the most popular non-book, non-television story things that have taken off with kids (like Moshi Monsters)?




* Nana Li: can you tell us a bit about Moshi Monsters? Why do you think they're so hugely popular?

* Gary Northfield & Jamie Smart: what do you think about The Dandy going only online? Why do you think subscriptions dropped so much? What are some of the great things about The Phoenix, and what would you want to improve?

* Alex Milway: Do you think festivals is a way to engage kids with stories and books? How can we make them work best? Working with schools?

* Merch: How hard is it to get into story tie-in merchandise (toys, t-shirts, textiles etc)? Where are some companies that might help us with this? Can we make more money this way?

* Are there any ways that working together can help us move forward? Do we have more selling power in groups? How can we support each other without using up too much of our own working time? What kind of support do we want/need?

* Are there any places you can see two different groups with their own sets of skills coming together to make something you don't see everywhere already?

* Are there any ways we could get our stories in front of kids that's not being taken advantage of fully yet?