Leeds Thought Bubble
, the action never stops. So this weekend saw the launch of
The Strumpet
and
ink+PAPER
comics magazines at Orbital Comics, and the next day, Comica Festival's
COMIKET
!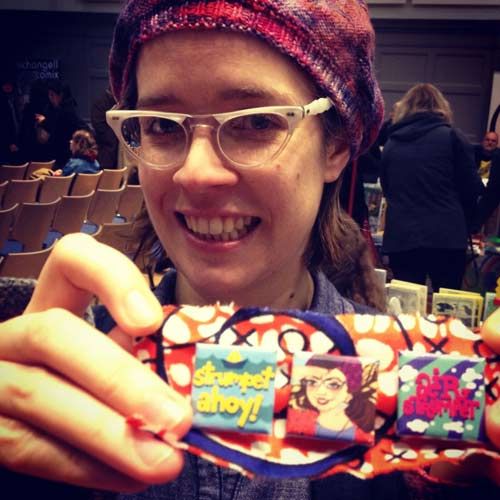 Here's The Strumpet's co-editor
Ellen Lindner
at Comiket with badges. She and
Jeremy Day
worked hard to get this issue of the magazine successfully running with support from fans
on Kickstarter
. This time, it's travel-themed!
And here's the fab
David O'Connell
at his stand with
Jade Sarson
, and the latest issue of
ink+PAPER
. I did a strip for Issue 2, with Dave editing, and can't wait to see who made it into Issue 3! (
Here's the shop if you want to buy either ink+PAPER or The Strumpet online
.)
I was very pleased to see
Zoom Rockman
and his younger brother, Ace, selling the latest copies of The Zoom. I first met Zoom at an earlier Comiket and was so impressed by his business skills that I asked him to join our professional comics team at London's
Pop Up Festival
. He also had a front-page appearance
in The Independent magazine
. Hurrah! Comiket isn't specifically a kids' event, and some comics on sale won't be appropriate for children to buy, but if a kid or a group of kids have the gumption to book their own table and run it, there's nothing to stop them selling alongside the adults. It could be a brilliant class or comics club project. (
Check out Zoom's comics on his website
.)
Photo by Kate Lennard (Zoom and Ace's mother)
So here's the loot I picked up during the day:
One of the most fun things about Comiket is watching fellow creators do live drawing on stage. I'd been reading
Steven Appleby
's comics for ages in
The Guardian
, but it was great being able to put a face to a name.
And here's a look at the cartoon Steven made on the day, projected up on to the big screen. You can buy the brand-new
Steven Appleby's Guide to Life from the Guardian online bookshop
.
I'd tried to get a copy of
Glyn Dillon
's
The Nao of Brown
from Gosh! last week, but it sold out almost instantly. (Josh the owner would want you to know that they HAVE restocked.) Glyn drew one of the entries in our
Nelson collborative book
, so I'm curious to read his book-size comic. Here he is with
JAKe
and Steven.
Look, Glyn painted in my book! Isn't it lovely?
The hall at Bishopsgate Institute makes for a lovely venue. And the Comica organisers gallantly took on board the criticism from last spring's fair to give more space in the aisles for visitors. (You can see a picture of how crowded it was
in my blog post about it
.) It meant that there were slightly less comics, and nothing hidden away downstairs, but it felt like just as much because it was easier to look at everything, and I didn't have to feel so guilty about clogging the aisle if I wanted to chat with a creator.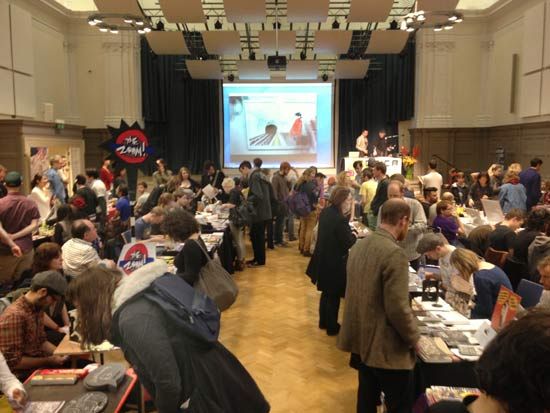 Tables mostly sold comics, artist books and related badges and things, but
Woodrow Phoenix
had a lot of his old toys to sell.
At the next table,
Craig Conlan
had loads of new merch: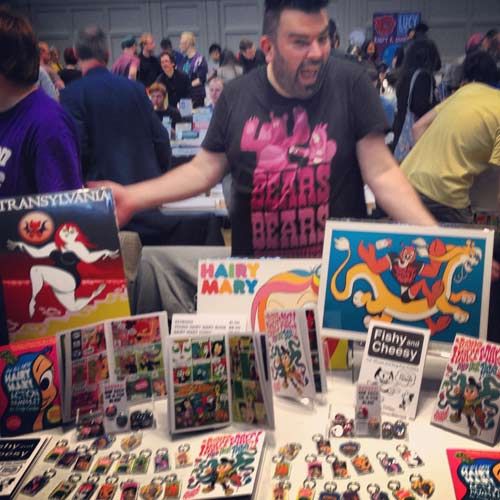 His lovely set up, with all the matching candy colours: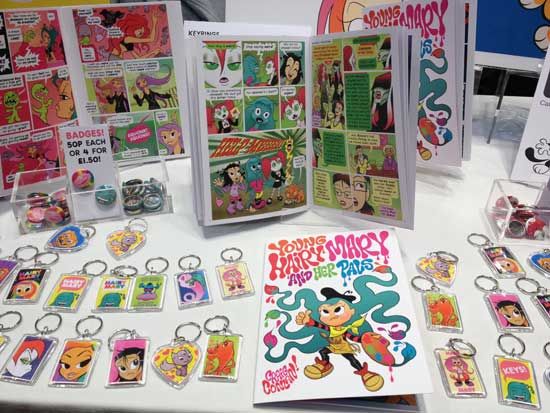 Jessica Cave
from
Comics & Cakery
baked a couple cakes and had lots of creators draw a comic panel on each in edible inks. Cakey comics jam! Here's
Darryl Cunningham
icing his section.
It started out with Woodrow's
Pants Ant
character and went wild from there.
Here's
Zarina Liew
doing some live drawing. It was pretty impressive, she used some very watery ink technique that I would have worried would be hard to control in front of an audience. But she pulled it off beautifully.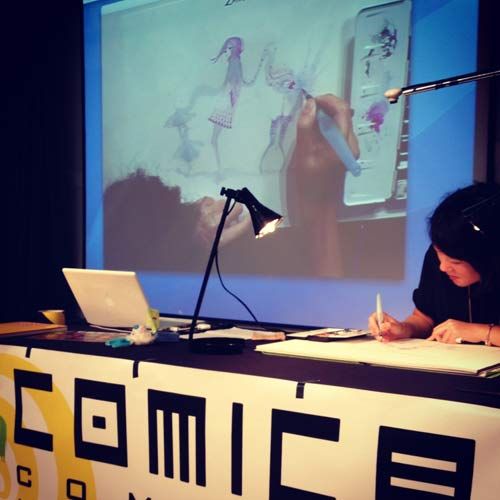 Check out these great Imperial Russia badges from
Lizz Lunney
!
One of my new discoveries was
Rus
from
Eat, Sleep, Sniff
. Lovely guy, and you can't go wrong with cat comics! Rus works at a cat shelter charity, so it all makes good sense.
Here's Hamburg-based
Line Hoven
creating a live scratchboard drawing. I wonder if
scratchboard
is going to have a revival; my studio mate
Gary Northfield
has a gorgeous two pages in his upcoming
TEENYTINYSAURS
book, drawn using a huge piece of scratchboard, and children's book illustrator
Jane Ray
says she's a fan, too.
I bought a couple of lovely comics from
Dan Berry
, including a 24-hour-comic project called
Cat Island
and illustrated lyrics to a song by
The Handsome Family
,
After We Shot the Grizzly
. (Ah,
here's the song
on YouTube.)
Edit:
Dan's just posted
Tips on Convention Etiquette
; have a browse!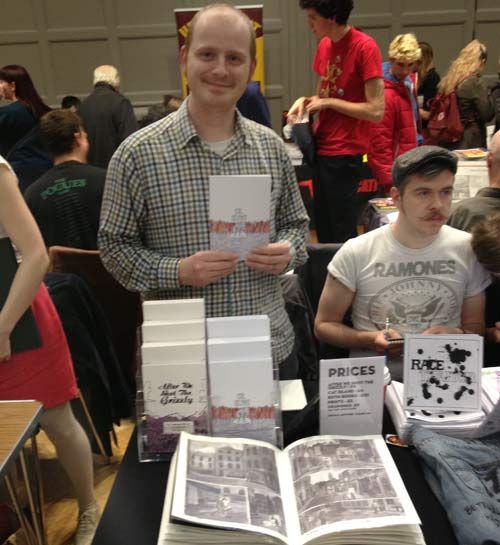 I was so pleased when I passed the
Cinebook
table and
Aldous Russell
pulled out the latest
Yoko Tsuno
comic translation to show me. Yay! I love Yoko Tsuno, she's just the sort of gutsy, smart heroine I would've loved reading about as a kid and love now.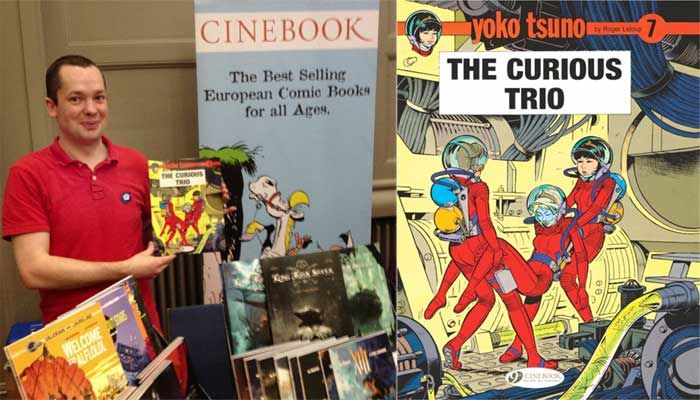 And the other best part about Comiket was catching up with old friends. (Hello, Belle and
Bridget
!)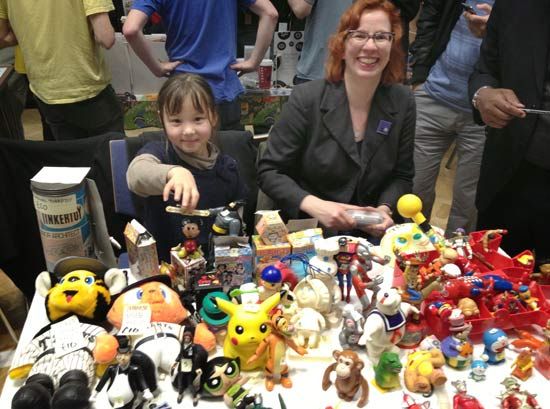 Comica Festival runs events all year, it's not just Comiket, and the day before Comiket, Stuart, Emma Vieceli, Gary Northfield and I went to a talk at
Foyles Charing Cross
by husband-wife team
Mary and Bryan Talbot
. Here's the doodle I made of the two of them: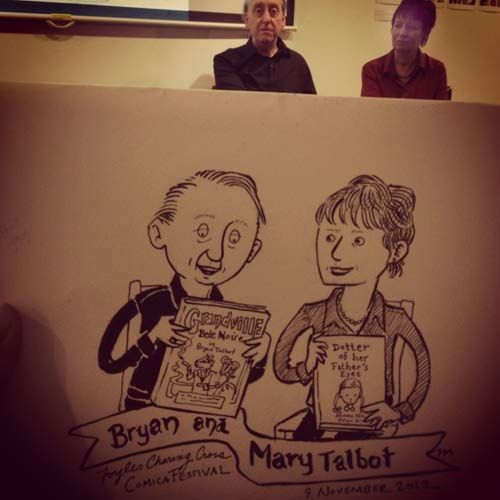 Foyles has been fabulous for running great events, and now they're working to turn the building next to them - the former Central Saint Martins College of Art - into a larger space for their bookshop. While the building work goes on, they're doing amazing things with the wooden boards around the site, teamed up with Comica Festival. So next time you're walking down Charing Cross road, look out for these striking comics about Foyles' history by some of Britain's finest creators! And you can
read them online here!
Panels by
Rian Hughes
:
Woodrow Phoenix:
Karrie Fransman
: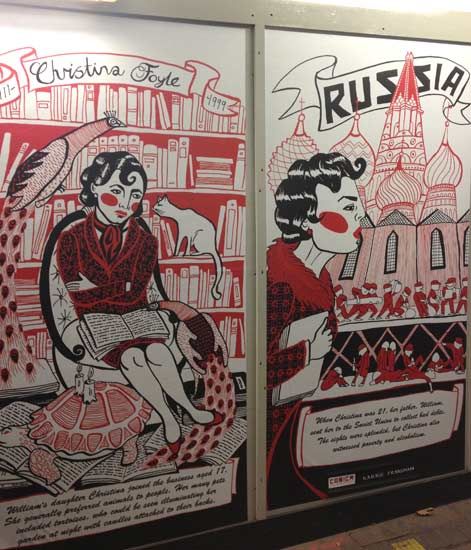 Steven Appleby: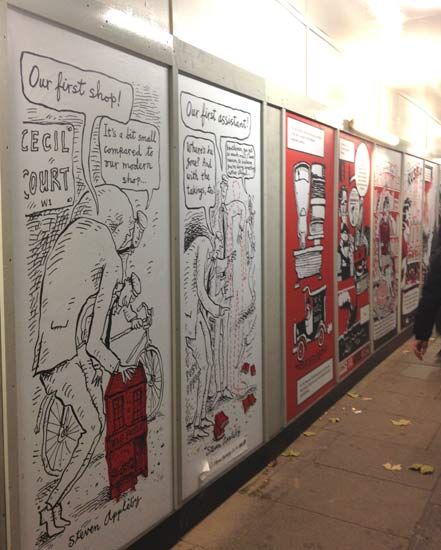 ...and
loads more
.
Emma Vieceli
spent the night at our place so she could go to both days' events. Here she is, penciling a page for
Shadow Kiss
, the next
Vampire Academy
graphic novel. Emma
recently announced
that she'll be drawing the
Alex Rider
books, so more exciting times ahead!
There's been SO MUCH going on in London with comics this week! And next weekend is