Last night Lucy Knisley treated me to a ticket to see the musical Matilda! I'd been meaning to go for ages, and it was so much fun being able to go with her. Here's my drawing this morning of the fearsome Miss Trunchbull, based on the original story by Roahl Dahl, first illustrated by Quentin Blake.




I loved the set, it was like a giant scrabble piece pin cushion.




And there were LOADS of Matilda lookalikes in the audience, that was pretty funny. Lucy and I drew this picture together when we got home late last night. Her Matildas look more personable and unique, whereas I think I was getting a kick out of seeing Matilda as a slightly sinister army of nearly identical girls.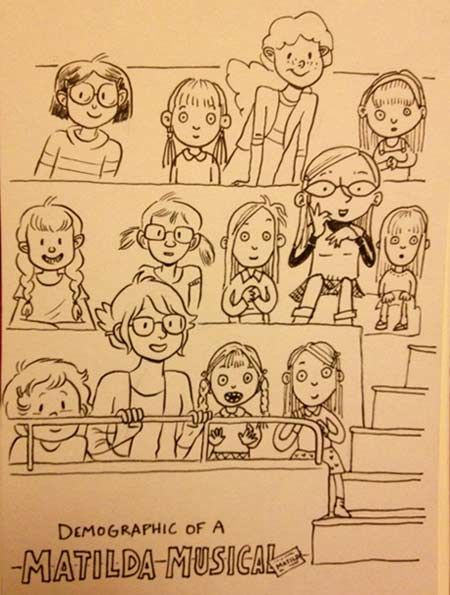 I really enjoyed the musical, although I don't think I would've liked it as a child. I never liked theatre productions where the characters shouted a lot, and the songs used to annoy me because they'd keep saying the same words over and over, and I'd just want them to get on with the story and find out what happened next. I guess I've had to grow up into loving musicals, but now I do.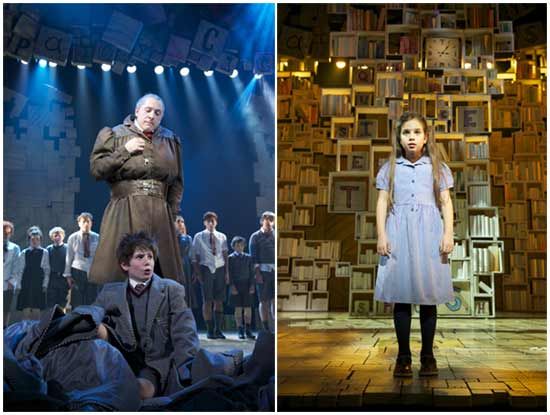 Photos by Manuel Harlan

Moving on... this weekend and week has some ace events coming up! Have you Londoners booked your ticket yet for our Booktrust/Comica Festival event on Monday evening? Hey, exciting surprise announcement, POSY SIMMONDS is going to be on the panel with us! (Cue fangirl squee!) Along with the amazing Dave McKean, Karrie Fransman, Glyn Dillon and Simone Lia, and Hannah Berry, who's in charge of it. What a line-up! Details and booking info on the Comica Festival website. Hannah and I are having a long, hard think about what we're going to discuss:



Original photo by Darryl Cunningham

Here are some of their books, if you are in any question who these people are! All brilliant stuff. We'll be talking about what makes comics unique, and why, in some ways, it can be superior to prose writing. And also just mucking about having fun with people we really admire.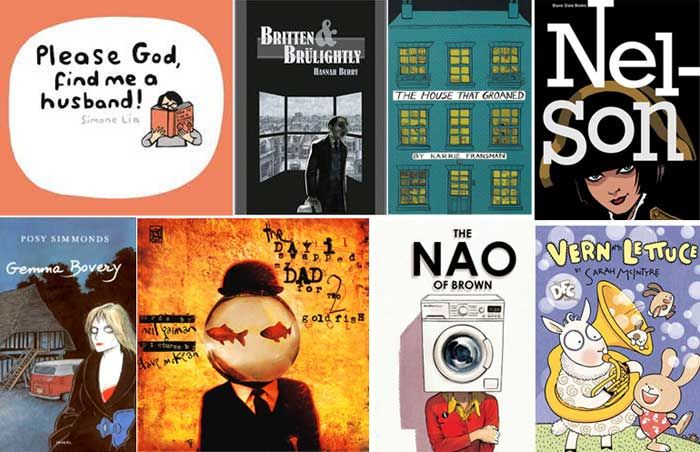 If you're in Leeds this weekend, you absolutely must not miss the amazing Thought Bubble Festival! Amazing comics, many of which you can't buy in the shops, and the chance to meet the creators and hang out with them!





Make a beeline for The Phoenix Comic table, loads of comics activities for the whole family.





FeltMistress and Jontofski will be selling advance copies of their Creature Couture book, edited by Woodrow Phoenix and published by Blank Slate. (I cannot wait to see this!) Oh, and if you haven't got a copy of our Nelson book from Blank Slate yet, pick up one of those, too!



And don't forget to stop by Lucy Knisley's table, her work is amazing, and some of the stuff that inspired me to make comics very early in my LiveJournal days. I owe Lucy a lot for making comics accessible to me and showing me what I could do with them. Here's what she'll be selling:




I'm so sad I can't come along to Thought Bubble this year (blog post from last year), and I'm really going to miss Lucy! I can't wait to see her upcoming book, Relish, launching April 2nd next year with First Second books. Read more here on the First Second website!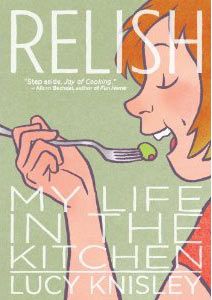 Good luck with your book on Oscar Wilde, Lucy! She's off to Thought Bubble today, then next stop, Paris!




Ah, and one more photo of some silly drawings we made last night of terrible hairstyles from years past.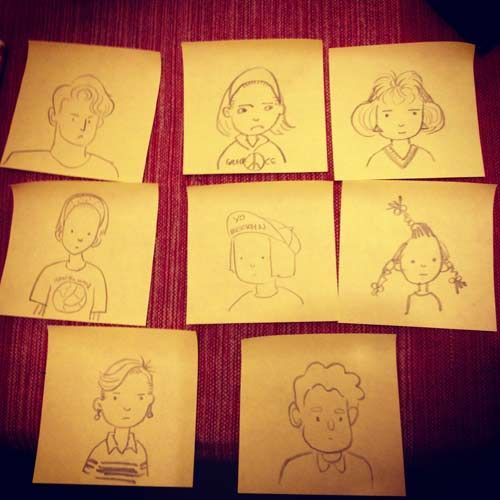 A few more bits from Matilda...