Here's a little peek at the drawing I'm working on for Oliver and the Seawigs with Philip Reeve and Oxford University Press. (You can see earlier posts referring to it here.) And what's that behind the lightbox? Eek! ... Oh, it's Gary, ha ha.




And a coloured-up spread of a spooky island. And sea monkeys! Actually, I just tacked on the sea monkeys, they won't really be in that picture, that's where some of the words will go.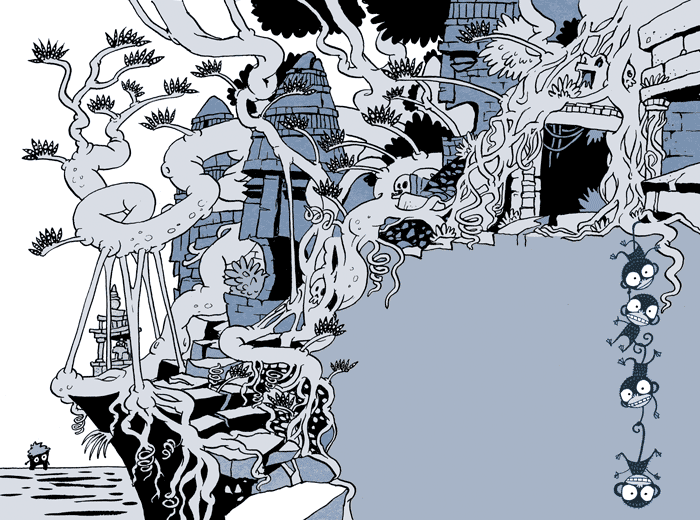 While you're getting a peek at the studio, here's what's sitting on Gary Northfield's drawing board. I think it's a comic for National Geographic Kids magazine. Gary draws Henry VIII a lot.




And now for a peek at last night's joint Booktrust - Comica Festival event! Unfortunately I don't have any photos of the first panel with Simone Lia, Karrie Fransman and Booktrust comics-artist-in-residence (and moderator) Hannah Berry, because I was on the panel with them and forgot to get a snap after we finished. But here's some of the gang in the pub afterward: Karrie, Comica Festival coordinator Megan Donnelley, Posy Simmonds and Simone.




Here's another one of Megan and Posy, it must be LUURVE.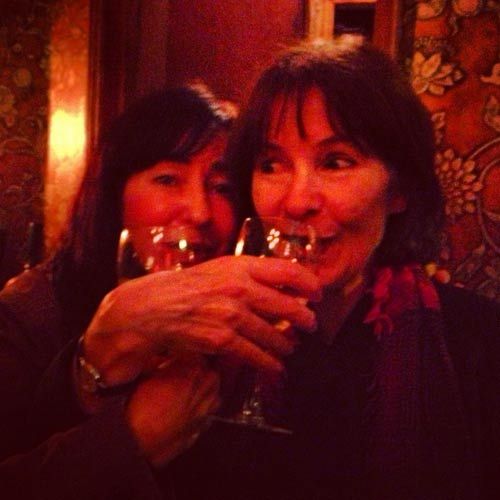 Posy has a new book out of her collected Meet the Webers strips, which you can read about in The Guardian, where they first appeared. Here's Hannah at the book signing, with Adamtine (which I'm in the middle of reading and is intriguingly dark and complicated) in front of Glyn Dillon signing The Nao of Brown (which I just read a couple days ago after buying it at Comiket and it is so gripping and beautiful).




Here's Simone drawing during the second panel, and Posy. These past two weeks (including the visit from Lucy Knisley) I've met up with three of my major influences in my comics career, which has been pretty amazing. Reading Simone and Posy's books, Fluffy and Gemma Bovery inspired me to make comics about the things I love, not see comics as only being about certain things (which I saw in other comics and didn't interest me very much). I think I saw comics as a genre, which is a complete mistake; comics is a medium, not a genre, and can span all kinds of storytelling in a rather spectacular and sometimes very intimate way.




We showed images and talked about lots of things that comics can do that prose can't, or which work better than prose. (And Hannah wrote an essay with her thoughts about it on the Booktrust blog.) One of the things comics can do is set a scene very quickly, and I showed this panel from The Phoenix Comic, a four-page story Philip and I came up with.




Which led on to saying that one of the things that really makes comics stand out is that when a kid reads a comic, the kid almost immediately wants to pick up pencils and paper and make his or her own comic. (Here's a second episode to our comic which popped up the day after it was published!)




When kids make comics, the medium allows for weaknesses in writing and drawing; if I can't write about something, I can draw it, and if I don't know how to draw it, I can write about it. So kids are able to plunge right into storytelling and build the weaker sides of their skills without even realising they're doing it. There's been a lot of talk recently about 'Reading For Pleasure', but I sometimes wonder why Britain isn't more clued up about comics for this. You give a kid a big fat book of text, and if they read it, usually things stop there, only few kids then want to write their own novel. But give a kid a comic (which they'll probably have more fun reading, it's a good one), and they spring into action and start caring about storytelling. I compared it to cooking; someone who loves cooking will have a whole lot more appreciation for a fine meal in a restaurant because they know what's gone into it. A kid who's made comics will have much more appreciation for storytelling, writing and drawing. GET KIDS READING COMICS. You don't even have to make them do it, just leave them lying around and they'll get snatched up.




While most people who came to the event were big comics fans, a few people in the audience admitted that they'd never read a graphic novel before. One of them was a teacher, who was keen to do a unit on them in his school with a bunch of 13-year-olds, and he was looking for some recommended reading. I'm going to try to do a blog post on this soon, with some of my suggestions, but I'm still longing for the time when we can have an online database of comics reviews linked up with creators and available workshops. (See my blog post about that here.)




Here's a funny peek at the second panel with Posy, Dave McKean, Glyn, Rian Hughes, moderated by Paul Gravett. Glyn showed some pages from The Nao of Brown and Karrie Fransman and I were sitting in the front row nudging each other, convinced that Glyn had used Dave as his model for this bearded character. Getting his face smashed in by a beer glass, NICE. Ha ha...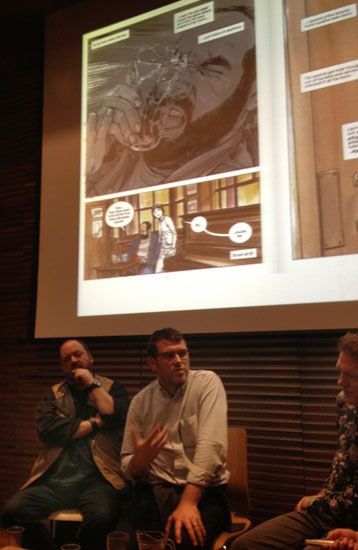 A couple more of the second panel:




Another funny moment happened when Rian pointed out that he'd created the font (called Regulator) that Dave was using in his books. Small world!




We had a full house, and it was great to see Zoom Rockman show up! You can see more about him on my blog, he's a real inspiration for someone who doesn't let age get in the way of making and publishing his own comics.




And lovely graphic designer Peter Stanbury, part of the triumvirate who run Comica Festival.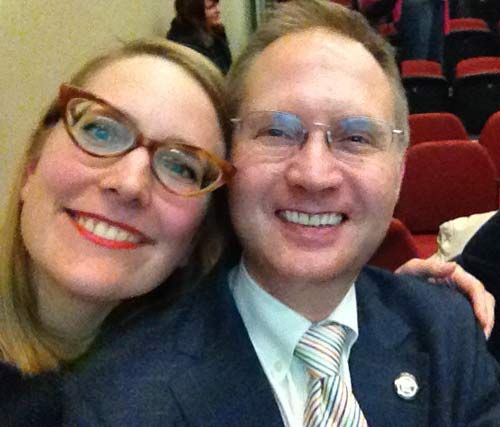 Here's some of the Booktrust gang at the pub. You can follow them on Twitter - @Booktrust, and I know Katherine Woodfine (sitting in front) is also active on Twitter as with @followtheyellow That's Megan Farr (in the glasses) from Hot Key Books, @Meggf. Thanks so much to Booktrust, Comica and the Free Word Centre for hosting this event, and we hope to see lots more collaboration with Comica and comics events! Hurrah!




(This was just before someone ran through the pub with a double bass that had caught on fire, which was horrible but also VERY EXCITING.)