Two more drawings from last week when I was feeling a bit fragile. (And yes, I'll be fine, which my mother wanted to know when she saw yesterday's two worried cat drawings.) I sometimes have this way of dealing with stress and melancholiness by staying up late and letting it build up to something very melodramatic... SO over-the-top theatrical that I have to draw it, and then I make myself laugh at how stupid I'm being.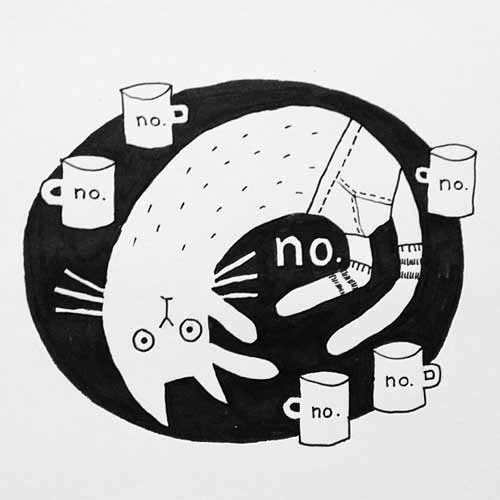 That's a cat who shouldn't have drunk all those cups of coffee so late in the day. I used to be able to drink up to two pots of coffee before bed and sleep like a log. Weird, how my body won't let me do that anymore. But I could still drink two pots of tea and be fine.




Hey, some cheery news! At Thought Bubble comics festival in Leeds last weekend, the British Comic Awards were announced, and our NELSON book scooped this year's prize for Best Book! Hurrah!!! Thank you to our lovely publisher, Kenny Penman at Blank Slate, our editors Rob Davis and Woodrow Phoenix, and the 54 creators who made it happen. If you haven't read NELSON yet, do get a copy, it's a great read. (Details on the Blank Slate website.) I'm also a huge fan of the Hilda books by Luke Pearson, so get your hands on those, too.



And here are four of the NELSON creators! The four Fleece Officers briefly reunited for bubble tea. Our studio mate Ellen has moved back to New York (see her Brooklyn studio here) but she came to visit for Thought Bubble and the launch of The Strumpet, which she co-edits. Ellen, Gary and I all drew strips in NELSON and Lauren knitted a mini Nel Baker for the launch party (see her here!). Lauren's been busy with loads of fabulous projects lately, including a knitted version of Sarah Lund from The Killing and spending last week in Indonesia with Save the Children working the Craftivist Jigsaw Project. (Find out more over on her blog!)



The Fleece Station's Ellen Lindner, Lauren O'Farrell, Gary Northfield and me at Deptford's Panda Panda cafe


I was really sad not to be able to go to Thought Bubble; I definitely want to go next year. Here's the Vern that Rick Eades gave me there last time. Vern loved yesterday's sunset and scribbled lots of bad poetry and whuffled on his sousaphone while I worked on a book that doesn't include him in it. (He's slightly jealous.)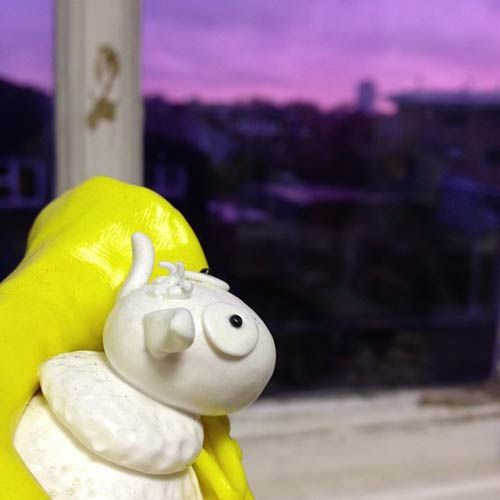 And a peek at Deptford Market, where my studio mates and I spotted Paddington Bear on our way to lunch. (Hello, Paddington!) He was lying face down in the rubble with his hat off, so I spruced him up a bit.