More and more librarians are discovering this to be SO TRUE:




One of the reasons we need well-trained librarians is to help kids find the right comics for them! Comics are an obvious choice for any library: kids will snatch them up and devour them, even those who would never normally pick up a book. But I remember as a kid, not liking superhero comics. And when I ran out of Archie comics and newspaper comics to read, I didn't know what else was out there. A lot of people think comics is a genre (they might lump them together as funnies, or superhero stories) but it wasn't until I was an grownup that I realised there could be comics about absolutely anything; it's not a genre, it's a medium, just like books or television or plays. I can find cowboy comics, romantic comics, murder mystery comics, comics about art theory, recipe comics, science comics, political comics, you name it.


One of the comics in the spotlight today is The Dandy, which is transitioning from the print version to a digital-only version tonight at midnight. The amazing Jamie Smart designed the last cover for the print comic, and blogged about his experiences at The Dandy here.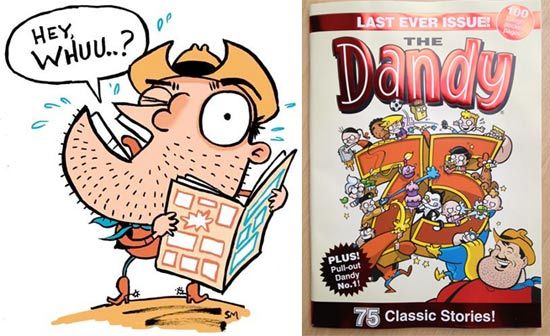 Jamie's optimistic about the future of comics, and I am, too! And one of the reasons is because of another comic that's only run for 47 issues so far, but has some of the best quality comics I've ever seen in a weekly magazine. ...But I'm not sure so many librarians know about this yet; a friend was speaking to a room full of librarians in Devon and asked if anyone had heard of The Phoenix Comic...

...and not a single librarian raised a hand.

WHAT...???!!

LIBRARIANS, PLEASE LISTEN UP! There's a fabulous new comic out, and it's called The Phoenix!



Matilda Johnson, publisher David Fickling, designer Matt Baxter, writer Dan Hartwell launching The Phoenix at Oxford's Story Museum

And guess what? One of the most regular contributors is that same Jamie Smart who draws Desperate Dan for The Dandy and in this one, he draws the wildly exciting Bunny vs Monkey, which is not to be missed! Here's a little peek at his strip:




I've only had a four-page comic in one issue, this one I made with Philip Reeve. We had loads of fun experimenting with it! Philip usually writes, but we wrote it together, he drew it, and I coloured it. You'll get surprises like this from loads of Britain's top writers and illustrators! Names you might recognise from The Phoenix and its earlier incarnation, The DFC, include Chris Riddell, Philip Pullman, Adam Brockbank (who designed monsters in the Harry Potter films), Garen Ewing (of The Rainbow Orchid), Emma Vieceli (whose Vampire Academy was on the New York Times bestseller list for graphic novels) and Dave Shelton (A Boy and a Bear in a Boat).




Here's my fab studio mate Gary Northfield's regular Phoenix strip, Gary's Garden, full of madcap animal adventures.




Wouldn't you like to have a weekly comics magazine in your library? It's 32 pages of full-colour comics, aimed at kids (and adults) aged eight and older. It's a mix of self-contained strips and ongoing stories. But what if you only want complete, self-contained stories in one cover? Well, then you have the books of collected strips, The DFC Library! Full-length books, chock-full of amazing comics. Here's one of my favourites, Super Animal Adventure Squad by James Turner: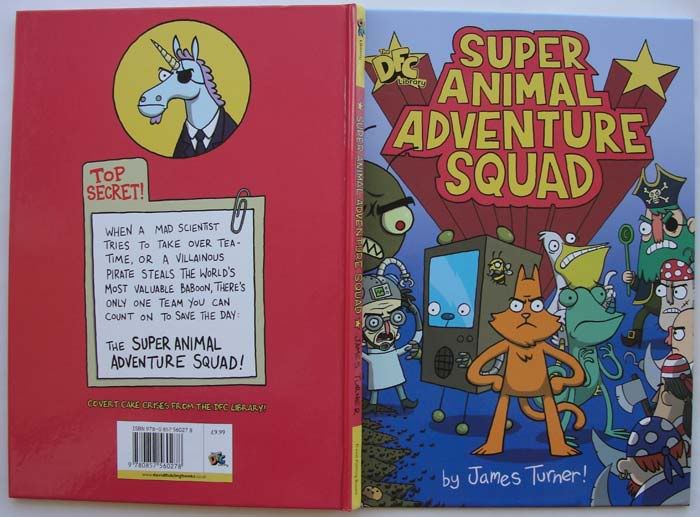 It's SO FUNNY!



But the DFC Library books are not all funny! Mezolith by Adam Brockbank and Ben Haggarty is quite dark and spooky. Something for everyone. Here's Baggage by the marvelous Etherington Brothers. Have you ever Bob and Lorenzo Etherington do a workshop? They're incredible.




In fact, almost all The Phoenix creators do workshops! How about bringing them into your school? You can either look them up directly on their websites and e-mail them, or contact The Phoenix to ask them to put you in touch. Yes, you will need to pay them, as you would any visiting author, but you'll get your money's worth, I am absolutely certain of this.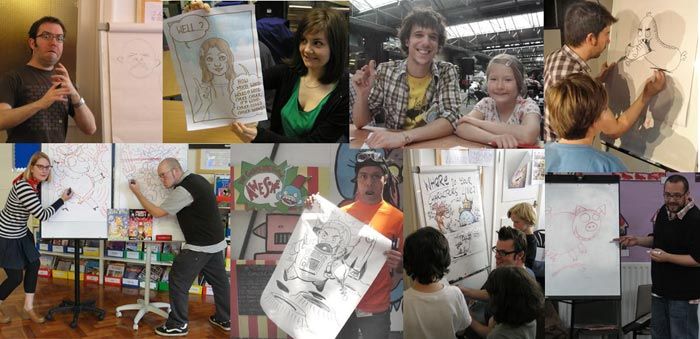 Adam Murphy, Kate Brown, Jamie Littler, Jamie Smart, me, Neill Cameron, John Aggs, Lorenzo Etherington, Gary Northfield

Neill Cameron (creator of DFC Library book Mo-bot High runs a frequent strip in The Phoenix, How to Make AWESOME Comics. Which highlights one of the truly awesome things about comics: when kids read them, they almost always want to make them, too!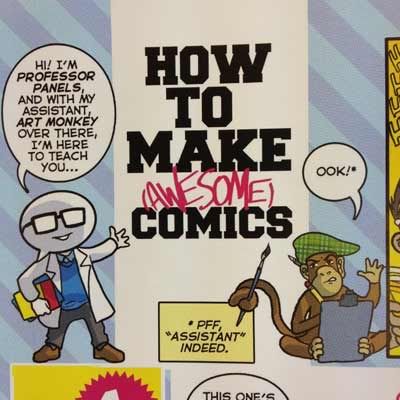 Here are just a few of the awesome things about kids making comics:

* Appreciation: Kids who makes their own reading material will care more about other things out there that are waiting to be read. Think about it. Someone who puts a lot of effort into cooking will take more interest in a fine meal at a restaurant, sussing out which herbs were used, trying to second-guess the sauce ingredients. Its' the same with comics; a kid who makes comics will study other people's comics to get ideas. They're learn how stories work, page layouts, sentence structures, pacing, characterisation, etc.

* Skill building: If kids (or adults) are having a hard time with either writing or drawing, they can use the other skill to compensate in the story, pulling along the skill that's weaker. If they can't draw something, they can write it; if they can't write it, they can draw it. And by, doing this, it will help improve both skills. And by stealth, it teaches lots of other skills, too: design, typography, entrepreneurship, even geometry, in the way a page is broken up into segments.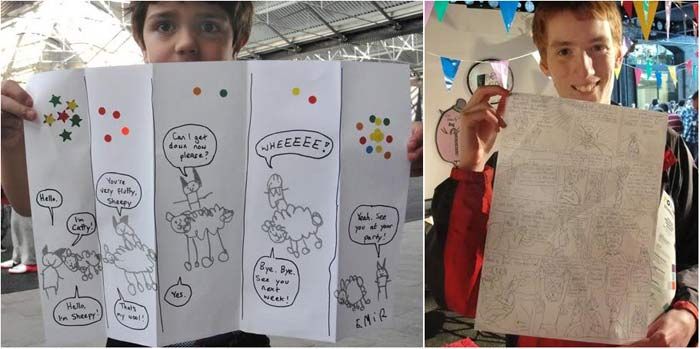 * Cultural accessibility: Kids don't need to speak English to make comics in the classroom; there are incredible wordless comics out there, such as Shaun Tan's The Arrival and Bob Graham's How to Heal a Broken Wing. So if you have kids in your school who don't speak English, they can get stuck into making comics right away, and sound effects (BAM! BOP! ARRRR! Mmm...) are a great place to start learning basic sounds and letters.

* Active participation: Sometimes the so-called 'reluctant readers' are reluctant because they don't like passively listening to stuff being fed to them. They want to do it THEMSELVES. Maybe be a bit silly. And comics enable them to do just that; take control and MAKE the comics.

* Inclusivity: Comics appeal to all ages and cross the reading gender gap. (That said, generally I find that it's difficult to run comic workshops for children under the age of 8. But they can do great character development workshops, getting them ready to make comics when they're a bit older and can put together a story better.)

... And that's just the start of a list that could go on for pages and pages (let me know if you want me to blog more about this!).




So that's my tip for the day, go subscribe to The Phoenix Comic, or at least have a good look at their website. Please tell everyone about it! The Phoenix doesn't have a massive publicity department, and they're putting most of their budget into making the comics top-notch. So let's spread the word, so we get more awesome comics like theses.




And also have a browse of the DFC Library, really high quality comic books that will make your library shine.




For people who are thinking about getting themselves or friends a subscription for Christmas, you can buy a special Phoenix Gift Box: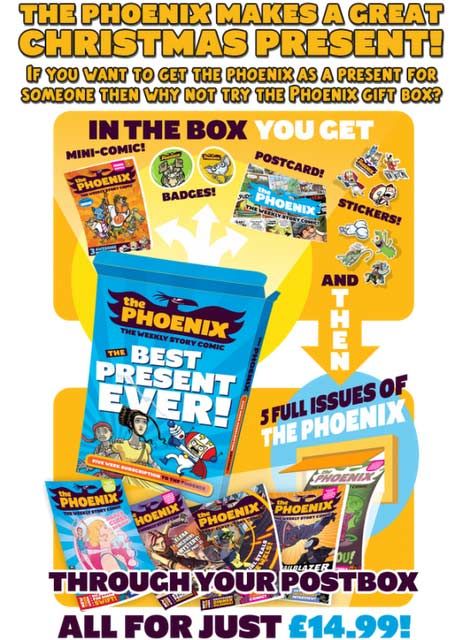 Neill Cameron has blogged about them here. I don't have a financial stake in The Phoenix succeeding, I just love it, and really, really want it to gallop forward. It needs your support and for people to know about it! You can follow The Phoenix on Twitter at @PhoenixComicUK. There's also a digital version of The Phoenix coming soon (end of January, mostly likely), which will make it accessible more globally, so keep an eye on their website and Twitter feed!

**Edit: Gary Northfield's compiled a list of all the Phoenix creators who are on Twitter. Have a browse here!**

If you want to read more of my musings about the futures I envision for comics, I've suggested that every school could have its own comics festival and put out a plea for a database reviews of kid-friendly comics, linked up with a database of its creators. The discussions continue...