Here's another little peek at what I'm up to on Oliver on the Seawigs, my book with Philip Reeve and Oxford University Press (coming out next autumn). I'm drawing mermaids! This one's a bit embarrassed. I think she's my favourite character in the book. Here's the sketched drawing and inked version on my light box.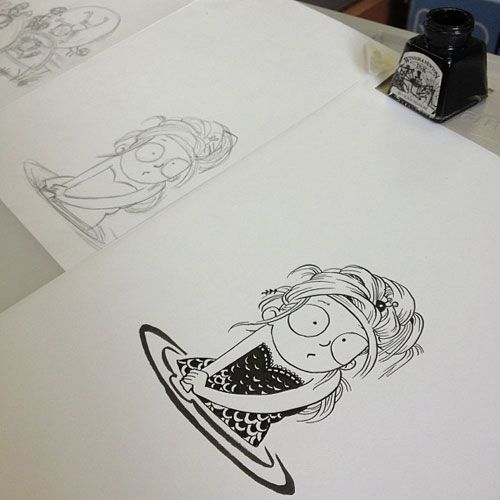 And here's the final version, with one colour. I've always liked mermaids; I used to play with plastic ones in the bath and dreamed about being one when I grew up. I even believed I could breathe underwater, and I used to sit at the bottom of pools and lakes for ages, breathing, and very pleased with my secret. I still can't remember actually making this up, but I do remember once going into the pool and sadly realising I wasn't able do it anymore.




And here are lots of mermaids! I had fun making them look a bit silly.




Are mermaids warm-blooded or cold-blooded? It'd be helpful to be cold-blooded in our studio right now, it's a bit nippy. Here's a peek at the drawing board of my studio mate Gary Northfield, a panel in his strip Gary's Garden for The Phoenix Comic. At least his fictional character is enjoying the weather. Ha ha, I love how it looks exactly like Gary. We have also solved the problem of how to keep our toes warm.




And thank you for all your lovely tweets and blog comments! Here's an encouraging tweet in response to the hullabaloo we've been making about The Phoenix. (Do subscribe! A great Christmas prezzie!)





And wow, that library sign I made for the Mass Lobby of Parliament for School Libraries has been doing the rounds! It was just a snapshot, but I was a bit stupid not to put my name on it when the New York Public Library (1,212 shares!) and the Chicago Public Library posted it but didn't mention who drew it (darn). Thanks to those of you who let me know! But I'm glad people are being able to use the printable poster.




Thanks for the comments you've left on that blog post, so many from the USA. Exciting! Keep an eye on the Mass Lobby Facebook page, run by Barbara Band (@bcb567 on Twitter) to get the latest updates on the campaign.

Now it's back to work, I have DEADLINES GALORE. Oliver and the Seawigs is due very soon, as are a whole picture book full of pencil roughs for Scholastic. Eek! (Sarah, step away from the computer...)