Something is not right in Sarah world: while I'm frantically drawing my fingers into little nubs to make books, I'm not actually getting to READ books. Oddly enough, one of the perks of my job these past couple years has been that I don't need to buy many books anymore, people send them to me. But then they just sit there, in an enticing looking piles, which gets less and less appealing as the dust layers settle on them. (I'm not getting much time to do housework, either.)




But the not reading thing is so, SO WRONG. The whole reason I went into making books is because I love reading them. I love opening the covers and then disappearing into another world for awhile, and coming out, feeling like I've been on holiday. Perhaps a stressful, scary holiday, perhaps one that's unsettling, but a holiday, nonetheless. Reading gives me ideas for my own books, ideas that can be reshaped into completely new stories or even something as small as an expression on a character's face.

So I am trying to read in the gaps, a few stolen moments away from deadline work. Two days ago I finished reading Jeff Norton's Metawars while making a risotto (a mushroom and brandy risotto, if you're looking for a recipe). And it's a wonder the risotto didn't burn; I got sucked in, and it felt a bit like going to the cinema, fast-paced and action-packed. Here's a sample page, to help you get the drift:




I'd met Jeff a couple times, once at our Worlds of Tomorrow SF event, where I think he first met novelist Moira Young. Jeff and Moira are both Canadian - in fact, they went to the same school - and they have that thing in common that most Canadians have... they're just so darn NICE. So when you get invited to a party with them at Canada House on Trafalgar Square, where they're going to talk about their new books, you cannot say no. (Especially when there are Girl Scout cookies involved.)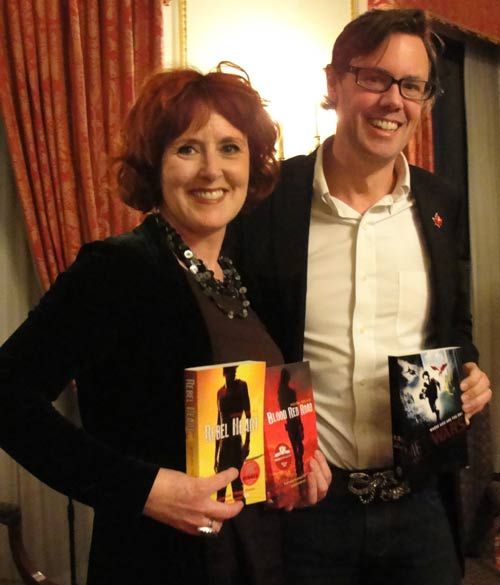 I've written about Moira several times on my blog (check out the photos of us running around the haunted Baskerville Hotel at the Hay Festival) and do go find out about her exciting dystopian novels Blood Red Road and its sequel, Rebel Heart. Moira and Jeff are both very direct, go-getter, nothing's-going-to-stop-me types, which when I'm in North America, seems kind of normal, but here in Britain, makes them very surprising, even slightly shocking. You meet them and think, Ah, they'll go far. Here's a little clip with Jeff from his website:



I enjoyed Jeff's book very much. He doesn't try to make it seem like highbrow literature, he just gets in there and uses what he needs to tell a good story. I loved how he takes the virtual world as given, explores it, revels in it. It's very much the world we live in now, just look at a crowded street in London and see how many people have their heads down over their iPhones and Blackberries; they're really somewhere else. In Metawars, his characters have mostly given up on their ravaged world and live almost full-time in the virtual world. It all felt very familiar. I don't play Massively multiplayer online role-playing games, although I've watched my studio mate wander landscapes in World of Warcraft and, ages ago, dived tentatively into Second Life. It felt a lot like the real world, actually, but people were less nice. Within minutes, I'd been stripped naked and had a big tuft fur stuck to the front of my avatar. ...Nice intro. Sometimes I love the immediacy of the Internet - I can talk with so many people instantly - but much of the time, I'm trying not to let it suck me in, like this: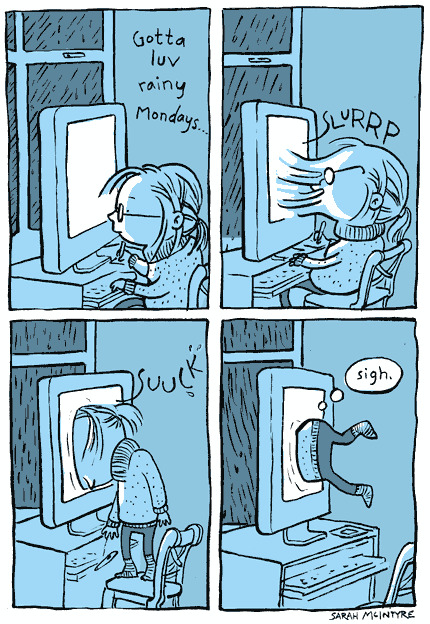 You don't need to be involved in MMORPG to understand how our lives are more and more virtual. One of the main reasons I blog is that I have such a bad memory that if I don't blog about it, I forget what I've done. It's like having an external hard-drive for my brain; I guess that makes me a little bit of a cyborg. And I feel like I've talked with at least a hundred people even on a day when I haven't left the studio. With Skype, sometimes they even visit the studio, virtually.




So I had fun racing around with Jeff's character, Jonah Delacroix, as he attempts to work out the power plays in both the virtual Metasphere and real world and tries not to get killed as he gets sucked into a rebellion. Both Moira and Jeff said that they're more influenced by films than books, and I could see lots of The Matrix in Metawars, which I didn't mind at all, because I love The Matrix. His characters plug into the virtual world in the same way, and move around in that world, looking like they really appear to themselves. But whereas, in The Matrix, this just means everyone is dressed better, in Metawars, people (or their avatars) show up as animals and shapes. At the start of the book, Jonah is one of the few people who look a bit like themselves in real life - a humatar - because he has very little to hide. (I wonder what my avatar would be?) These avatar representations of people's selves reminded me of Philip Pullman's His Dark Materials trilogy, where everyone has a daemon, an animal sidekick that reflects their personality. And during the story, Jonah takes on another avatar, which reminded me very much of Philip Reeve's three Fever Crumb books, and the implant in Fever's brain. I love books that play with our perceptions of reality, and how we can mess with them, using technology. Thanks for a good read, Jeff! Here's a review of Metawars over on Sci-Fi London.

Here's Telegraph Online editor and journalist Martin Chilton (@MartinChilton on Twitter), who interviewed Moira and Jeff. And speaking of Twitter, I tweeted the event - back to that virtual world thing - which you can probably still see under the #CanadaHouse hashtag. And here's Stuart with Moira's architect husband, Paul.




It was great to meet Leila from the Post-Apocalyptic Book Club! (She's @Dystocalypse on Twitter.) Do get in touch with her if you're interested in joining.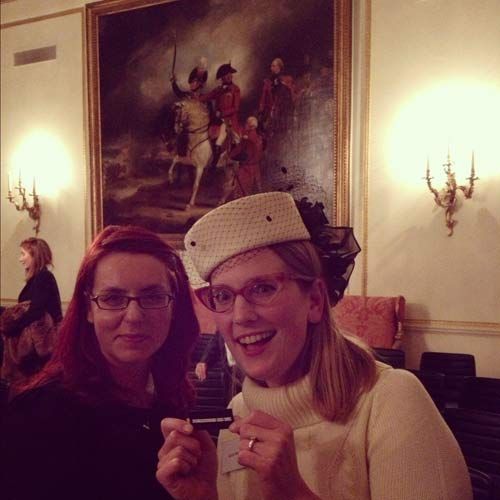 Here's Jeff with his lovely wife, Sidonie, who was photographer for the evening. Thank you, Canada House, Martin, Jeff, Moira, Scholastic and Orchard Books for a lovely evening! You can follow Moira and Jeff on Twitter at @Moira_Young and @thejeffnorton.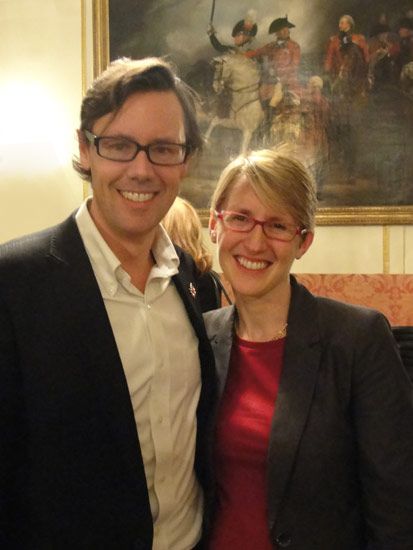 And one more bit of news! In the run up to Christmas, Neill Cameron of The Phoenix Comic is posting an Advent Santa, drawn every day to YOUR suggestions! Here's VALKYRIE SANTA. Go check out today's drawing!