Yesterday evening, I had lots of things to do, but all I managed was a flop on the sofa, then drawing this before I went to bed. I tweeted with it: I am very tired. I would like to hibernate for the rest of the year, please.




Whereas, of course, this is the strongman image I usually try to project, ha ha. (Thanks to the new tattoo shop in New Cross for this.)




Yesterday I made a point to spend Quality Time with Stuart. We rode our bicycles from home, under the river at Greenwich, then up Regent's Canal to Hackney, to bustling Broadway Market. This photo's kind of grainy, but I love how it came out: sort of timeless, but then there's a chick with her iPhone.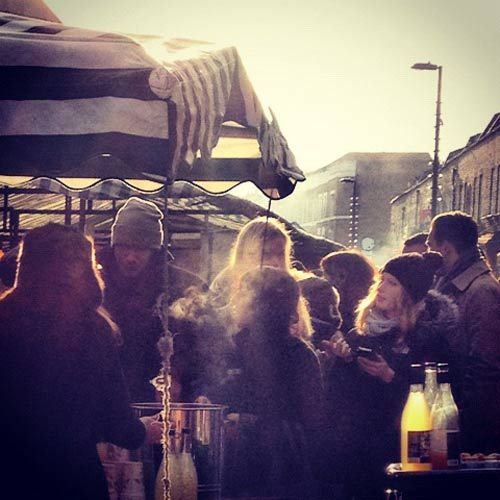 I'd never been to Broadway Market before, and it was hipster paradise, but it had so much yummy food and we managed to do a fair bit of my Christmas shopping for the year.





Here's a traditional pie and mash shop by the market, with sawdust on the floor and everything. I thought no one was in it because the market food was so good, but about an hour later, it was pretty full. According to this website, Fred Cooke has been selling jellied eels there since 1900, and served the shepherds who were driving their flocks to the City of London.




Stuart and I got our lunch from this stall: fried haddock wraps with lots of beetroot and salady stuff, they were yummy.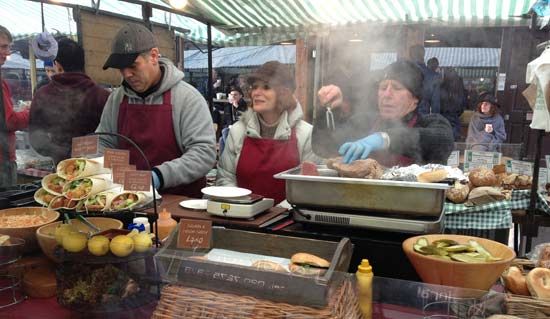 The weather was very nippy, so we popped across the street to the coffee shop and had this view of the market while we cupped our hands around our lattes. Gary Northfield's farm, excellent. He is a cold overlord, just like it says; yes.




We saw a lot of great outfits, but I only worked up the courage to ask this nice couple if I could take their photo. His orange spec frames made me smile and I love her coat. (This is me pretending that I am The Sartorialist. Oh wait, I haven't looked at that website in ages... *pops over from blogging to have a look*)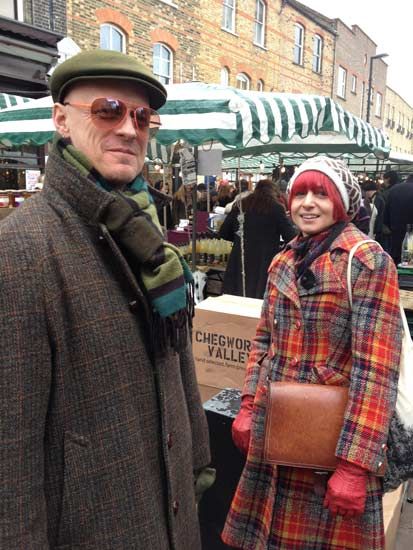 And then we rode back home along the canal. You can see a few more of my pictures over on Instagram (I'm 'jabberworks') if you want a peek. I love this boat's yellow. I stopped to take a photo and another cyclist almost crashed into me from behind, which could have sent either us into the canal. Oops. :-/ He WAS going stupid-fast for that stretch of the towpath, though, silly lycra lout.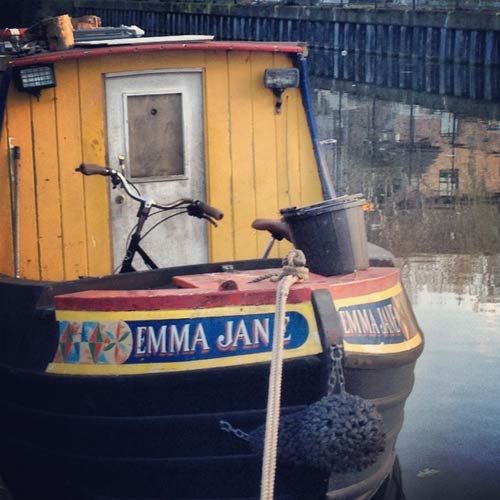 Speaking of silly Instagram situations, Stuart and I LOVE this College Humor song about it. Click over to watch. I am guilty of so many of these things. (Thanks to Jamie Smart on Twitter for the link!)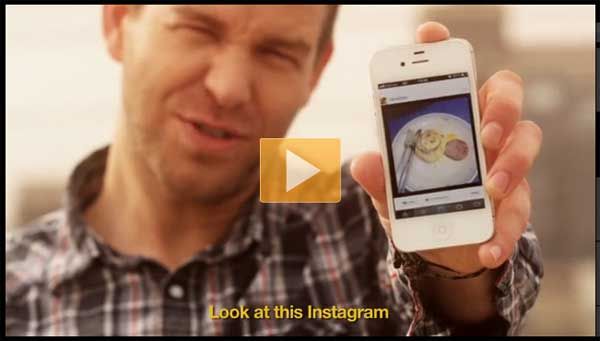 The song's a parody of some Nickelback song we'd never heard of, so we had to find that, too. I don't recommend watching that video, it will make your eyes and ears bleed. That voice, it's just like the one in the parody. Argh. Why do people do that voice?

On a better note, Neill Cameron is on a roll in The Phoenix Comic with his nearly-weekly Art Monkey tips, How To Make AWESOME Comics. You'll find this page in this weekend's Issue 49, but I recommend subscribing to get regular tips on how to make your own Awesome Comics. (Teachers, libarians, pay attention!)




Another link, cartoonist and illustrator Mik Brown has blogged about our Futures of Publishing event at the Society of Authors (which featured this fine crew). Thanks, Mik!




Tonight at 8pm you can hear a bunch of us talk about our book NELSON on Resonance FM, here's the link! I'll post a link to the podcast later, in case you miss it.

While I was flipping through my copy of The Bookseller magazine, I found this lovely illustration of Foyles Charing Cross bookshop by Rian Hughes, which is also featured on one of the boards in front of the soon-to-be new shop. In fact, get down there before it opens, because you can see the history of Foyles, in comics form, by loads of my favourite comics artists, organised by Comica Festival. Or you can look at them online on Foyles' website here.




Often I click 'favorite' on Twitter to save articles that look interesting for more leisurely read later. Here's one that Caroline Lawrence flagged, about colour, that looks interesting.




And I'll end with my favourite tweet of the morning: