What a triumph! On Tuesday night, Foyles Charing Cross hosted a party for Creature Couture, a brand-new release by Blank Slate Books, featuring the wonderful creations of the Felt Mistress, Louise Evans. Here's my drawing of the book's designer, Louise's good friend Woodrow Phoenix, Louise, and her partner Jonathan Edwards (aka Jontofski).



(Click on the pic or here to see the black & white sketch. I was trying to play around with Jonathan's way of drawing first with grey brush pen, then black, with mixed success.)

We were treated to a fabulous display of Louise's work, a mix of 3-D characters and photo portraits of others, made to look a bit like an at-home lounge, with gilt frames and tinsel. The Felt Mistress exhibition continues until New Year's Day in Foyles' third-floor Gallery, details here. Do pop along and see if it you're in London! Take time to meet each character properly, every one has a name and a back story.



Austin Flisk and Skeechy Dwippford, 'hosts of the best parties, makers of the best espresso, wearers of the sharpest threads'

I first met Felt Mistress and Jontofski through Woodrow, who invited me along one year to a freelancers' Christmas dinner at a restaurant in Kings Cross station. Louise told me how she made one-off styled wedding dresses, but that she was also making these little monster figures. The first one I saw was a photo of her 3-D interpretation of Woodrow's cartoon character, Pants Ant: a tiny ant who operates an enormous robotic pair of trousers. Woodrow was utterly pleased with it, followed Louise's work closely, and then wouldn't rest until they'd put together a beautiful, full-colour coffee table book documenting the amazing creatures she's come up with. They pitched it to Kenny Penman, publisher at Blank Slate, and he was up for it; the page count tripled (or was it quadrupled?) from the original proposal, to 400 pages, there were just so many good things to include.




Louise and Jonathan are an amazing partnership, they work closely together and influence each other's work hugely, picking up where the other leaves off. You might recognise Jonathan's illustrations from The Guardian and loads of other places. Louise, with her top-notch sewing skill, realised she could make his drawings come alive as figures, and now she collaborates with him and lots of other well-known artists, too, such as Jon Burgerman and Pete Fowler. They've also worked with businesses such as Selfridges (they did a big window display), Nobrow Press (including a beautiful felt version of Luke Pearson's Hilda) and Kirk Originals (note the figures with amazing specs). Here's a video about Creature Couture:




Jonathan was drawing portraits of people in the front of their books. Here's my monster portrait, isn't it Fabulous?! I'm so chuffed! :D




Martin Steenton from Blank Slate introduced this crew, and Woodrow interviewed Louise and Jonathan about how this book came together. Woodrow did an amazing job, some of the best interviewing I've seen, because he knows those two so well and has been passionate about their work for so long. It was fascinating to hear about their month work placement in Japan, about her training in perfectionist sewing, about her shed-full of vintage tweed. And when I read through the book this morning, I spotted a lot of those stories in its pages. Well worth reading, as well as picture-gazing!




The essays by Jon Burgerman and others were quite in-depth. I loved something Pete Fowler wrote:

I think the best compliment you can give or make to someone is 'Your work is you. Your self and your work are the same, it's a projection of yourself.' Louise doe that to a tee, absolutely, with no slacking. I'd like to think that we are all like that, in any circles of artwork and artists that you have, there's a lovely group of friends that inspire each other and unknowingly, perhaps, push each other. Not in a competitive way (maybe it is a little competitive) but in the nicest possible way. Jonathan and Louise's work always inspires me. If I'm ever feeling down, or at a bit of a crossroads with work, or just having one of those days where I feel 'I'm rubbish', I look at people's work on the Internet and think 'I've got to pull my socks up'. But seeing Louise's work never makes me feel like 'God, my work is crap', it's just inspiring.



Rishikish George: George Harrison, made for All Together Now, The Beatles tribute show at Gallery Nucleus, Alhambra, California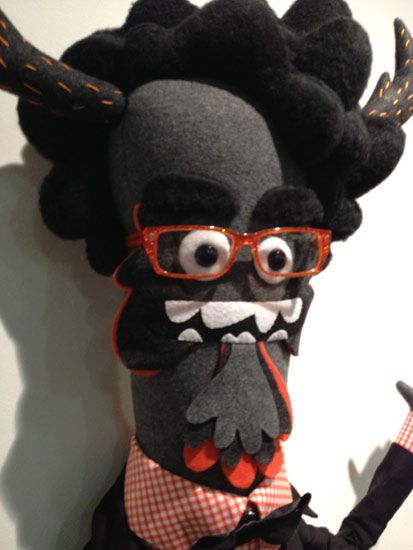 Lester Flent: husband of Hester, co-founder of the Furious Rhomboid gallery, Lester believe in the power of the continuous line

Ha ha, the drinks were quite startlingly colourful. Excellent! Also all the jellybeans we could eat. A total sugar buzz.




Speaking of friends and supportive creative community, it was great seeing so many of the people whose work I find inspiring. Like one Jamie Smart, at the party with Swedish Anna. I got to know Woodrow (and thus Louise) through The DFC, a weekly comic now going strong as The Phoenix Comic, and so many people who inspire me now, like Jamie, are people I met that way.




Here's Rian Hughes with his portrait. Rian's work was recently featured in Foyles, a graphic history.




My lovely and super-crafty studio mate Ms Deadly Knitshade, fitting in remarkably well with the other creatures.


Edwin Crepuscule Flenk: Artist, poet, novelist and 'nocturnal romantic'. Edwin's band, The Decadent Prosimians, split acrimoniously after differences arising over styling mousse in 2005.
Flink Strothers and Groobo Tubbs from The Furry Mayhem

Gilbert Twang and Pooky Snooks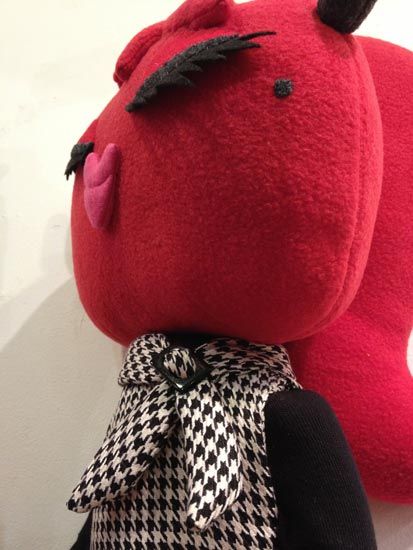 Lovely detail on Skeechy Dwippford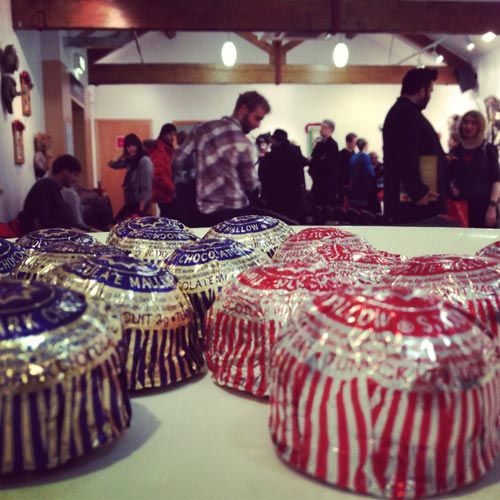 Oh, we DO love Tunnock's!


Chris, Louise and Craig Conlan (who drew one of the characters in the book that Louise made)

My fab studio mate Gary Northfield, and comics artist Lizz Lunney

Hurrah! I'm so glad I finally get to see this book!




Piece of trivia: I actually have WORK in this book! Oh yes. It's on page 398, I took that teeny-tiny photo of Woodrow and Louise. That's the one, right there at the bottom of the page. *puffs out chest proudly*




So if you're looking for an amazing Christmas present, you know just what to get! Considering the size and quality of the book, it's a real steal at £24.99. And supporting Blank Slate is always a great thing, they publish some of the most amazing books and comics out there. (Do check out some of their other stuff!)




Congratulations and thanks to Louise, Jonathan, Woodrow, Blank Slate and Foyles for a wonderful evening and a marvelous book!