Remember how my fabulous studio mate, Lauren O'Farrell (aka Deadly Knitshade) came out with a book of kooky little London-themed patterns to knit? Well, her new book, Stitch New York, has just launched! Hurrah, Lauren!!!




Lauren wasn't expecting Stitch New York to launch until January, but... surprise! Now if you have any NYC-loving friends or family, this could be just the Christmas prezzie you're looking for.





Who could pass up a knitted Holly Golightly? Or a tiny taxicab, or Woody Allen? Find out more over on the Whodunnknit website, lots of lovely photos of the little characters! Here are some copies Lauren signed this week at Bookseller Crow in Crystal Palace:




Lauren's always followed by a media storm, and this week was no different. Here's a crew filming Lauren at our studio, the Fleece Station, talking about her graffiti knitting for Japanese telly. This photo made me laugh, I can't remember what they're all looking at.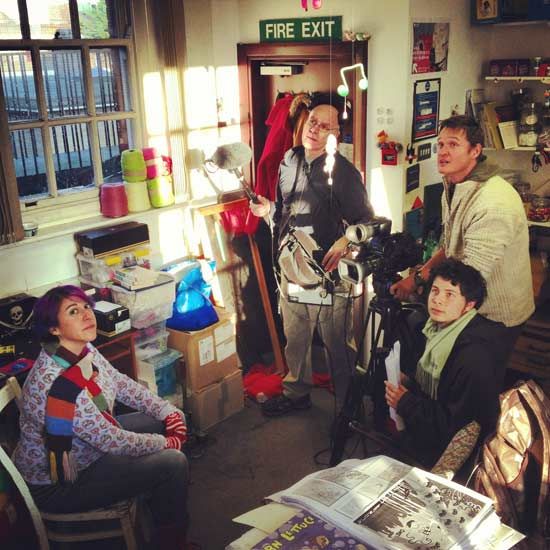 And friends of the Fleece Station have also been coming up with marvelous things! I just got a copy in the post of Garen Ewing's comic The Rainbow Orchid. It originally came out as three books, but now you can buy it all in one cover, with a special supplement about it by Garen. Garen's been working on this book for ages, and he's such a wonderful stickler for historical details, this book is an epic endeavour. Find out more on The Rainbow Orchid website...




Here are two other comics I picked up at Gosh! in Soho today: the long-awaited The Silver Darlings by Will Morris, and Recyclost by webcomic wonderwoman Philippa Rice. Will's is a fishing story, set on the west coast of Scotland (not far from where my dad grew up!) and Philippa's is a sci-fi story with some of the characters from My Cardboard Life (updated three times a week!). Gosh! have posted about The Silver Darlings on their latest blog entry, and you can read an article about Philippa (and Luke Pearson - I'm such a fan of his Hilda books) in today's New Statesman article by Mike Leader.




And hurrah for 12-year-old Zoom Rockman, whom Vogue has just included in its 2013 list of 20 people to watch out for. Zoom worked with us at the Pop-Up Festival this summer and keeps popping up on my blog. I hope he'll inspire lots of other kids to realise they don't need to wait until they grow up to make, self-publish and market their own books.




Other than that, it's been very chilly at the studio; Gary and I flap around a lot, dance and sing to stay warm. Here's a frozen little cobweb on the stairway.




We always love making a quick foray to Deptford Market. Here's Lauren with her crafty street-art buddies, Craftivist Sarah Corbett and Moose the cleaning artist. We warmed up in the Rail Carriage cafe and messed around with stuff they'd bought at the market.




Keep an eye on Lauren's awesome website, her graffiti knitting projects always amaze me.