Yesterday a bunch of us made our way to Oxford to shower kisses on our long-time comics editor, Ben Sharpe. Ben edited me when I wasn't even sure I could make weekly comics, through all my Vern and Lettuce strips in The DFC comics magazine, and then did it again with its reincarnation, The Phoenix Comic. He's moving on now, but he's done an amazing job. Yay, Ben! We love him so much that we even made a special half-size Phoenix Issue Ben: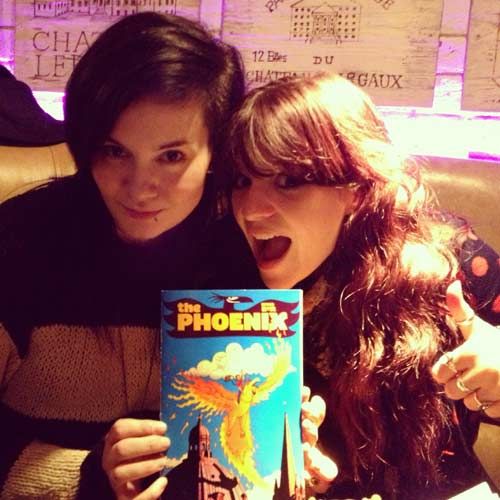 Kate Brown / @autojoy (who creates The Lost Boy for The Phoenix) and Laura Ellen Anderson / @Lillustrator (Evil Emperor Penguin). Cover by Faz Choudhury / @fazman

I hadn't drawn Vern and Lettuce for awhile, and I got a bit giddy doing that first panel of Vern drawing. So here's a peek at one page of Issue Ben. ...Aw, I'm awfully fond of those critters.




Here's lovely Ben and a detail of one of the pages drawn in Issue Ben by John Aggs (@johnaggs, writer of Zara's Crown.




But wait, could you be one of the few people left in England who does not know what The Phoenix Comic is? Well, here is a little Christmas video the team have made (featuring Neill Cameron's Advent Santas), and have a look at The Phoenix Comic website, where you can get amazing weekly comics (supposedly for kids aged 7 or 8 to 12, but The Phoenix has a lot of adult readers, too).



I don't want to give away too much of Phoenix Issue Ben in case its creators want to blog their own pages, but here's a little peek at a Gary's Garden strip by Gary Northfield / @gnorthfield (his finest hour, and I've blurred the last panel with is a bit rude) and another by Simone Lia / @simoneliadraws of Lucie.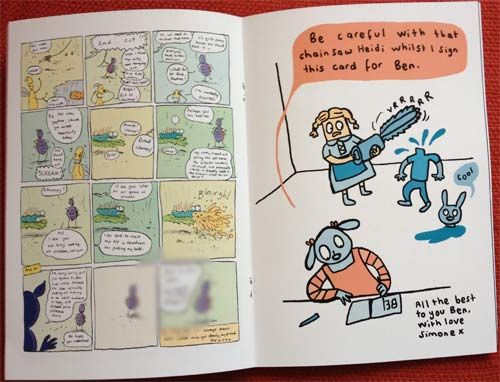 On our way to get burritos, we stopped by Oxford's Waterstones to look at their specially painted Phoenix display, prominently featuring a dinosaur by Neill from his Pirates of Pangaea strip with Dan Hartwell / @CynicalMongoose.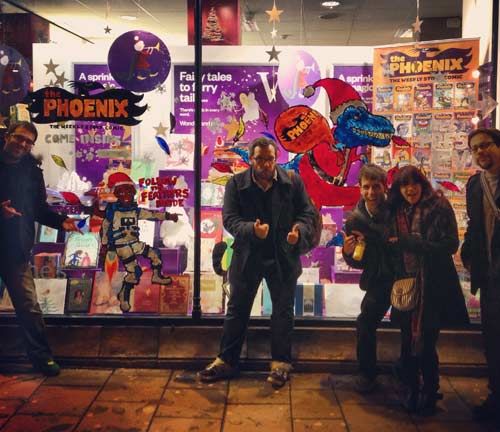 Adam Murphy / @Adam_T_Murphy of historical comic Corpse Talk, Gary, Jamie Littler / @jamieillustrate of Cogg & Sprokit, Laura, Dan

A big thanks to the fabulous Dave Shelton / @daveshelton of Good Dog, Bad Dog, who came up with the idea for Phoenix Issue Ben, rallied everyone to make pages and got it printed. You're a star, Dave! Here he is in his special Editor Monkey hat.




Oh, but look! There is another wild and furry hat! Yes, that is Jamie Smart / @jamiesmart of Bunny vs Monkey.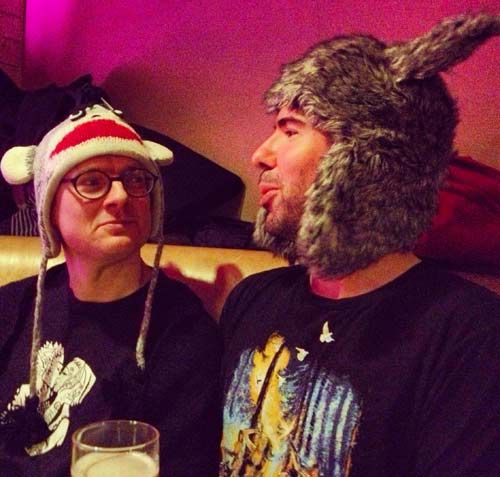 While The Phoenix is very sad to see Ben leave, it's in very safe hands with its new head editor, Will Fickling. In fact, Will isn't new at all, he's been one of my editors way back since early Vern and Lettuce days and he was incredibly helpful and suggested some good additions. (I think the phrase 'carbon hoofprint' was his idea entirely.) That's Will there, in the striped shirt on the right:



Lorenzo Etherington / @EtheringtonBros of The Dangerous Adventures of Von Doogan, Adam, Jamie, Bob Etherington (also @EtheringtonBros) and Von Doogan, Tom Fickling, Laura, Jamie, Will

Yup, Neill Cameron / @neillcameron and Gary give Will a big thumbs up.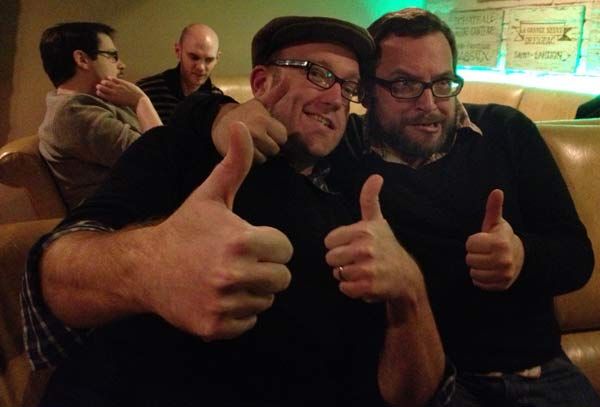 So why am I bothering to link all these Twitter names? It's a bit silly, really, when you can follow the whole lot of 'em over on The Phoenix Comic Twitter list. I'd suggest going right down the names and following them all. Click click click.

Our Ben trip to Oxford from London turned out to be more of a long pilgrimage than we were expecting. FOUR HOURS to get to Oxford. Heh. At our point our train even went all the way back to Paddington Station. Apparently it's just as bad today; a fire in a rail-side shed caused all the fuss.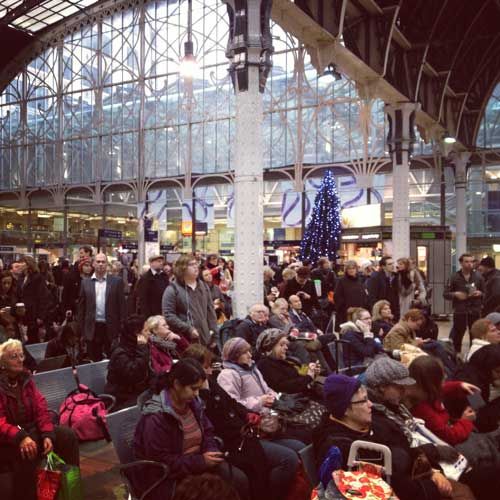 But one of the good things was meeting our fellow passenger Lisa Wallace, who let me draw a picture of her.