Not only can you get the wonder that is The Phoenix Comic in lovely, good-sniffin' print format, but you can now read it on an iPad! (And other formats are in the works!) This is GREAT NEWS to all these people in other countries who've been reading my numerous Phoenix blog posts but feeling sad because it was too expensive for you to get the print version posted internationally to you. Well, now you can read it! I hope lots of international comics and reading forums take up this news and spread the word.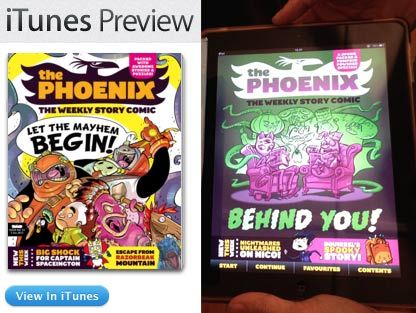 Here I am at London's Cartoon Museum, marveling at The Phoenix's global possibilities. Oh, and also papping a shot with the amazing Patrice Aggs, who draws the Zara's Crown strip in The Phoenix.




This is such exciting news for comics! Fresh new stories, funny humour strips, adventure tales, no advertising, it doesn't really get better than this. The stories are primarily aimed at kids ages 7 or 8 to 12, but adults love them, too; fun for the whole family.




We got a sneak peek at the upcoming digital goodness at the Cartoon Museum party. Here are some of the gang who bring you your lovely comics: Paul Duffield (Danica Starborn's Secrets of the Universe), Kate Brown (dressed up as Bob from her strip The Lost Boy) and John Aggs (Zara's Crown writer)!




Modeling The Phoenix on iPad and also in its gift-box format, Caro Fickling, who's been spearheading the comic since it picked up from where The DFC left off. And lovely editor Ben Sharpe, who has just passed on his hat to Will Fickling, but whom we recently fêted and made a special Phoenix Issue Ben. See if you can pick out a few more of The Phoenix creators in this Cartoon Museum crowd in the second photo:




So let's go forth and spread the good news! The Etherington Brothers are doing it here, splashing their Von Doogan across the front of Gosh! comics shop in Soho. And goshdarnit, you can even share the news in the pub. Here's my studio mate Gary Northfield (Gary's Garden), James Turner (Star Cat) and Adam Murphy (Corpse Talk). Long live comics!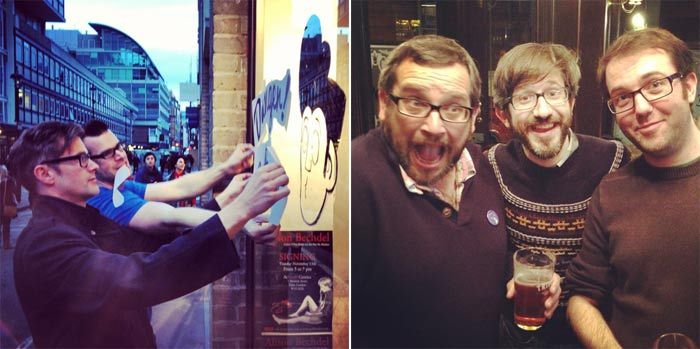 You can follow almost everyone on The Phoenix team on Twitter on this Phoenix Twitter List. And keep an eye on the Forbidden Planet International Blog for their fab Phoenix reviews!
**Edit: The Phoenix has just set up a hash tag, if you're tweeting the news! It's #digiphoenix.**