Last night Sam Reeve and his dad were posting his Picasso-inspired drawings (on Twitter and Instagram) and noted they looked suspiciously like me:




So I got down one of my Picasso books and had a go at drawing them back. I quite like how it came out!




My studio mate, Deadly Knitshade, left a comment about it, so I drew one of her, weeping over her knitting like Picasso's model Dora Maar. If you're looking for inspiration to draw something today, why not draw a portrait of yourself or a friend in the style of Picasso or one of the old masters?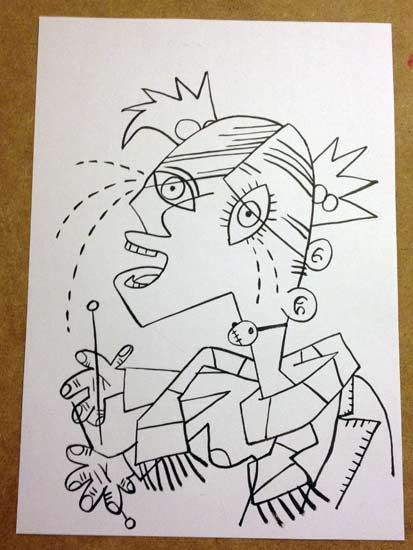 Other news: my friend David O'Connell has just posted a fab comic strip (starring him and his dog, Treacle) which you can read in full here...




Well now, here's an excuse to post photos of cute-as-a-button Treacle herself:




Dave's really storming right now, his third issue of ink+PAPER (a full-colour comics magazine for grown-ups; I have a strip in Issue 2) has just been listed by Paul Gravett in his Best of 2012 review. And his new kid-friendly illustrated chapter book Monster and Chips is lauching soon - 28 Feb - and he's working hard on the following two books, all coming out with HarperCollins. I can't wait to read them!

You can read about Monster and Chips in The Bookseller here.




Ha ha, I just spotted this comic strip, A Kind of Celebrity, over on Dave's blog. Some great stuff there, do keep an eye on it!