Hurrah! Gary just called across the studio that I might like to look at Twitter, and when I did, I saw my lovely agent had just tweeted this!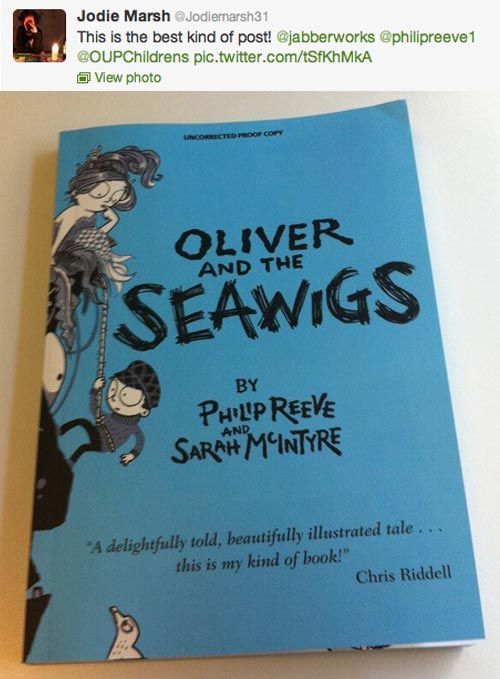 So exciting! This is the uncorrected proof copy, which is basically a preview version, but not supposed to look too much like the final book. So the cover is completely different, and the last chapter is still my sketches, not final artwork. It's all set to go to the Bologna Book Fair at the end of March ; fingers crossed that lots of foreign publishers will want to buy and translate it! (If you know any, please give them a push for us!) :)

Gosh, I'd love to see a copy in Japanese or Korean. And if it was in French or Russian, I could sort of read it, that would be ace. I'll brush up on either language to do a reading abroad if any of you foreign publishers want to take it up. (I think my very bad accent might amuse people, at least.)

I've proposed #BCBF13 as this year's English-language hashtag, just because last year there were about six hashtags and it was almost impossible to follow (as I blogged here).

Huge thanks to wonderful Chris Riddell for the lovely quotation! You can visit his amazing studio and peek at his sketchbooks in my previous blog post here. The full quotation (which will be on the final cover) reads:

A delightfully told, beautifully illustrated tale of nautical hairdressing, saltwater primates and sarcastic seaweed - this is my kind of book!

Click on this Seawigs tag to see some peeks at the illustrations!