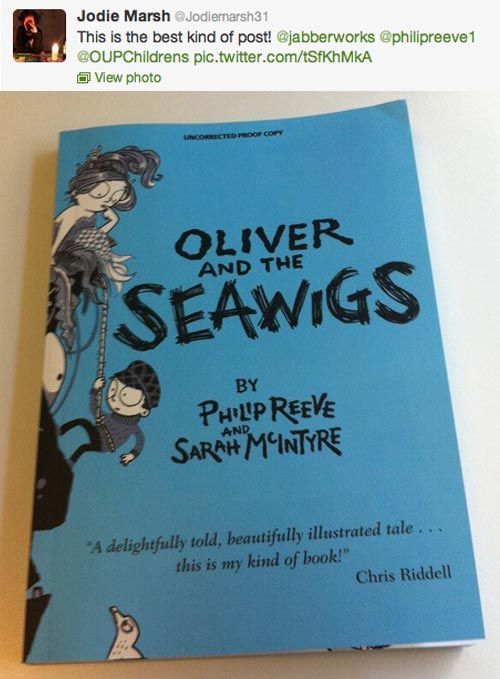 So exciting! This is the
uncorrected proof copy
, which is basically a preview version, but not supposed to look
too much
like the final book. So the
cover is completely different
, and the last chapter is still my sketches, not final artwork. It's all set to go to the
Bologna Book Fair
at the end of March ; fingers crossed that lots of foreign publishers will want to buy and translate it! (If you know any, please give them a push for us!) :)
Gosh, I'd love to see a copy in Japanese or Korean. And if it was in French or Russian, I could sort of read it, that would be ace. I'll brush up on either language to do a reading abroad if any of you foreign publishers want to take it up. (I think my very bad accent might amuse people, at least.)
I've proposed
#BCBF13
as this year's English-language hashtag, just because last year there were about six hashtags and it was almost impossible to follow (
as I blogged here
).
Huge thanks to wonderful
Chris Riddell
for the lovely quotation! You can
visit his amazing studio and peek at his sketchbooks in my previous blog post here
. The full quotation (which will be on the final cover) reads:
A delightfully told, beautifully illustrated tale of nautical hairdressing, saltwater primates and sarcastic seaweed - this is my kind of book!
Click on this
Seawigs tag
to see some peeks at the illustrations!
Hurrah! Gary just called across the studio that I might like to look at Twitter, and when I did, I saw my lovely agent had just tweeted this!