These have been an exciting couple days, all revolving around Oliver and the Seawigs! The big news is that Oliver and the Seawigs now has a German publisher! In fact, it turned into an auction, and Dressler, part of the Oetinger group, won the bidding war for this book and our second book, too. (Hello, new German publisher!)



A peek at pages from the Uncorrected Proof version of Oliver and the Seawigs

Our Dressler editor, Marlen Bialek, wrote: I am really, really completely in love with it! I love Oliver, I love the voice, the Rambling Island Cliff and its wig, the mermaid Iris, the albatross, etc. I am absolutely overwhelmed by the incredible illustrations ... And I could go on and on like that. What an intriguing read! This lovely book would be perfect for our list.

On Wednesday Oxford University Press brought Philip and me to St Hugh's college in Oxford to present our book at the final act of their sales conference. We talked about how we met, and how the book came about, but also had loads of fun mucking about with hats and silly wigs. Hurrah!



Philip in a Seawig, head of marketing Elaine McQuade with a mockup of the final cover design, me, our editor Clare Whitston

I made my seawig out of a panettone box, a model ship and cling film, inspired by these wigs designed by Kate Cusack.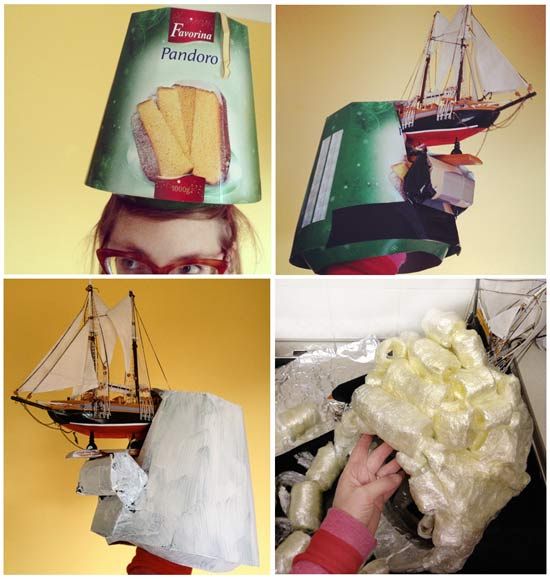 And the we gave them a puppet show! Or, as we put it, we let Oliver and Iris the mermaid talk about what it was like to star in the book and how it was to work with us. I thought Oliver and Iris would say nice things - I mean, we gave them a story to run around in - but they dished up quite a few disparaging comments, those naughty characters.





Afterward, lots of people wanted to try on the wig. Unfortunately it was a little too big for our editor and ate off her head. But here you can see it modeled by the lady who negotiated our German deal, Valentina Fazio.




We also signed a small stack of proof copies, including one for our the daughter of our publicist, Harriet Bayly. First signed book!




Here's Philip modeling his Christmas prezzie, sea monkey cufflinks. (I made them out of Sculpey clay.)




We had a lot of fun with the puppets, we even sang a song! One of the sales reps was weeping, she was laughing so hard, which either means we were good or our singing was really, really terrible. (I can live with either or those possibilities.)