Happy National Libraries Day! No, this year has not been a happy one for Britain's libraries. But I don't want to rummage through nostalgia for reasons we should keep them open (despite having many, many nostalgic reasons). That's because we don't need to play the nostalgia card:
LIBRARIES ARE EVEN BETTER NOW.




A few reasons why libraries are better now:

* Libraries look better, they smell better. I loved my library as a kid, but I pretty much stuck to the rack with the flimsy paperbacks because I could pick them up and examine their covers. I didn't know how I could move on to the 'grown-up' books because they all had uniform library binding and smelled weird from their repackaging. They were all either beige, burgandy, green or dark blue. These days, librarians laminate the covers, so you can still see them looking as attractive as they would in a shop, and you can read the blurb on the back. You can pick up a book and feel it, gauge the heft of it (which you can't do online). I love walking into a library and seeing an attractive, tantalising display of covers. Kids can wander around, pick out picture books they like, browse through comics they couldn't afford to buy themselves.

* They stock more comic books. Our school librarian used to gripe about how all the kids just wanted to read the three Garfield books the library stocked. She wanted us to read 'proper' books. The waiting list was whole classes long just for Garfield. The librarian always tried to turn us to the other books, but we all hotly yearned for the comics. Librarians are wiser about comics now; they realise they're on to something good when kids can't get enough of them. Instead of making them fight for a few comics (Garfield wasn't even a very good comic), they stock lots of comics, and the best ones: humour comics, adventure comics, graphic adaptations of classic books and plays, Western comics, mystery comics, biography comics, history comics, info comics, you name it. My local ibrary in Deptford has two large racks of comics, and more in the children's section.

Perhaps librarians are rediscovering the importance of visual literacy, not just trying to get people to plough through chunks of text. And discovering from the commercial world the value of visuals (and smells, the scent of hot drinks?) in making people want to read.

* We need more help these days. When I was a kid, it was considered all right to do a research paper by going to the encyclopedia, looking up the entry and slightly rewriting the text I found there. Once I found the set of encyclopedias, I was pretty much okay to do it myself. I'd probably get a few other books and photocopy pictures out of them. Teachers didn't expect too much because they knew our resources were limited. Now we have far more information online. But teachers know that copying out a Wikipedia entry isn't the extent of learning, and we can push kids to look further, engage with world experts, talk with authors. The possibilities are endless and wildly exciting! But where? How? That's where librarians come in, being able to teach kids how search engines work, how to find the more informative sites, look up related books, and how to avoid internet dangers. Just because a kid can put a search term into Google doesn't mean they've mastered the Internet. Librarians really ARE the most powerful search engine, and they care about kids.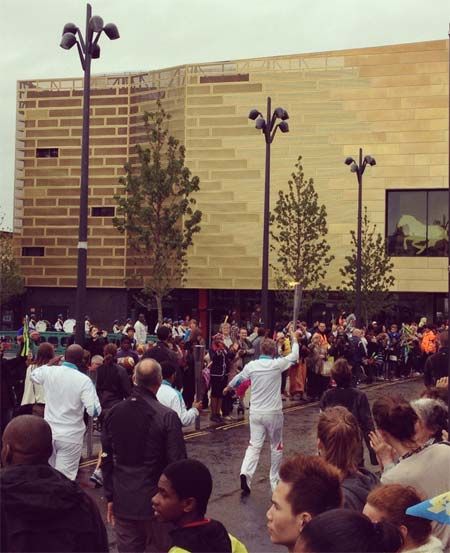 The Paralympic torch aloft in front of Deptford Library
Follow the hash tags #NLD13 and #LoveLibraries if you want to find out what all the buzz is about! Click here if you'd like a free printable poster.