Hurrah! Philip Reeve and I were hoping we'd get back into The Phoenix, and we did! But a different Phoenix this time, the hub of Animated Exeter, a brilliant festival and a great reason to head over to Devon.




We launched a new book, The Exeter Riddles! Here I'm perusing the lovely little tome over breakfast.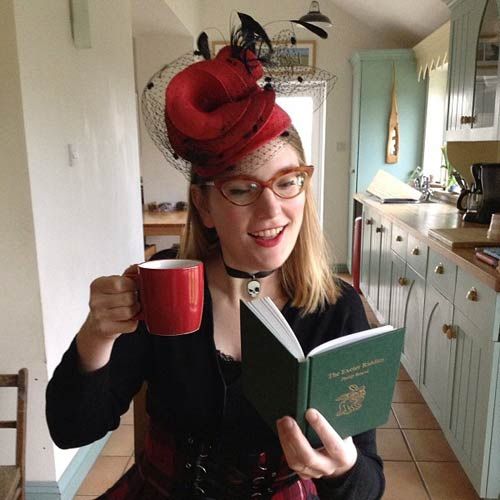 Photo by Sarah Reeve

I should add, The Exeter Riddles is mostly Philip's book - he wrote it - but I illuminated a letter in it and provided the image for embossing the front cover.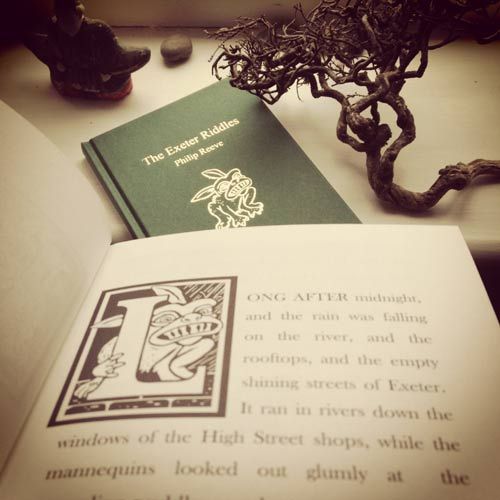 Philip drew his inspiration from the odd little carvings on Exeter Cathedral, in particular, this little grotesque, below on the left. The front of the cathedral is a bit like a comic strip, with its panels filled with characters. Philip imagined what would happen if the characters came alive, and different points of Exeter's history started leaking into each other. The resulting tale is startling and funny.




And the story didn't stop with a book! Animated Exeter put on an interactive game, called Time Winders, based on Philip's idea of History Leaks, and you can read about here. Which explains the odd appearance of Romans in town.




Photo by Sarah Reeve

Philip and I led a Comics Jam stage event, talking about how real-life places can inspire stories and comics. While researching The Exeter Riddles, Philip was intrigued by this saint who's carrying his decapitated head, but has a second, reserve head on his neck.



Photo by Sarah Reeve

I talked about my comic book, Vern and Lettuce, set in the nearby real-life neighbourhood of Peckham, but featuring animal inhabitants instead of people.



Photo by Sarah Reeve

So I was thrilled when, after the event, I got a brand-new Vern and Lettuce comic from a young animator named Jordan.




Check out his Jordananimaton1 YouTube channel for some fab short films! Here's one:



Philip and I took suggestions from the audience to design characters:



Photo by Sarah Reeve

Here's one character drawing I was given at the end. Thanks, Ethan!




And then everyone took part in a Comics Jam session:



Photo by Sarah Reeve

Here's one Comics Jam, with each panel drawn by a different person. It's so fun to create a character and then release it into the wild, to see what will happen to it. (On my website, you can see a 24-panel Comics Jam I did with David O'Connell, called Airship. Incidentally, his first written-and-illustrated chapter book, Monster and Chips, comes out today!)




We had a big signing session after the Comics Jam, and had the lovely surprise of stellar writer and illustrator Babette Cole turning up! (Mostly likely you know her books Princess Smartypants, Mummy Laid an Egg!, Hair in Funny Places and loads more.)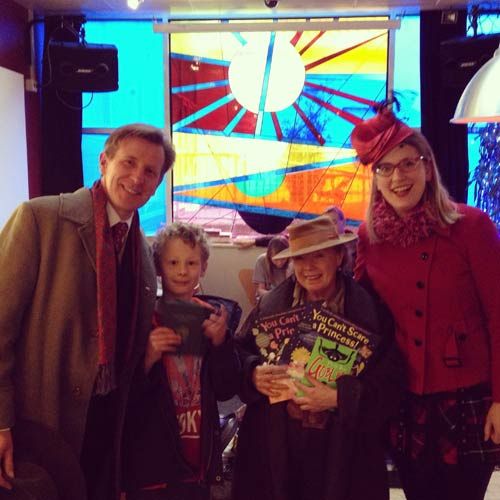 We both drew little grotesques into people's books. Here's one of Philip's: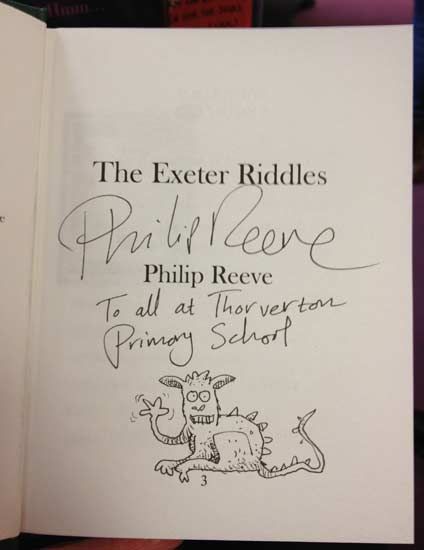 It was lovely to see comics that kids had really put time and effort into making. Here's one, and I don't even know the name of the person who drew it, so feel free to identify yourself in the comments if you like!




During the event, I showed the Bunny Chart that I had stuck to the front of my computer, to keep track of the names and colourings of the bunnies in Vern and Lettuce:





So 10-year-old Harriet Wood made her own Kitty Chart! Her dad, Andy, sent it to me, and wrote: We also had our own mini Comics Jam last night which was great fun. Hurrah!




The Exeter Riddles has only been published as a very limited-edition book specifically for the festival (printed by Short Run Press, but you can buy copies where we did our first signing of the day, at Waterstones Cathedral Yard in Exeter, just across from the cathedral. (In fact, the two-headed saint looks right at the shop!) If you can't get to Exeter, you can try enquiring on Twitter: @AnimatedExeter




A huge thanks to fab Festival Director Susannah Shaw (in the centre) for all her hard work, and to the excellent Animated Exeter team, including Ruby Frankland (right), who looked after us for the day.




You can read Philip's blog post about the day here! And I just had to include a few more snapshots of the amazing sculpture on the cathedral. Check these out! I totally have to go back and have a better look around. I haven't even been down into the tunnels yet. Here's two-headed St Nectan: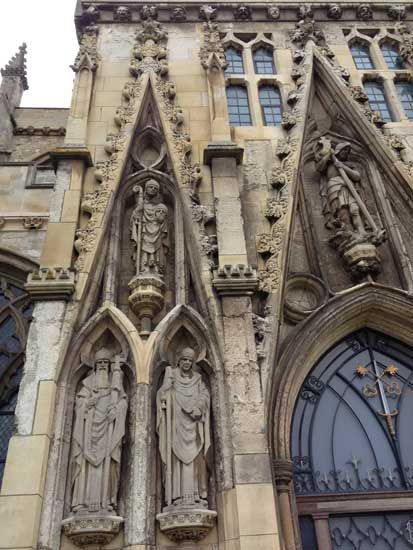 These ones with the faces worn off look quite spooky, like something out of Doctor Who: