Hey, can you get to Dublin this May? Awesome thing are going to be happening if you love children's books and drawing. Children's Books Ireland and Dublin Writers Festival are getting together three illustrators - Irish Laureate na nÓg Niamh Sharkey, French artist Hervé Tullet and me - to do all sorts of workshops and monster draws through the city. And you'll be seeing our monsters everywhere! I need to come up with three for the posters, so here's my first monster: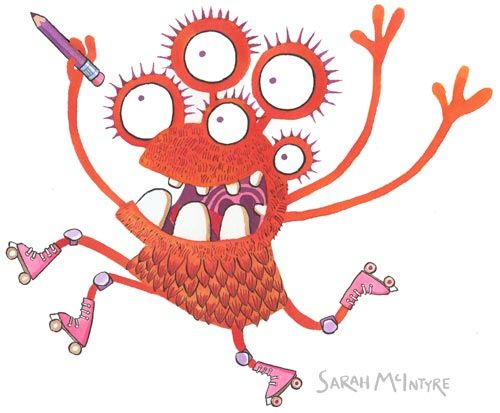 Here's the rough draft I submitted to them via Twitter when I was taking the train down to Exeter: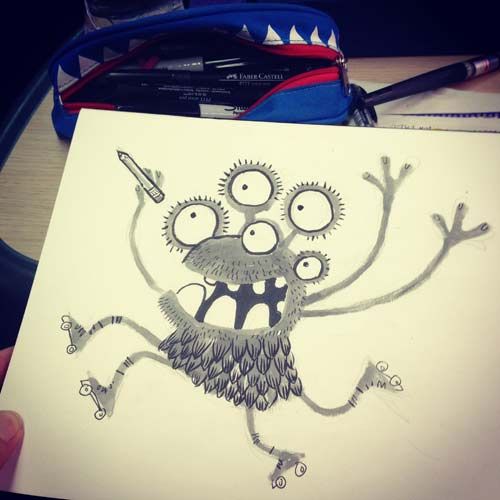 And here's one of Hervé's monsters!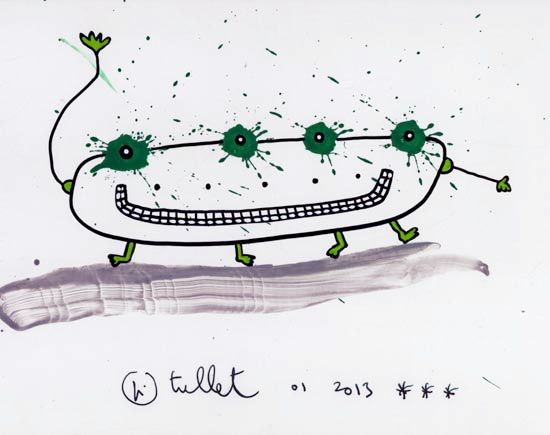 More monsters from Niamh coming soon! Even if you don't know about Hervé yet, you might recognise his name from my blog post about the launch of last year's Pop-Up Festival here.





Here's a picture from the very first time I met Niamh Sharkey. When I first started illustrating, I was very influenced by her picture book, The Gigantic Turnip, and I was slightly nervous when I met her. But she's lovely and not at all scary. (As you can see from these photos of us mucking about in a photo booth on a previous visit.)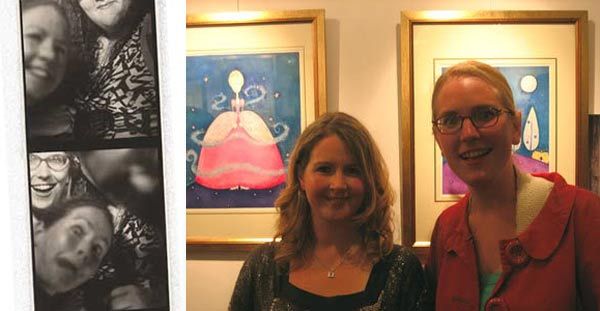 There's a great line-up for the Children's Book Ireland Annual Conference on 18 & 19 May, including Jon Klassen (author of I Want My Hat Back, who just won the Caldecott Medal in the USA!), Alex T Smith (massive SQUEE! I'm such a fan, I want to take up all his time while he is there), John Boyne (who wrote The Boy in the Striped Pyjamas and lots of other fab books), and I can't wait to find out about the rest... oh, it's going to be brilliant.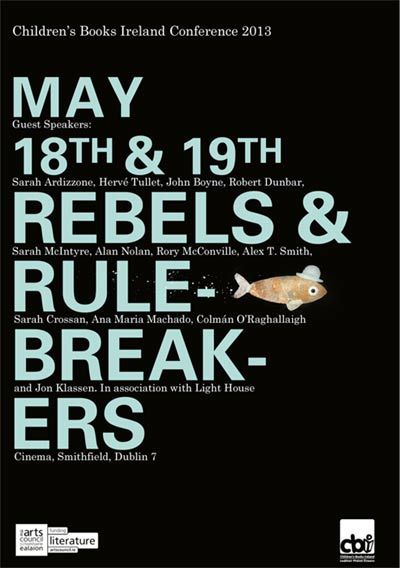 You can download the whole brochure as a PDF file here, but I'll give you a few tasters: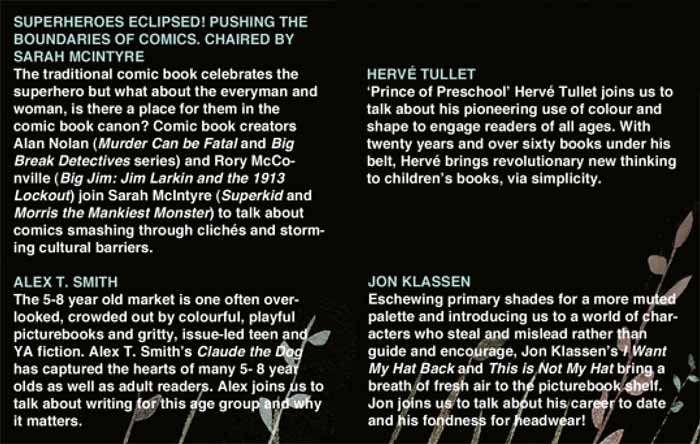 I'm really excited to meet Jon Klassen for the first time. He likes hats, we will have plenty to talk about. I remember reading I Want My Hat Back in the studio with Viv Schwarz and Gary Northfield and falling about laughing as we did the voices. Here's the trailer for his latest collaboration with Lemony Snicket:


Direct YouTube link

Check back, I'll post a couple more monsters very soon! In the meantime, you can follow Dublin Writers Festival Facebook page, on Twitter as @dubwritersfest and CBI at @KidsBooksIrel to keep on top of updates for what will be happening around the city when Hervé, Niamh and I meet up and simultaneously combust.