So I have THREE festivals to tell you about! One, of course, is in Dublin in May and is why I have been making these monsters. (Details in previous post.)




The second is Comica Festival's wonderful Comiket! I love this festival, it's where I buy all my birthday, Christmas prezzies and half the time end up keeping them. Totally original, handmade stuff for incredibly reasonable prices. This time it's at Central Saint Martins near St Pancras station. It'll be individual creators selling their own stuff, so be be kind and be sure to bring lots of small change, not just £20 notes. They sometimes have kids running their own tables among all the adults. See my blog posts from previous Comikets here and here!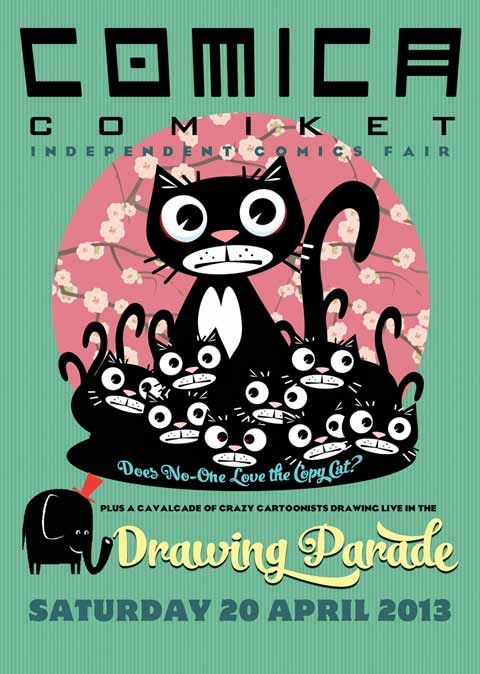 And the third is a BRAND-NEW FAMILY COMICS FESTIVAL IN OXFORD! Hurrah! 4 May, save the date!





Here's the news just in from editor Will Fickling:

The Phoenix is holding the first Children's Comic Festival on Free Comic Day Saturday 4th May at The Story Museum Oxford from 11.00 to 16.00.

Several of our readers have asked us to host a comic festival, for children. And because they obviously have such fantastic taste and judgement we mean to do just that. It will be small and free and if you are interested and available we would love you to take part.

There will be no charge for having a table, and you are very welcome to sell your own stuff if you want to. [I need to double-check with them if this means the people on Will's mailing list or creators of family-friendly comics in general.] LOAf and the DFC Library will be there as will a family friendly 2000AD. If you would like to run an event/workshop on the day then that would also be brilliant. [Again, need to check if this is a general invitation, or just to Will's mailing list. Sorry to be unclear... but the news is too exciting to keep under my hat!]

If you are able to join us and want to take part please let me know as soon as you can. This is the planting of a seed. A small beginning to what we hope will one day become an event for young comic lovers all over the country... and beyond.




Edit: ***UPDATE FROM WILL FICKLING!***

It's really open to anyone. As long as the focus is the kids. We're just announcing it you guys first as we don't know the response we will get. There's obviously a finite amount of space, so we wanted to give Phoenix Folk the first bite of the apple.

Once we've gathered a bit more of a response I think we can safely say whether or not there will be room for all. But feel free to talk about it as much as you like! And if guys you know want to get in touch, give them Caro's email: caro at thephoenixcomic.co.uk.