Soon I'm off to the Bologna Children's Book Fair! Here's the catalogue cover I designed for Oxford University Press. Doesn't it look lovely and Seawig-ish?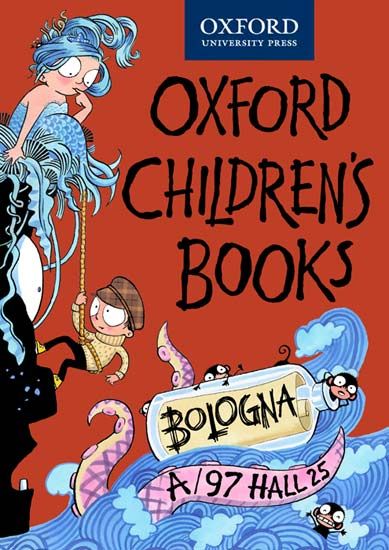 If you're at the fair on MONDAY, look out for Philip Reeve and me where we'll be doing Oliver and the Seawigs-themed live drawing! Ha ha, I mean I'LL be doing live drawing and Philip will be following me around with a black pen colouring in lots of sea monkeys. No, really, I hope he'll do some drawing, too.





If you're following the fair on Twitter, there's no official English-language hashtag, so you have to skitter around about five tags, which is a major pain in the backside. I'm going to try to stick to #BCBF13, but if no one else uses that, I may have to migrate to #BBF13 or #BolognaBookFair.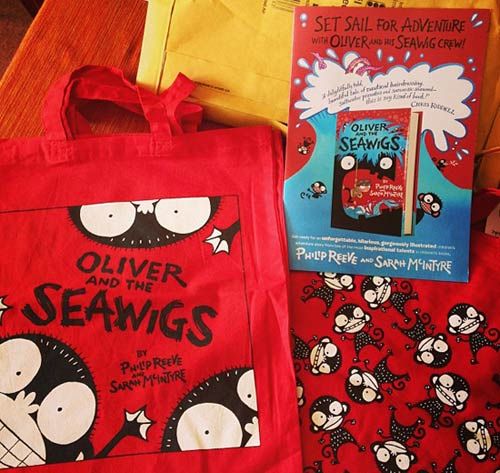 I've been thinking back over past Bologna Book Fairs and it turns up a lot of different emotions, some bemused, some sad. Last year Orion publicist Nina Douglas didn't get to go and were so envious of everyone eating gelato that we met up for our own little gelato-fest in Soho: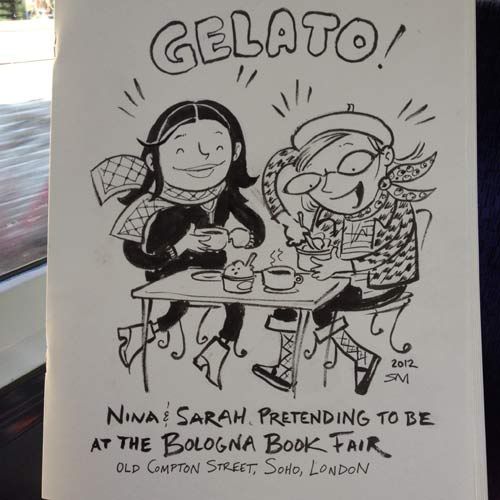 Bologna 2008 was the first time I really felt I was starting to get into this whole business. I went along with this fab gang to the Society of Children's Book Writers & Illustrators conference in the two days before the fair began (blog post here), then we all ran around the fair together looking at all the amazing exhibitions and book stands. I was thinner then, with boring specs.




Anne-Marie Perks, Margaret Carey, Candy Gourlay and me

Sadly, one of these ladies, Margaret Carey, isn't with us any more, having died of cancer in 2011. Candy Gourlay, also in the photos, wrote a moving tribute to her here. Margaret was very active in organising SCBWI events, part of my monthly critique group, and we still miss her.

That year I was just getting to know my new agent and publishers and it was a little bit like dating. I went out for a meal with my new picture book editor, Katherine Halligan, and my agent, Rosemary Canter. And I should have been more worried about impressing my editor, but Rosemary had such an august presence that I was rather smitten, and desperate not to slop my pasta sauce in front of her. Here's a painting I drew of that meal, but drawing us as busty foxes:




Rosemary died of cancer the same year as Margaret, and I'm still sad when I think about it. (Here's a tribute I wrote to her.) She was amazing. She did a brilliant job of training up my agent now, Jodie Marsh, and I know Jodie misses her even more than I do, because she worked with her so closely. I'm sure we'll both be thinking fondly of her.

So... bring on Bologna, with all its pasta, prosecco and gelato, and its highs and lows, awkwardnesses and excitement. Hopefully some book deals, too.