**Here's Bologna Blog Part 1 if you missed it!** There's something I've not been allowed to tell you about! I've been working on a secret picture book for Scholastic UK that I drew AND wrote myself! I think Scholastic didn't want me to talk about it just in case it bumped someone else forward into presenting a book on a similar topic at the fair. But here's a first peek. It's about... SHARKS. And it's called There's a Shark in the Bath!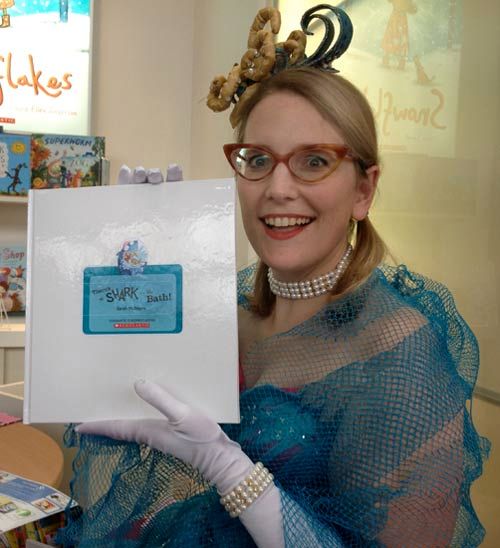 Shark book photos by Philip Reeve

I haven't actually painted the cover yet, this is a preview version with most of it finished specially in time for Bologna, but the book won't come out until next year. (And guys, I can tell you, I had to work HARD to get it even to this stage by the deadline. Phew!) I'm hoping the big push to get this much artwork done means it will sell some foreign rights this year at the festival. But I'm slightly worried that because no one knows about it, this could be a problem. We'll see. The rights person said that not it's on display at the fair, I can talk about it a bit more. Yay!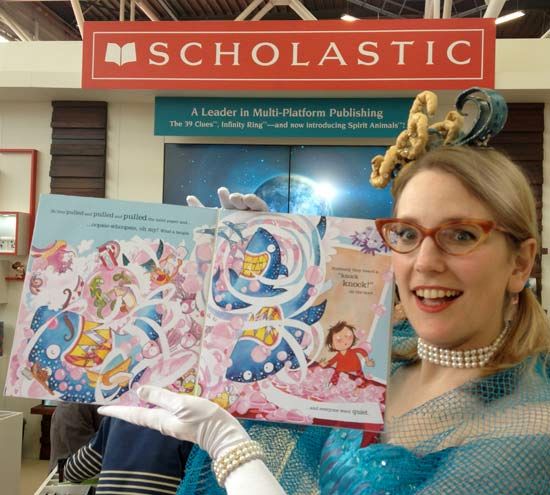 You'd think sharks with VERY BIG TEETH would be terribly scary, but the clever kid in the story whups them into shape. There's a Shark in the Bath came about in a rather interesting way. I wrote the text for another story, and Scholastic accepted it. But then as I worked on other books, editors had babies and moved on, as they tend to do, and by the time my current (fab) editor came around, it wasn't a story she'd commissioned and it didn't seem fresh to her. But I'd just illustrated Superkid by Clare Freedman, and it had a couple spreads in it with some awesome sharks, and we both liked the sharks so much that she asked, could you swap the next book for one about sharks? I could have said no, but actually, I loved the idea, and a shark book almost seemed to write itself, I was so excited about it. I think people will like these sharks. They are pretty goofy.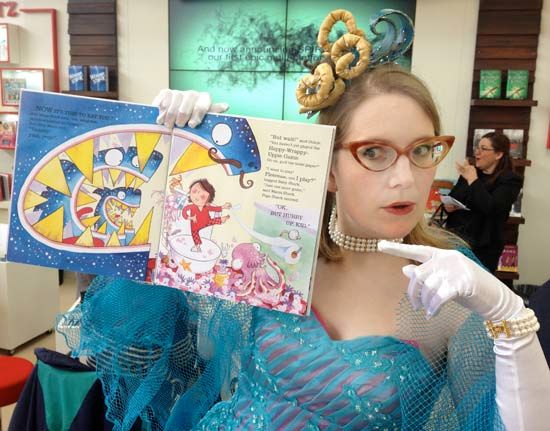 Here's a How-to-draw-a-shark tutorial I made for last year's Summer Reading Challenge. (I was drawing the Superkid sharks when they asked me to do it.) It's had more hits than any of my other videos, over 5,000! You can also get a little peek at the work-in-progress Superkid artwork on my studio desk.




It's funny seeing the Bologna mockup versions of books. Here's one that will be coming out by Alex T. Smith! I love his work.




Here's me fangirl-ing Hector and the Big Bad Knight. I only got a flying look as my Oliver and the Seawigs co-author Philip Reeve and I zoomed around the stalls, and I can't wait to get a longer read of it.




Next stop: Walker Books to see my studio mate Gary Northfield's brand-new amazing comic book, TEENYTINYSAURS! I've been watching all year as Gary's put this together, it's absolutely spectacular, and super-cute to boot. It launches soon, on 2 May! Check out some previews on Gary's website here.




Gary's editor Lizzie Spratt is big-time excited about Gary's book, and so is the Walker editor and art director here, Deirdre McDermott. Whoo hoo!




Oh, and while we're on the subject of Gary, The Phoenix Comic Easter edition arrives through letterboxes and in shops tomorrow, with Gary's cover on it, featuring Chompy the Caterpillar from his comic strip, Gary's Garden!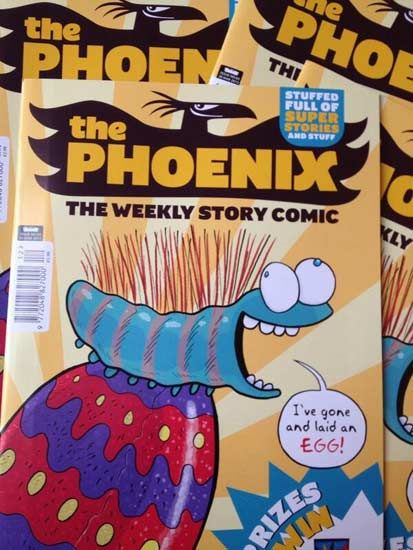 We at The Fleece Station studio are all very proud. In fact, yesterday our other studio mate, Lauren O'Farrell, set up for us a Fleece Station Twitter account! So follow @fleecestation if you want to see what shenanigans we get up to.




And look, another treasure to be found at the Walker Books stand, THE SLEEPWALKERS by the amazing Viviane Schwarz! I've read this and it's mystical, awe-inspiring, and sometimes very sweet, too. I'll be blogging more about this soon, I'm sure. The Sleepwalkers launches on 4 April. That's like, a week away!




I'll blog a few more photos just so you can get the overall idea of what it's like to go to the Bologna Children's Book Fair. One of the funniest things is arriving at the airport and finding at least half the plane is full of people in publishing. (And the other half might just be publishing people I don't know.) Here's Philip and my Oxford University Press editor Liz Cross, agent Margot Edwards, writer Mary Hoffman, Cheltenham lit fest organiser Jane Churchill and writer Lucy Coats. Mary and Lucy go to the festival every year together! People you can't see just on the benches behind them are illustrator Axel Sheffler and Gallimard Jeunesse publisher Christine Baker. I told Axel I'd stop taking pictures of the two of us looking freaked out, and he says that's good, because we're running out of new freaked-out faces.




Mine was a very quick visit, so I didn't get to see all that much of Bologna, but I did go on a few walks back from dinner and another hour-long walk just before heading to the airport. Bologna isn't like Angoulême in France, which turns itself into an entire comic book town during the festival. You might not know that there's a children's book fair just from walking the streets. But I was surprised and pleased to see a copy of English writer-illustrator Louise Yates' book Dog Loves Drawing in the window of this deli!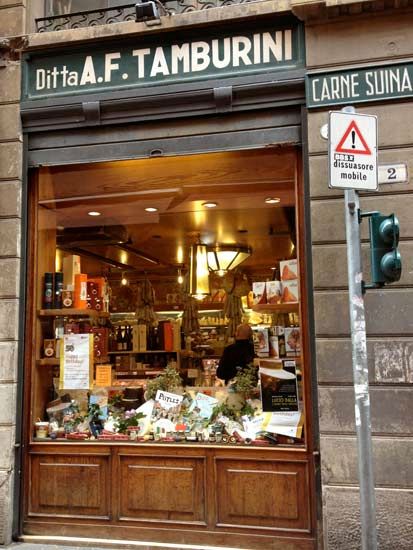 A little close-up:




Compared to other book fairs, Bologna is a very friendly, welcoming one for writers and illustrators, not just for publishing rights people. They have ongoing events and there's a huge space for people to meet, relax and look at new books in the Illustrator's Cafe area. Here's the blog post I made in 2008, when I visited the fair on my own ticket, for the Society of Children's Book Writers & Illustrators conference. (I had a blast then, too.)




I didn't take any photos, but there was a great exhibition of artwork from the featured country, Sweden. And then there's the Illustrator's Wall, where anyone can put up pictures and business cards for visitors to browse. This made me laugh, I took a picture of this illustrator while she took one of me.




One of the fun things about the fair was seeing people whom I always mean to catch up with in London, but then end up seeing in more far-flung places like Italy or Edinburgh. Here's Philip at our OUP Seawigs stand with lovely illustrator Mei Matsuoka!




And we were right across the path from Minecraft, and we had to get a photo because Philip's son, Sam, is a huge fan and Minecraft player.




I'm a fan of freelance publicist Philippa Perry - she always throws a good party - and she invited me to the Templar launch of their new imprint, Big Picture Press. It's following the route more and more publishers (such as Nobrow Press) are taking in response to the rise of digital publishing, focusing on making high-quality, beautifully crafted books that people will want as a tactile art object as well as a book. I'll be curious to see what Big Picture Press get up to.




And a few more snapshots of Bologna... I liked this squatting satyr lamp post near the main Piazza Maggiore.




Love this chequerboard pattern on this building; I suspect it might show up in a book of mine at some point.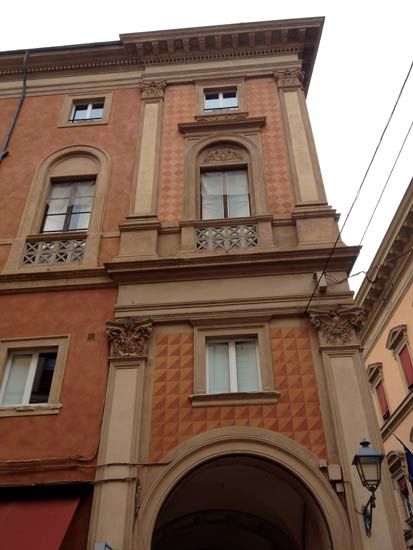 So many warm reds and browns everywhere! I love it.




We slipped into this courtyard for a peek, which was lucky, as the gate was locked shut on the way back to the hotel to go to the airport. Such a beautiful city.