Edit: Here's the new video!


Exciting news! Not only is Philip Reeve writing stories for me to illustrate, but he's just written a brand-new Doctor Who story! I read it and it's BRILLIANT, the guy can build worlds like no one else.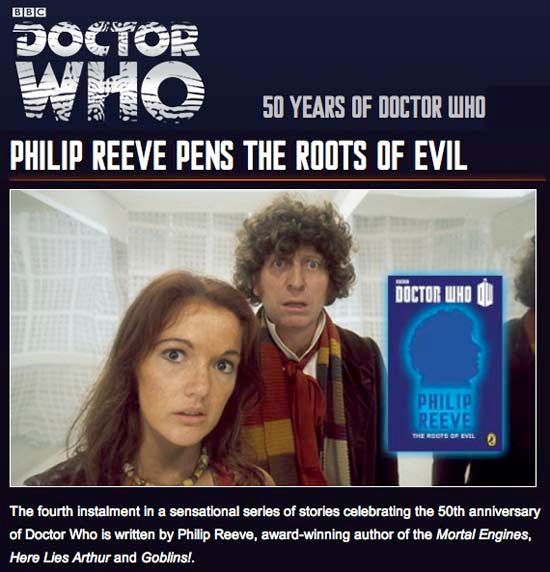 To mark 50 years of Doctor Who, Puffin are publishing eleven ebooks, one a month from some of Britain's top children's book writeres. Philip's new story, The Roots of Evil, will come out as an ebook on 23 April, and you can pre-order it for £1.99 through the links on the website here. There should be a video interview coming shortly, too! It's been exciting seeing people in the children's book world taking turns at Doctor Who. You can watch video interviews with Marcus Sedgwick, Eoin Colfer and Michael Scott. Keep an eye out for all eleven stories! And read about The Roots of Evil on Philip's blog here.

Before we begin the three questions, here's a little drawing I made of the planet featured in The Roots of Evil, called the Heligan Structure. I was going to make it all elongated and vine-ish, but it turned itself into something more like a space version of the Unicorn Tapestries.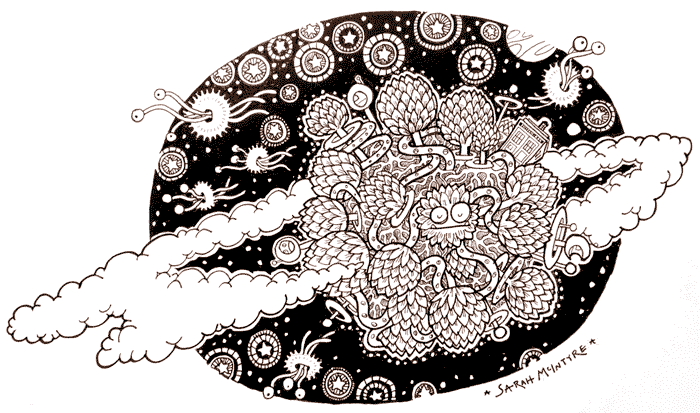 1. I love the Heligan Structure, where you've set your story; a planet creative entirely of tree. You've made lots of great sketches of trees and I know you're very fond of them, where you live on Dartmoor. Are there any trees in particular there which seem like they could inspire a Science Fiction story?

We have great trees on Dartmoor, but they're more fantasy trees than Science Fiction ones - the woods in Goblins are very much based on the ones along the banks of the Dart, and Wistman's Wood, the old fragment of oak forest out on the high moor.  I don't know if they had any influence on the Heligan Structure - I was just trying to think of a different way to do a space station.  But there's a very good tree in the woods at the top of my lane which has half fallen over and is holding itself up with long roots like guy-lines: it looks ready to scuttle off at any moment, and I suspect it may have given me the idea for the Heligan Spores. (And the clumps of Witches' Broom in the branches are where the Twiglings in Goblins came from.)



Drawings by Philip Reeve. You can see lots more on his Tumblr page, A Dartmoor Sketchbook.


2. Which is your favourite Doctor Who creature?

I didn't watch Doctor Who for very long - just a couple of years at the end of the 1970s - but there were loads of Doctor Who novels in the library, based on earlier epidodes, and I remember one set in an evacuated, fog-bound London haunted by robot Yeti.  I don't think you can go far wrong with a robot Yeti.  They were pear shaped and furry with little glowing eyes, but I don't know how I know that - I suppose there was a picture on the cover. 




Images from Wikipedia entry

3. If our next Doctor Who is a woman, who would you choose to play the part?

Why, it should be YOU, of course, complete with your hats and pointy glasses. But if you're unavailable for some reason, I'd suggest an older actress like Diana Rigg or Jenny Agutter. Or there's a very funny lady called Pippa Heywood, who was in Green Wing: she'd be a great Doctor!



Diana Rigg (photo from HBO Watch), Jenny Agutter (photo from SonyTV and Pippa Heywood (photo from Zimbio)

You can find out more about Philip Reeve's marvellous books, including the seven Mortal Engines/Fever Crumb books (perfect for any lover of steampunk, also known as Predator Cities in the USA), the Larklight trilogy (what if the Victorians went into space?), Carnegie-award-winning gritty Arthurian retelling Here Lies Arthur, and the new Goblins adventures over on his website and blog.






And now go and read an extract of Philip's story on The Guardian website!




You can follow Philip Reeve on Twitter: @philipreeve1 and join his Facebook page.