Clara the sock monkey: Look, we read this book, The Sleepwalkers, and it's full of awesome comics!
Mr Hodden: Viviane Schwarz wrote it and drew the pictures. It's like she totally read our mind and knew just what we wanted in a book.




– It's true. Look, there's a bit about my origins. It's called 'How to Make a Sock Monkey'.
– That's deep.
– Yeah. I dream about it a lot. But I never have nightmares about needles or anything, the Sleepwalkers sorted them out.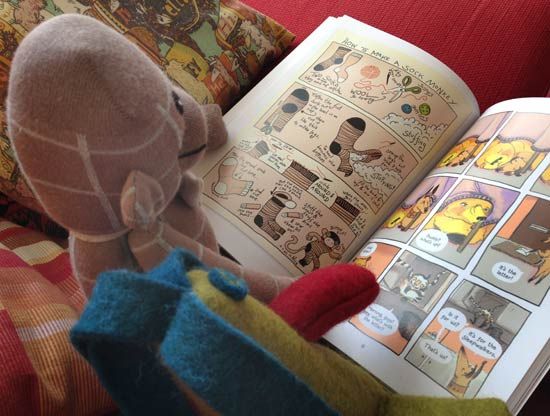 – I guess this is the book we read after The Sleepwalkers. Welcome to Your Awesome Robot.
– True! All sock monkeys should know how to build an Awesome Robot.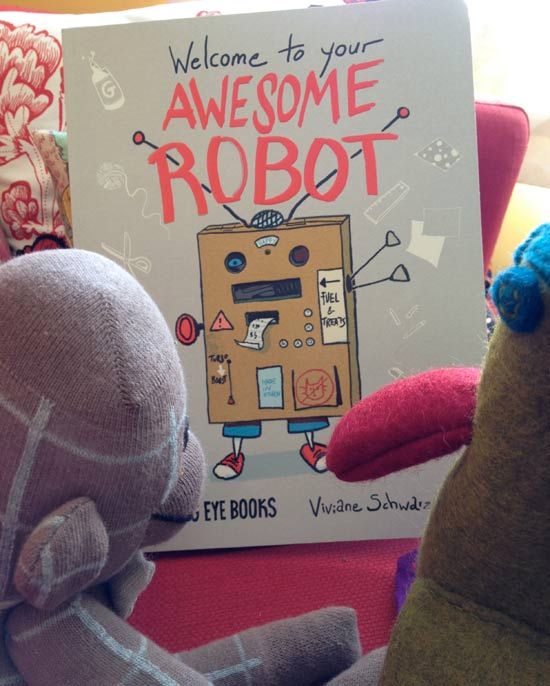 – Do you think this is good building stuff for making the base unit?
– For sure! It's a good thing we didn't let anyone throw those away.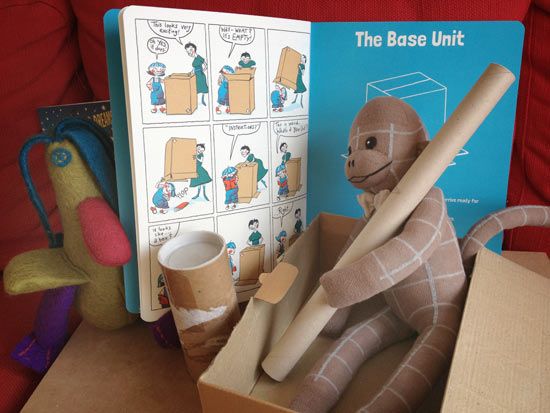 – Argh!! I can't see very well out of these holes! And I can't move my arms! I don't like this!
– Hold on, the instructons say that we can cut different robot visor shapes.




– Phew, that's better. And now I can wiggle my arms. Right, Mr Hodden, what next?
– Now we drink lots of champagne and save the corks to attach as robot buttons.
– Should we take a photo of us drinking the champagne?
– No, let's skip that part, I think it might make Sarah a little bit cross.




– *hic*
– I'll do the cutting, you drank more than me.
– I don't think Viviane talked about that problem in the health and safety warnings.
– It must be the book's only flaw.
– She's still young. She'll learn and she might put a warning in the next book.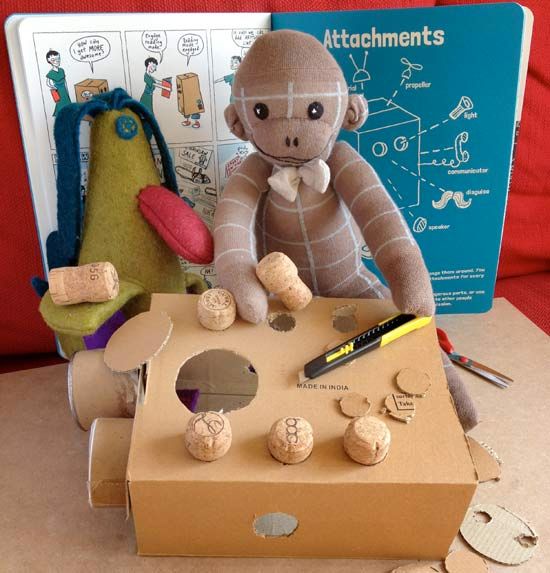 – Okay, I've cut an input slot, now I'll draw the dial.
– Why are you writing those words?
– You'll see.




– Wow, isn't this the most Awesome Robot ever??!
– Why does your dial say 'Needy'?
– Our robot battery is very low
– How do we power it up?




– Ah, I should have guessed. This is a chocolate-powered robot. Tell me we didn't make this robot just as an excuse to get me to feed you chocolate.
– Would I do that?




– I thought the dial was supposed to read 'Processing' while you digest the chocolate.
– I know, but even the THOUGHT of chocolate made the needle flip up to 'Wild Joy'.
– Well, it's good to know it's a fast processor. We won't need to install any extra RAM.
– Yes, there's only room for a monkey in here, not a big boy sheep.




– All that hard work and chocolate has made me thirsty.
– Hey, The Sleepwalkers has a recipe for making a banana milkshake!
– Yay, let's make one!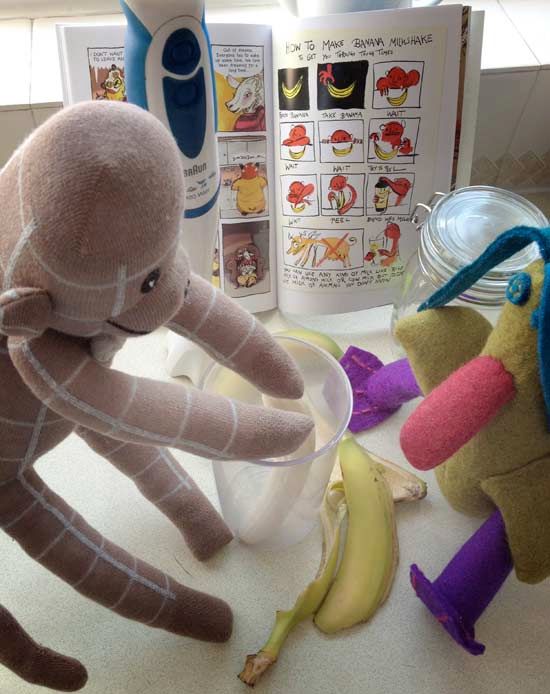 – Wow, we followed the directions and this tastes great.
– I'd say that BOTH of Viviane's books are awesome.
– Totally. I heard she wrote another book about cheese.
– No way! Oh, I know, I know! Let's read the next one and have a FONDUE PARTY.
– Oh, we totally have to do that. Hurrah!




Clare the sock monkey made by Rose Godfrey of Greenwich; Mr Hodden made by the workshop of Chris Haughton. You can follow Viviane on Twitter: @vivschwarz and The Sleepwalkers: @thesleepwalkers.