This weekend the kids at the Chip Lit Fest got a sneak preview at my new book with Aliens Love Underpants writer Claire Freedman, SUPERKID! I got to give my superhero costume its first public outing and I am pleased to report no wardrobe malfunctions. My event totally sold out; check out all these kids drawing Superhamster!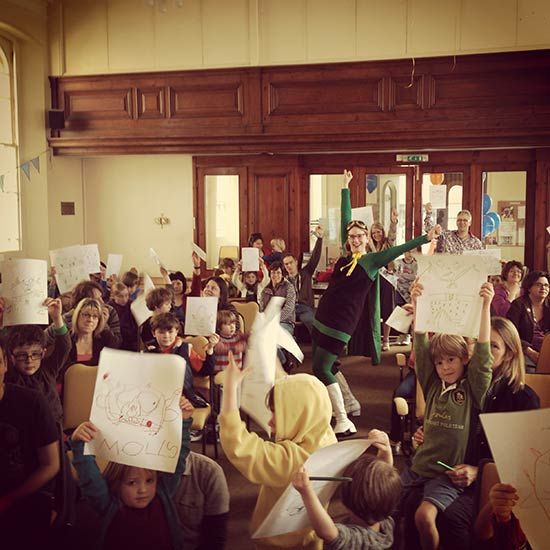 Superhamster is a little character who never even appears in the text of Superkid. But I thought Superkid really needed a companion, so Superhamster travels around in Superkid's hamster holster (as pictured below). Every good outfit should really include a hamster holster.




Check out Oliver's Superhamster. I helped the kids draw the basic shape of Superhamster, then they customised the hamster costume and some made up some silly superpowers for Superhamster.





I love seeing how everyone's comes out so differently! Here's Chip Lit Fest patron John Dougherty, with his own Superhamster. John gave me a rousing introduction; I know him as a fellow CWIG committee member. (That's the Children's Writers & Illustrators Group, of the Society of Authors ... and as a side note, 'CWIG' is where I got the name for my upcoming book with Philip Reeve, Oliver and the Seawigs.)




So many awesome Superhamsters!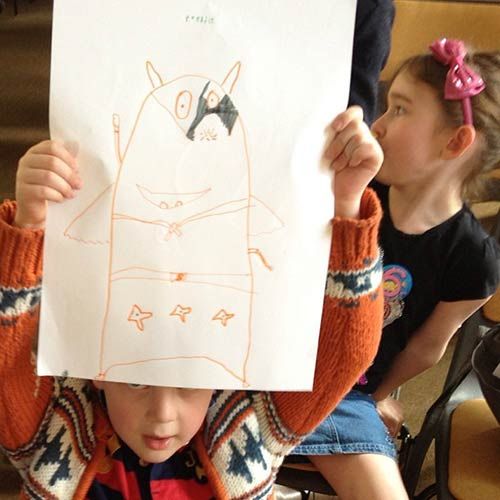 That was Saturday, but on Friday, I led a school event at Charlbury Primary School. I was a bit nervous, because I'd never done a Superkid event before, and I wasn't sure how well it would work. But the kids were fabulous, really eager and full of funny ideas. At one point, I think the teacher got worried when I was checking to see if any of the kids had the silly superpower of being able to burp on demand. (One kid was an expert!) But then I talked about Pablo Picasso's painting superpowers and my Russian lit degree and she seemed much happier by the end, heh heh. (Actually, all the staff were very supportive and helpful.) Chip Lit Fest is run entirely by volunteers, and these two superheroic ladies, Siobhan Urquhart and Laura Price did a great job bringing me to the school and shifting books as fast as they could while I made very, very quick drawings of Superhamster in each one.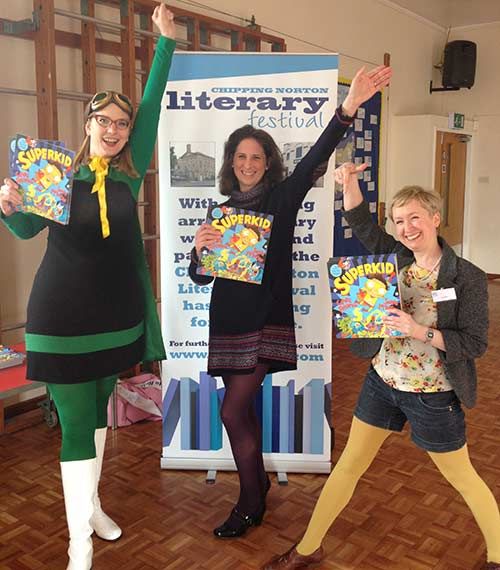 I let the kids keep their drawings, but one kid named Billy ('my real name is William') insisted I take his picture, which I was secretly very glad about because it's ace. His Superhamster's totally kitted out.




Back in the festival Green Room, it wasn't all just people sitting around reading Cotswold Life... (Ha ha, thanks, Liz_Fenwick, Liz Harris, Hannah Furness, Jeremy Limb and Peta Nightingale.)




No, most of the activities centred around lovely CAKE (made by Victoria Wills). Here are Tamsyn Murray and me getting a little bit excited.




Emily Barr and Craig Green were pretty impressed, too.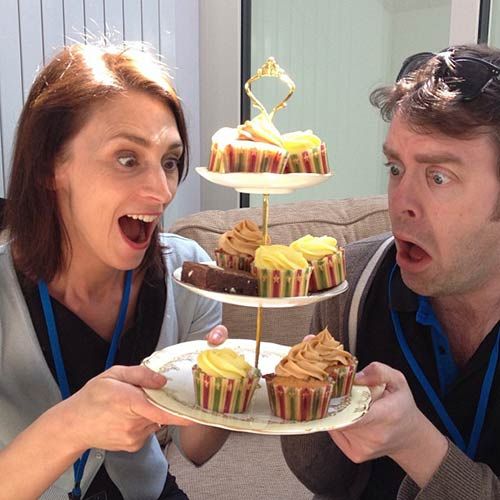 Every once in awhile, one of us would get led out to do a star turn in the photo room, which was awfully fun. I can't wait to see how the photos come out. Here are festival photographers Graham Harrison and Geraint Lewis-Pick:




The festival took place all around the centre of town, but orbited around this amazing bookshop, Jaffé & Neale. Such a beautiful place; if you're ever even remotely in the Chipping Norton area, do stop by for a browse and a piece of cake.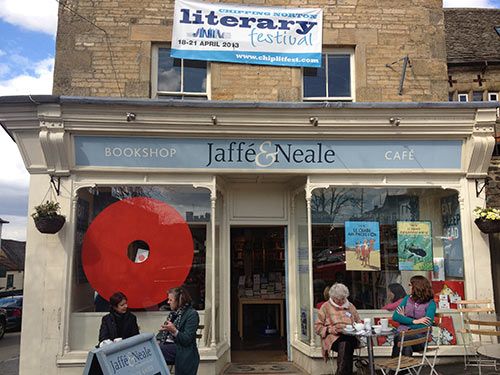 And here's the lovely couple who run it! Polly Jaffé and Patrick Neale. Thanks so much for hosting us!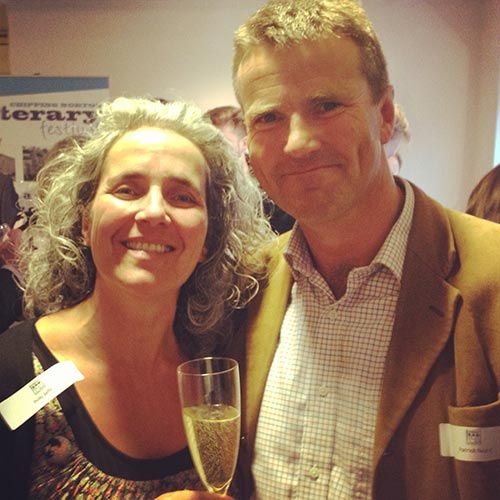 The voluteer team were amazing, here's Caroline Watson and Merilyn Davies, who is the Children's Programme coordinator and was my main contact person for the visit.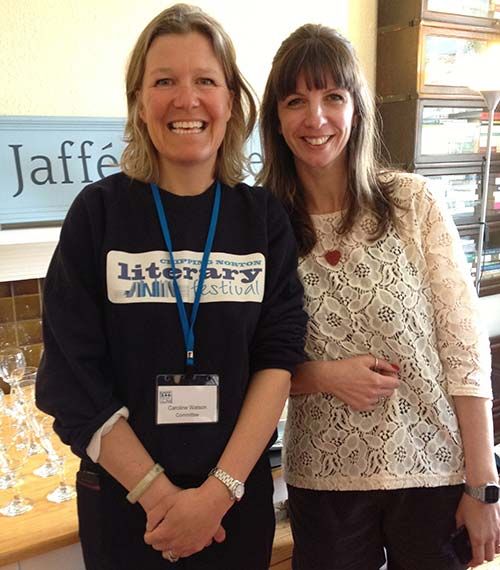 On Friday night, Wine Bear hosted a party with top quality bubbly and pate and venison sausage and cheese and all manner of good things. Here's John with his wife, Kate and the Wine Bear managing director, Richard Shama.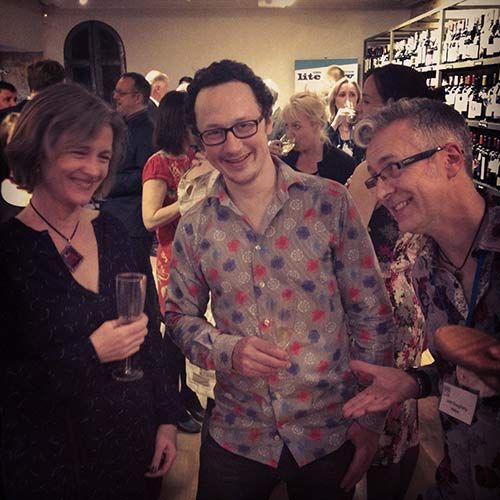 John dared me to get a photo of him with Graeme Garden from The Goodies and radio show I'm Sorry I Haven't a Clue, but when John drifted off, I unexpectedly found myself in a conversation with him about the canapés and living locally, and, well, sorry, John.




Everyone was raving about the event earlier led by writer Joe Craig, so it was great to meet him and his wife and sometime I hope I'll actually get to go to one of his events.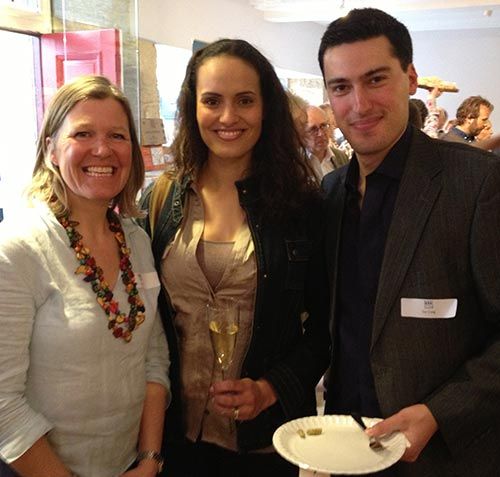 Of course, a festival called Chip Lit must have CHIPS as well as lit. Here's John TAKING CARE OF THIS.




More Green Room good times, with writers Josh Lacey and Frances Hardinge (whom I've met at several Kitschies Awards parties).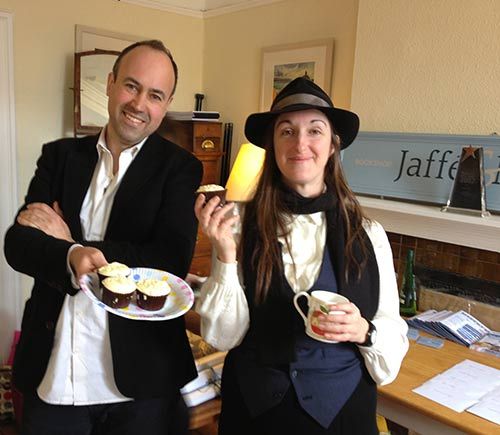 Josh has been doing books with illustrator Garry Parsons; this photo of them is particularly smoochtastic.




I'd only ever met writer-illustrator Clara Vulliamy) (right) on Twitter, so it was great to meet her in 'real life', if briefly. (She's Shirley Hughes' daughter, which makes her doubly cool.)




And here's the hotel where the festival put us up!




I sometimes hear people who travel a lot say they get tired of hotels, but I hope that never happens to me. I LOVE staying at hotels. And this one was huge, I had to do lots of racing around and exploring.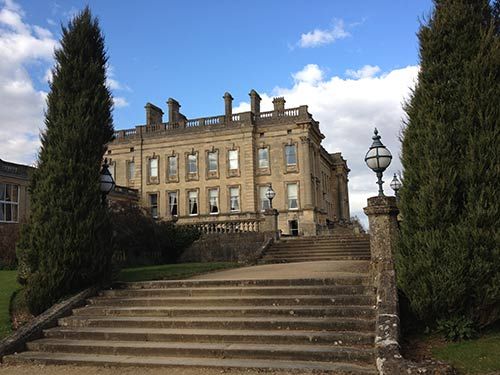 There's an old section and a new wing, but the new wing has odd, interesting lighting throughout. Here's our most excellent volunteer driver, Chris Hogan, modelling his fine driving shirt.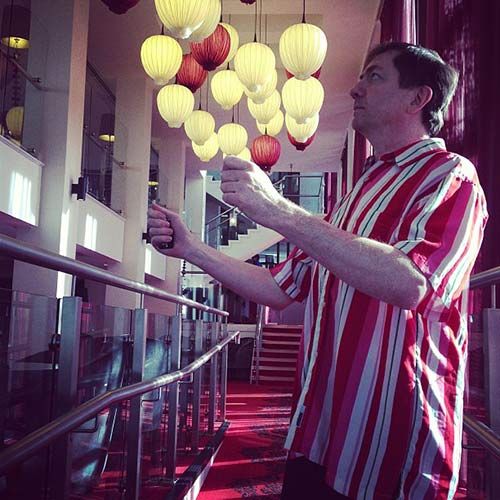 I posted a few Twitter photos while I was exploring.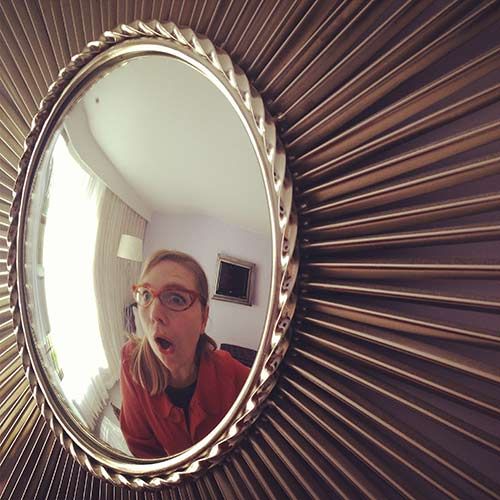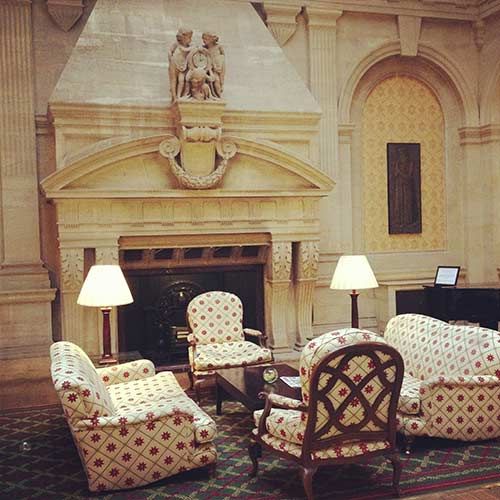 Some of the stuff was kind of funny. Like, who FORGETS butterscotch? It's really a slight, I'd be offended if I was butterscotch. I never want someone to put on my book cover, The fantastic, yet often forgotten stories of Sarah.... This is not a selling point, biscuit people.




There was a little box of aromatherapy stuff on my pillow when I arrived. Inside were two little bottles: one with something I was supposed to rub on my pressure points to help me sleep, and this little tube of 'deep calm pillow spray'. I thought, cool, it might smell like lavender or lilies or something nice. But oh, no. It had a distinct pong of one of those cardboard tree air fresheners some people hang in their car. I ruined a pillow with it. Fortunately there were five other pillows and I always sleep hard anyway.




Oh, I even ran around in the woods a bit (in my dress shoes, hurrah). I found a secret grotto and also this odd chair which I can only guess is for birdwatching, since it's too close to the hotel for hunting. (Of if it is for hunting, that's a bit sinister.)




Chip Lit's still going! Keep an eye on the #ChipLitFest Twitter hashtag for more updates on what's happening! A huge thanks to Merilyn, the other organisers, Jaffé & Neale, and the team of volunteers who made it all happen. You people are total stars.