Hurrah for Britain's first children's comics festival! It was awesome, and Oxford's Story Museum totally rocked. For Free Comics Book Day (4 May), The Phoenix Comic joined up with other comics creators to put on a day of comics workshops, drawing activities and convention tables. One of the most exciting parts for me was seeing two kids at their own tables, selling their own self-published comics. You will have already seen Zoom Rockman (right) many times on my blog, and he's been all over the media, including The Independent, Evening Standard and Vogue's 2013 Hot List. But Jordan Vigay, also 12 years old, is newer to the scene - I'd only met him once before, at Animated Exeter - and it was exciting to see him at work!




Here's an interview I did with Jordan, in which he talks about his comic, The Red Crow, now in its third issue:



The Phoenix Comic was out in force! And it's official: Laura Anderson (who creates the Evil Emperor Penguin strip) is taller than Jamie Littler (Cogg & Sprokit) when she has Zoom's giant hamburger on her head.





Besides leading a workshop, the magnificent Etherington Brothers spent all day signing and drawing for fans.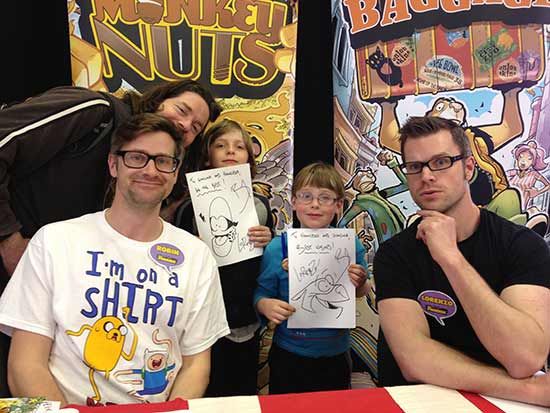 And here's some of The Oxford Children's Comic Festival team! From the left: Phoenix head editor Will Fickling, Phoenix business guy Tom Fickling, me, Neill Cameron (Pirates of Pangaea), Jamie Littler, Laura Anderson, Adam Murphy (Corpse Talk, Jamie Smart (Bunny vs Monkey and publisher David Fickling.




Check out this giant Comics Jam wall! Neill directed it for the day, and you can see Adam adding his panel.




Here's a close-up of all the panels! (Can you spot mine?)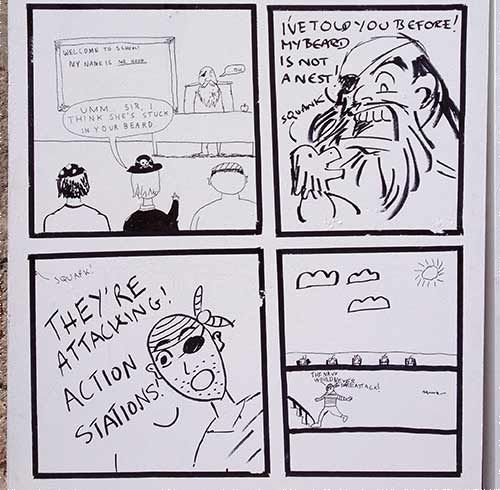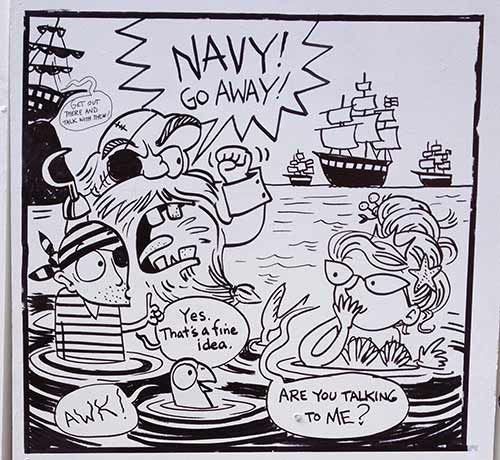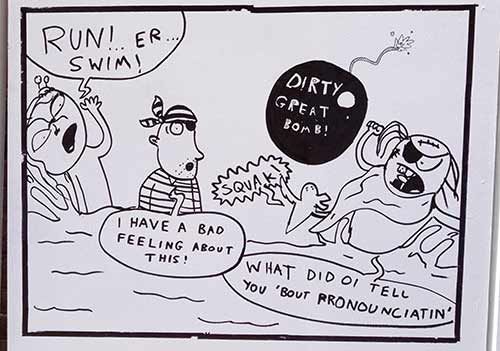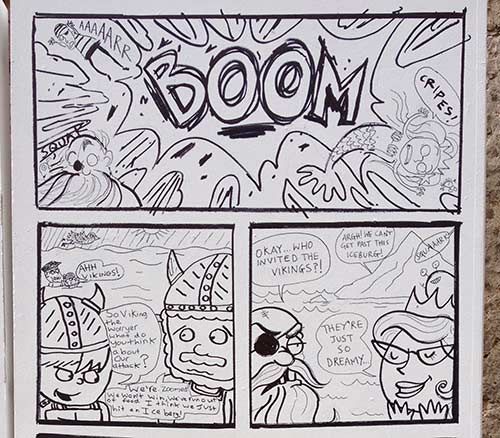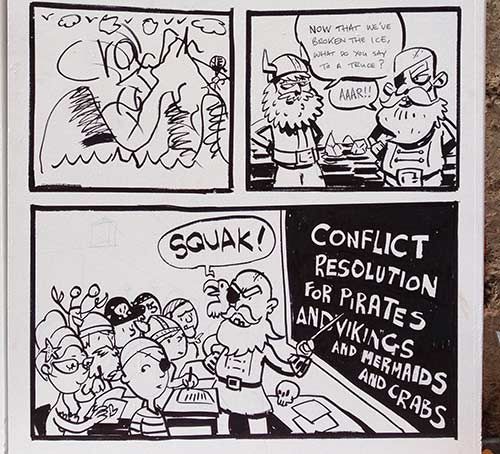 It was great mixing work by adults and kids! Here's one of the contributors, who was rightly very proud of her panel.




EDIT: Neill Cameron just posted a BLOW-BY-BLOW ACCOUNT, THE BEST COMICS JAM WRITE-UP I HAVE EVER SEEN. AND IT IS VERY FUNNY! GO LOOK!

I led a Superkid Comics Jam session and had the room full of kids warm up by drawing Superhamster with me. Here are a few of them!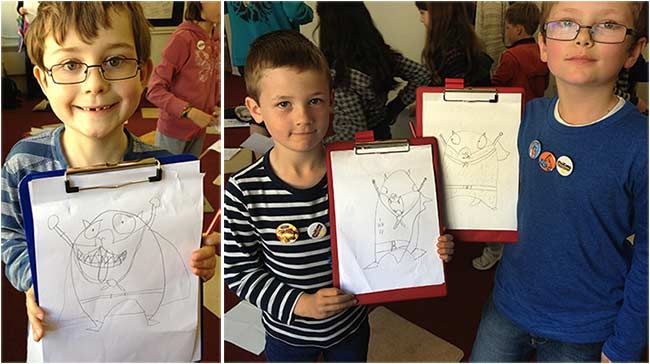 In fact, my book with Claire Freedman (who also wrote Aliens Love Underpants) came out this weekend, but I've been so busy that I haven't had a chance to launch it properly. So I tweet-launched SUPERKID from the train! Whoo hoo! It's a picture book, not a comic, but I slipped in lots of comics reference stuff... a sort of gateway for getting little kids into comics. My editor says it's already sold out of its first print run and is onto the second.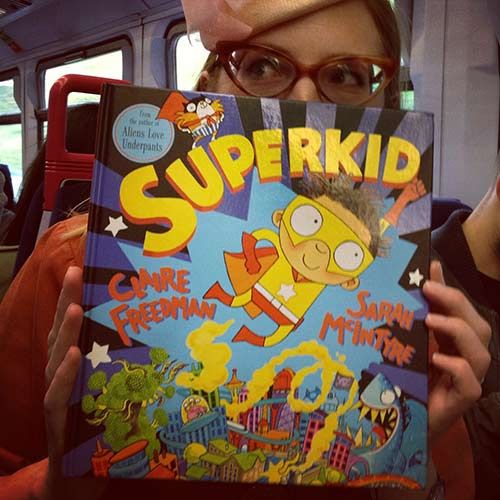 I've made a new page for SUPERKID on my website, and you can download a Draw Superhamster sheet, as well as a sheet that helps you Make Your Own Superkid Mask! (Click here, it's free!)




The kids then designed their own characters and I led them in a rollicking Comics Jam. Here's one of them! Each panel's drawn by a different person, a bit like the game of Consequences. Although, looking at this one closely, I'm thinking perhaps this one stayed with one person for at least two panels.




Ah yes, two people. Here's the first panel's creator, with her mum. The kids who had a parent with them seemed to get much more out of the session than the kids who were by themselves, giving help where they needed it, whether it be with spelling or simply helping them concentrate. It's a great way for parents to bond with their kids.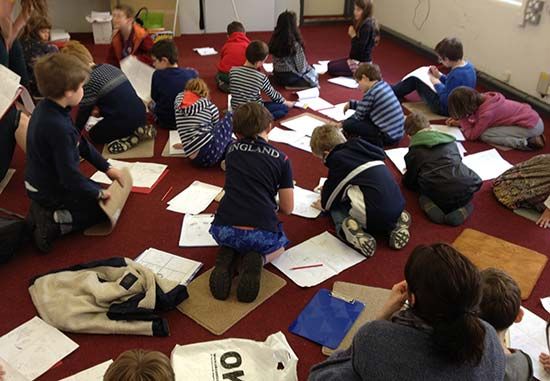 It wasn't all Phoenix Comic, LOAf magazine also had a table, and I saw free copies of Anorak magazine floating about, too.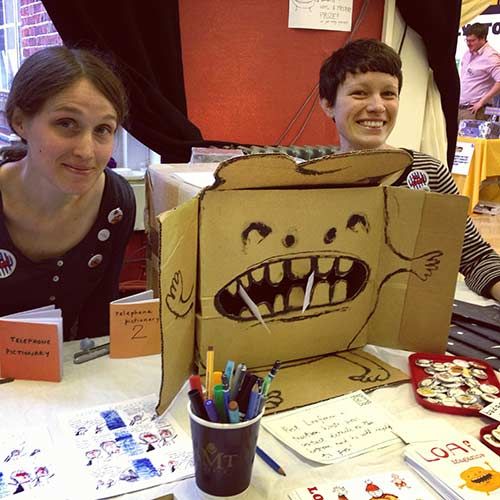 Here's Jordan at his table. He doesn't have a website (yet), but you can order his comics and t-shirts via his parents Paypal by e-mailing him at jordan.vigay at hotmail.co.uk.




And Zoom has a great website, check it out here if you want to pick up any of his comics.




So much comic-making awesomeness in one place!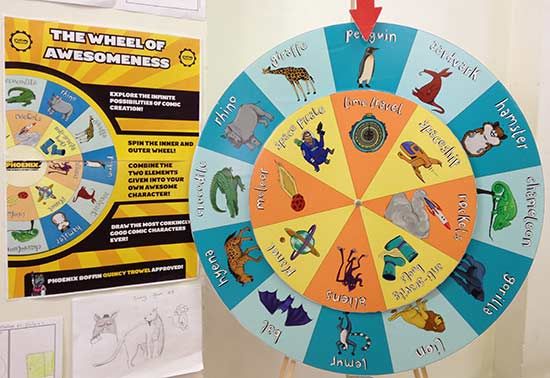 Zak Simmonds-Hurn (Simon Swift) and Daniel Hartwell (writer of Pirates of Pangaea).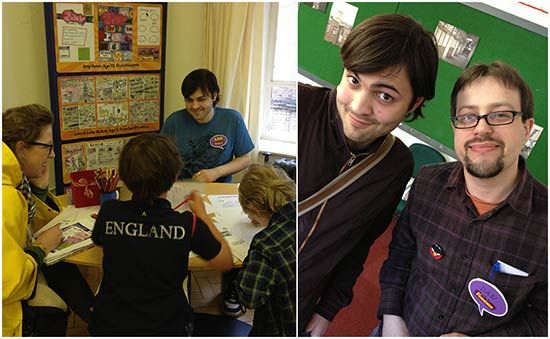 In the sunny courtyard! Spot Phoenix publicist Ross Fraser and designer Matt Baxter (who draws those editor animals sprinkled throughout The Phoenix!) Also, my Oxford University Press Oliver and the Seawigs editor Liz Cross!




Here's Super Badge Girl, who made lots of unique hand-cut badges at home, came along and badged us all. Yay!




And here's the table for the DFC Library, with my comic, Vern and Lettuce!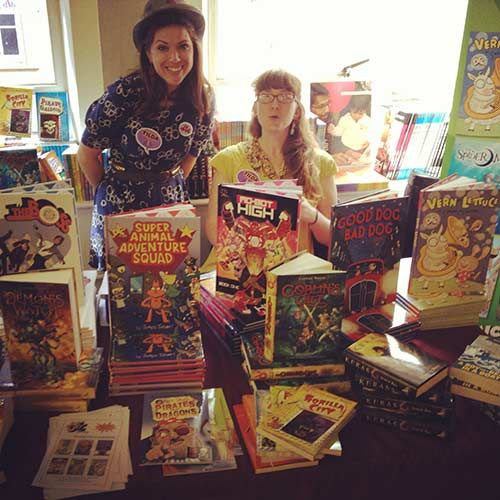 I took loads more photos and I'll try to post them soon. But in the meantime, a huge thanks to The Phoenix Comic crew, the Story Museum team, LOAf Magazine, and all the people who helped to make it a wonderful festival that promises to grow and become an annual event. SO EXCITING!!!




A last shot of the Fickling comics mafia. :) David, Caro Fickling (who's in charge of The Phoenix Comic, Tom and Will. Thanks for all your comics dedication, you fabulous people!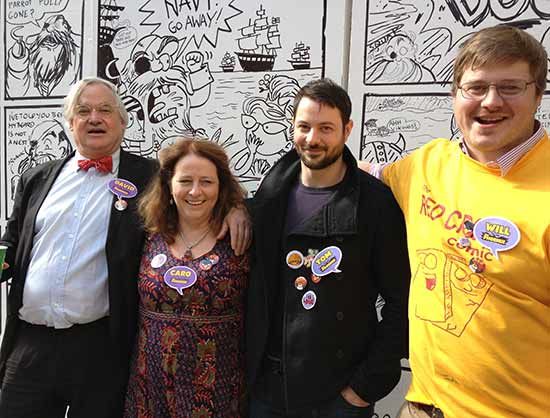 Edit: A few more photos here on Facebook!