I'm very excited, I have a ticket to see the Royal Ballet's production of Raven Girl, based on the illustrated book by Audrey Niffenegger (who wrote The Time Traveler's Wife, Her Fearful Symmetry and The Night Bookmobile, among other things). Jonathan Cape just launched the book in the UK, and I drew a bit of fan art this evening.




Heh heh, my drawing doesn't really reflect the mood of the book - Audrey's modern fairy tale is much darker - but drawing this made me laugh. The story's about a girl who's born to a postman and a raven, and who feels more like a raven than a girl. She goes so far as to have surgery, losing her arms so she can have wings. Here's the drawing before I started mucking around with it digitally:




I can't wait to see how choreographer Wayne McGregor interprets it. I had dinner with Audrey last night and she says she's been to rehearsals and really likes the look of it so far. And here's my ticket! There are still some tickets left, so hurry and get yours before they're all gone!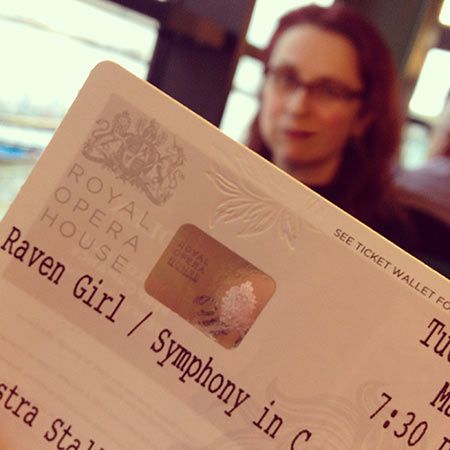 I love that we're getting more picture books for grownups in this country, it's about time. And this one's packaged so nicely, designed by Abrams designer Sara Corbett. See how the red cover peeks out beneath the slipcover? Besides complementing the cover etching, it feels like the book has a life of its own, like if you'd cut it, it might bleed. And it also reminds me of those little lacquered wooden boxes you get from Russia with the red interiors; you know you're meant to put treasure in them. And the book's soft grey endpapers contrast with the hard metallic silver on the page edges. Nice.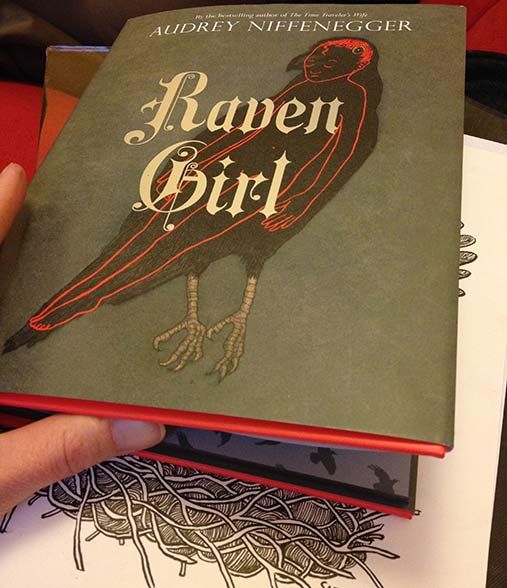 Audrey's achieved beautiful textures and muted colours with her etchings. Here's the nest where Raven Girl is born. There's also another great picture of a nest she builds in her university dorm room, which convinces her party-girl roommate that she's a right weirdo.




Audrey e-mailed me a photo of this page awhile ago and the lovely nest pattern inspired me to do this drawing:




It's so fun making interpretations of Audrey's work, hers is so different than mine. My work tends to be rather big and robust (like me, I guess), and both the characters in Audrey's work and her pictures tend to be delicate, fragile, cautious and, well, bird-like. The bird theme pops up loads of places in her work, and the ending of this story isn't so different to the end of Her Fearful Symmetry, but she arrives at it by a very different route.

You can read an indepth interview with Audrey about the Raven Girl book and ballet adaptation by Hayley Campbell over on The New Statesman. Go on, have a read!




And here's Hayley herself, with Audrey and Hayley's boyfriend, Joel. You can't follow Audrey on Twitter, but Hayley's @hayleycampbelly and Joel is @joelgolby.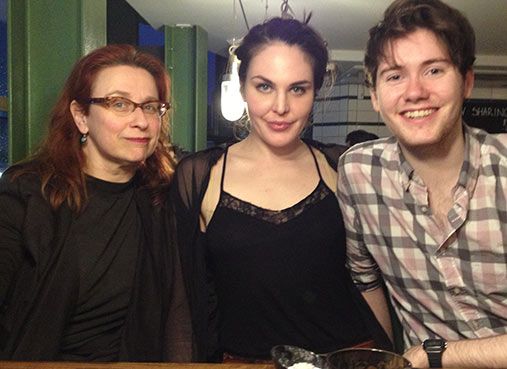 Speaking of publisher Jonathan Cape, a big congrats to Stephen Collins, who had his book with them, The Gigantic Beard that Was Evil, launch this week! You can get some great previews here on the website. I absolutely love his comics work, they're my favourite thing about The Guardian. And you can get a special bookplate edition at Gosh! Comics in Soho, but I really shouldn't be telling you this because I don't have mine yet.




And while we're talking graphic novels, I'm doing a talk next week (Wed, 22 May, 7pm) at the first-ever meeting of Laydeez Do Comics in Dublin, so if you're around, do come along! Details here.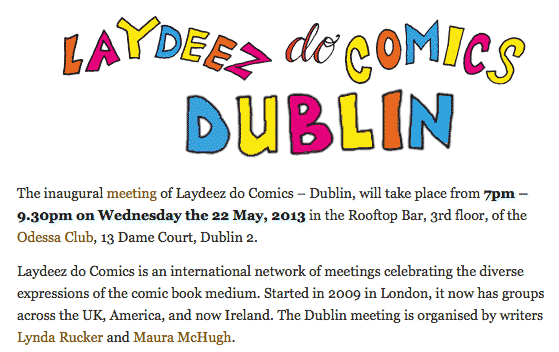 I'm talking with Alan Nolan and Maeve Clancy, and I haven't met Alan yet (although we're also speaking together at the Children's Books Ireland Conference), but I'm a big fan of Maeve's work. Have you seen her music videos with Lisa Hannigan? They're ace:



Lisa Hannigan - Lille from ATO Records on Vimeo.





I Don't Know from ATO Records on Vimeo.


And one more thing: Mo O'Hara is speaking at a Museums at Night event at London's Cartoon Museum on Sat, 18 May, 6:30pm. Come here her talk about her funny book My Big Fat Zombie Goldfish! Mo also does standup comedy (as Maureen Oakley); I went to see her perform at the Edinburgh Festival and she had me in stitches. Book your £3 tickets here! You can follow Mo on Twitter at @Mo_OHara.