The Fleece Station studio is thrilled to present something new and wonderful! Congratulations to our fabulous studio mate Gary Northfield on the launch of his new book... *drum roll* ...
... The Terrible Tales of the TEENYTINYSAURS!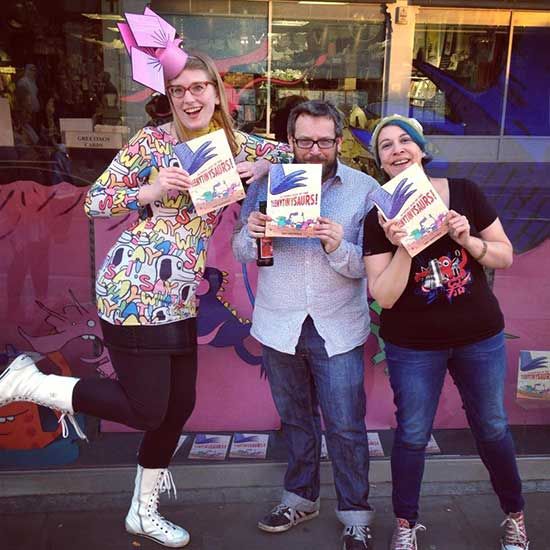 Fleece officers Sarah McIntyre, Gary Northfield, Lauren O'Farrell

We had a small party at The Bookseller Crow bookshop in Crystal Palace and there's a big official launch party at Gosh! Comics in Soho on Friday, 31 May. Details here, do come along!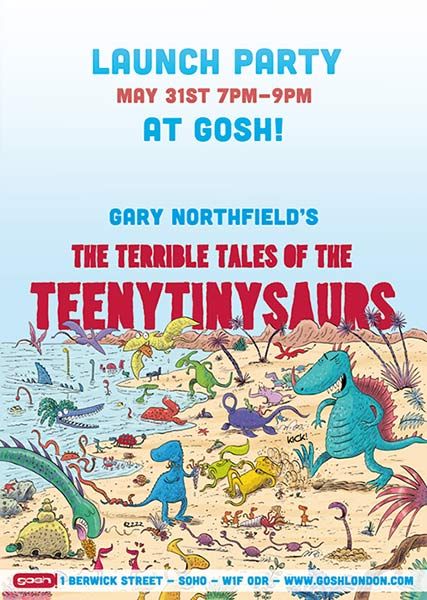 And now, AN EXCLUSIVE INTERVIEW WITH THE CREATOR:





So Gary, you've written and drawn Derek the Sheep and weekly comics for The DFC, The Phoenix Comic, National Geographic Kids and The Beano. What did you wanted to do differently with TEENYTINYSAURS?

I wanted to tell stories about what it was like to be a little kid and wondering what the world is all about. In the book, I could create my own myths for the characters. When I was a kid, we created our own stories. They were based on real things; there WAS a bogey man who lived at the end of the park in an abandoned caravan and we used to tell each other we'd seen him or been chased by him. We made our own myths and legends. And we'd wonder about things like the moon: what was it?

It was great having the space to play with longer stories and large double-page spreads, as opposed to the shorter comic strips I've been doing for weekly magazines.

The book's made up of seven dinosaur stories; which one's your favourite?

It's One Giant Sneeze for Dino Kind. The little dinosaurs discuss legends about the moon and Thomas and his friend end up trying to get sneezed onto the moon by his Brachiosaurus big brother. I love the legend of Morris the Moon Eater, who was the tallest dinosaur that ever lived. He could lick the moon!




What materials did you use to create the book?

I used a dip pen and Japanese ink. I hadn't used a dip pen that often – a little bit in my sketchbook – but I wanted to do a whole project using it. It's a tough beast to tame, but it gives such a lovely line. And now I'm THE COMPLETE MASTER OF IT. Now I use it for everything I do, such as my comic strip Gary's Garden in The Phoenix Comic.





And the colour?

There's this brilliant Photoshop brush I got off Dave Shelton, which he used on his online sketch blog. I was really taken with it, the digital brush has this nice sketchy watercolour look that goes with my sketchy line. It looks like watercolour even though it's digital.

While you were working on the book, I saw you used scraperboard on one of the deep underwater scenes. It's gorgeous! But not many people use scraperboard, why did you decide to use it?

I wanted these two pages to be a real "WOW" experience, to stand out from the rest of the book. I wanted the scene to look like Blackpool Illuminations, but underwater. All the sea creatures are bioluminescent and I thought scraperboard would be perfect to capture it. I'd used scraperboard at college, but not for about 20 years, and I've always wanted to do a big drawing with it.




Aren't large pieces of scraperboard hard to find?

Yes, but I used to work in an art shop and al the scraperboard was being discontinued so I snapped it all up, knowing that one day I'd want to use it.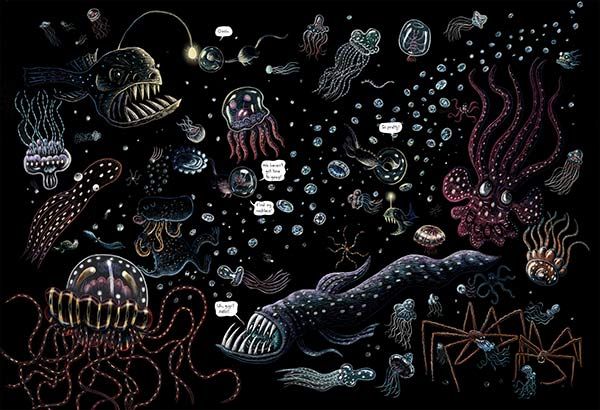 Do you think it might be tricky for booksellers to know where in the shop to put your book. (Is it a picture book? Is it a comic?) What age group do you think would like it?

I know that some buyers didn't realize it was a comic, or graphic novel, they thought it was a picture book. Children's comic books at the moment are a very small niche, so I know it's difficult for booksellers to know where to put them. I suppose, these days, the best place to put them is with the Asterix, Tintin, The DFC Library, Vivane Schwarz's new book The Sleepwalkers and Rainbow Orchid books, because there's not much else. I've been talking to The Phoenix Comic about shelving of children's comics and how difficult it is, and I know they're just as keen as Walker Books is to establish a children's comic book spot in bookshops.

I think if we can get a foothold, we're going to see a lot more children's comics in Britain. When people read them, they absolutely love them. Even though TEENYTINYSAURS is aimed at six-plus kids, I hear a lot about younger kids loving it and I get a lot of excited e-mails and tweets and parents who love it, too. It's for all ages, really.



Gary with the French-language edition, Les Énormissimes Aventures des DINOMINUS, published by Éditions Nathan

What's your next project?

I'm not really allowed to talk about it yet, but I have a brand-new project I'm working on with my editor Lizzie Spratt at Walker, a series of books. Keep an eye on my blog for exciting updates!

What's your favourite thing about being part of the Fleece Station studio?

Flicking elastic bands at Sarah when she's singing.