I knew we'd be drawing LOTS OF MONSTERS with LOTS OF KIDS in Dublin, so I did some limbering up by drawing my own monsters before the event. (Thanks for leaving such fab pens at the lodge, Children's Book Ireland people!)




When I arrived at the Green Room at The Ark, I could tell they were a comics-friendly bunch by their selection of tea mugs.




And here was our awesome Comics Jam team! Meet comics creator and illustrator Steve Simpson and writer and illustrator Mary Louise Fitzpatrick!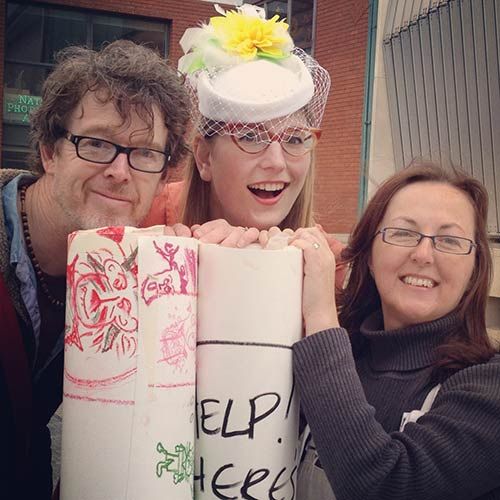 We started out indoors with the kids, giving them some basic comics-making tips, and having them help us design a monster character all together. Here's Steve drawing a curly monster moustache. Monsters are great for coming up with new characters because no one can tell us that we've drawn it wrong.



Photo by Ber Simpson

And then we went outside to Meeting House Square, and all 90 of the kids drew comics on huge rolls of paper!




It was wild, it was awesome! I'd never led a Comics Jam session that large before, and we made up a template to keep things simple:

1. The kids marked out their drawing territory with a box.
2. They drew a dinner-plate-size circle at the top of the box, one hand-width down from the top line of their box.
3. Monster time! They designed their monster inside the circle. Some of them added a pet or sidekick friend for their monster.
4. They wrote the name of their monster above the circle, and I encouraged them to do it in lettering that tells us something about the monster (hairy, slimy, spotty, etc). If their monster had a sidekick friend, they named the friend, too.
5. They drew a line under the circle and divided this big square into four boxes.
6. They had 8 minutes to start off the comics story in just the first panel. (I encouraged them to make something bad or embarrassing happen to their monster, so the story would have to go somewhere.)
7. We counted down the last ten seconds and then called 'PENCILS IN THE AIR!'
8. Everyone rotated one comic to the left and read the new comic in front of them.
9. They had 8 more minutes to pick up where the last person had left off in this new story and continue it, just in panel 2.
10. We did the same for panels 3 and 4, and at the end, they got to go back and see the original comic they'd started and see what adventure their monster had gone on while they were away.





It worked very well! At the end, we had something that looked like a giant monster comics quilt. Some of the kids were pushing the age limit of what I'd normally allow for a comic workshop (I only do comics with groups of kids aged 8 and older), but with a bit of help from the assistants, they all got stuck in and had a good time. (One girl pulled me aside and said, 'It feels just like New Year!' I'm not quite sure what she meant, but it did feel like a party!) Some kids were so dissatisfied with their comics' endings that they were on fire to go make another comic where they could draw it and make if finish exactly how they wanted.

Hey, I've come up with a printable MONSTER COMICS JAM sheet if you want to try it with your family, class, library group, etc. You don't need the sheet to do it, but it might give you a little help if you don't know what to do. You can set the time limit for each panel for anything from 5 minutes to an hour, or no time limit, as long as it's agreed in advance. Here's a Comics Jam called Airship that I did with my friend David O'Connell; we set a one-hour time limit for each page and the two of us went back and forth for 24 pages. (Read it here.)


Click on the image or here to go to the page where you can download the activity sheet as a PDF file.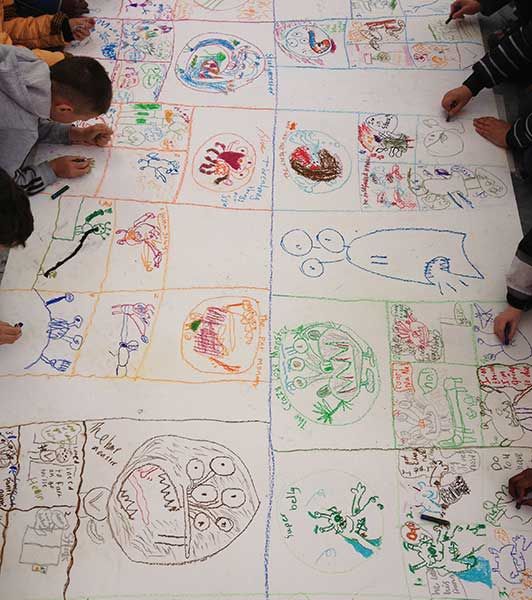 Lots of these comics were almost abstract, but the monsters were awesome, and the kids got a sense of how a comic strip could work. I hope they go away and make lots more! And I'm rather tempted to try making an abstract comic strip in oil pastels; it could look very Paul Klee.




A few more close-ups from the giant Fabriano paper rolls: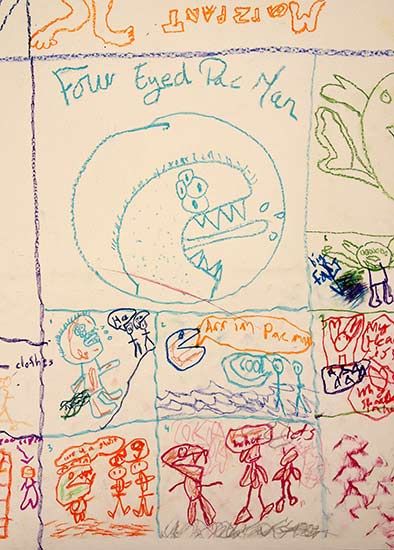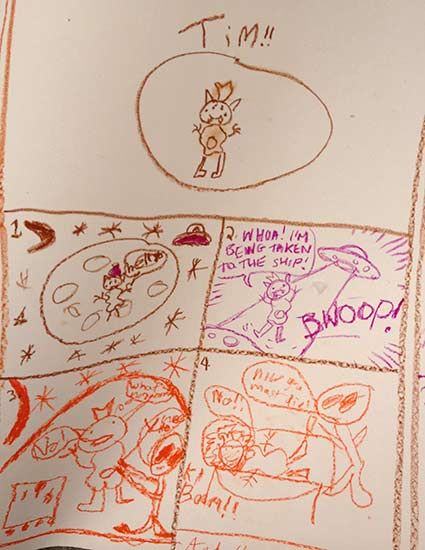 A huge thanks to Dublin Writers Festival and the fabulous team at Children's Books Ireland. Here are Steve and Mary Louise with CBI's Jenny Murray and Aoife Murray.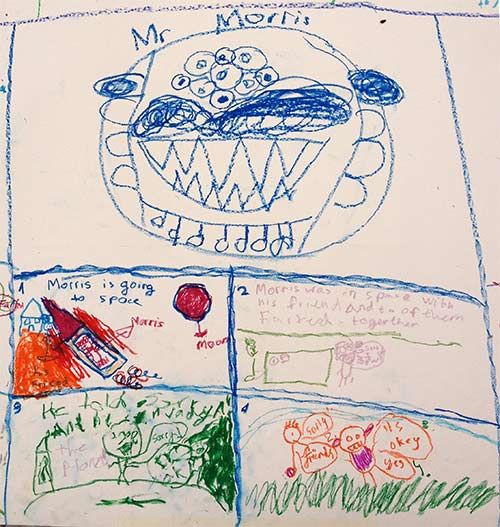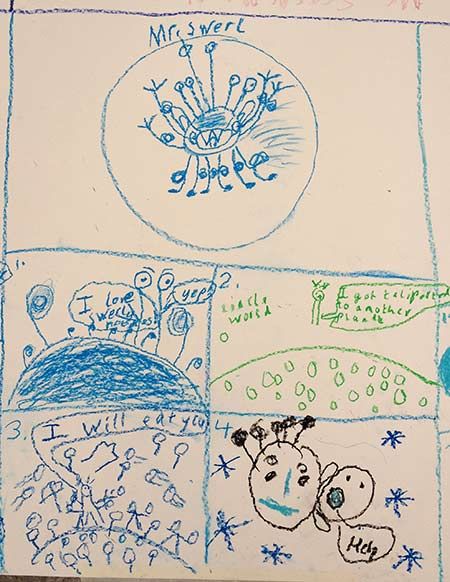 And another big thanks to Sinead Connolly, who's been my main contact person for Dublin Writers Festival. It's an amazing festival, and you can go see lots more photos over on their website galleries!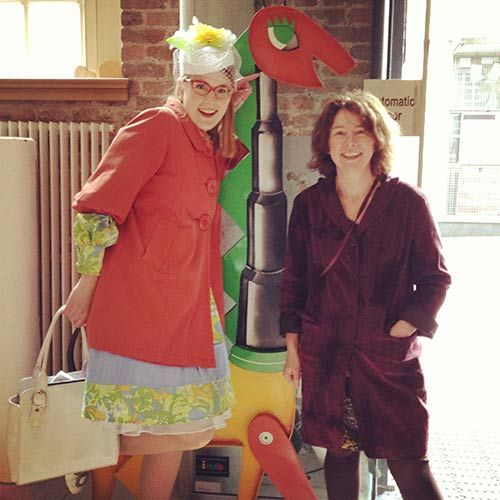 Speaking of comics, one more thing: When I arrived home from Dublin last night, I found new paperback copies of Vern and Lettuce waiting for me! I've designed new covers for the paperback edition and I'm really pleased with them. You can buy the book in hardback now, but the paperback will come out this autumn (a little early for the Edinburgh Book Festival). You can read their magazine, The Pickle over on my website.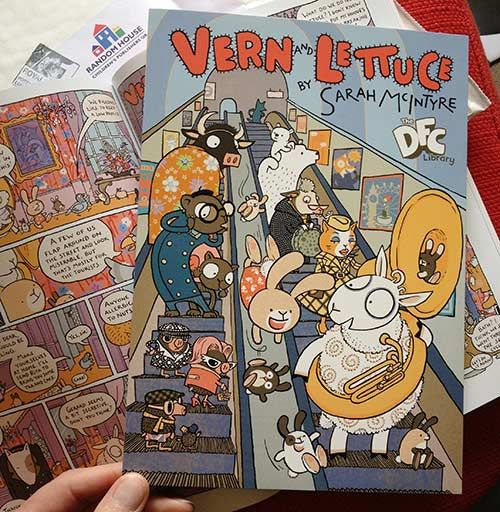 And Dublin! Keep an eye out for my fabulous studio mate, Gary Northfield, who will be arriving in September to take part in Dún Laoghaire's Mountains to Sea festival. Before he arrives, get a copy of his new book, The Terrible Tales of the TEENYTINYSAURS, and see what awesome comics he makes!




And you can see us talking on RTE2's Elev8 show here.