Spending almost a whole week with Frenchman Hervé Tullet for Dublin Writers Festival got me thinking lots of new things. Such as... how I'd look in thick, round specs. But also it made me want to push myself in a few different ways, like focusing on the conceptual side of my book as much making nice pictures. Hervé and I have a very different attitude to painting; I love making pictures, whereas he loves coming up with ideas and then quickly filling in the necessary images to make the ideas happen. His artwork can look a lot messier than mine, but his mental process is much cleaner.





Hervé said he started out in advertising, which made me think of all those people in the TV series Mad Men, slaving away on concepts. That makes sense, when you see his books. When he does workshops with kids, their big, bold paintings looks quite messy and naive, but his process is almost militaristic; he gives strict instructions through a megaphone: MAKE A DOT! MAKE A SECOND DOT! MAKE A CIRCLE! MAKE DOTS ON THIS CIRCLE!




I was fascinated seeing how he worked. The other cool thing was asking him about his early years hanging out with some of France's top comics artists; he used to spend a lot of time with Blutch, and rented a studio next to Dupuy and Berberian, and would often pop over to get their advice on things. They listened to lots of Miles Davis and Leo Ferré music, and he's still a big fan of both. Here's a look at some of his books with Phaidon, and he has a new one coming out soon with Walker Books, Help! We Need a Title!.




I showed some of my books to Hervé, and I could tell he didn't like my artwork all that much, with a couple exceptions (the broccoli monster picture in Superkid and a sketch I did in the conference). He was nice and it wasn't massively obvious, but I could just tell. And it was rather good for me, because it made me try to look at my books through Hervé's eyes and see rather clearly why they wouldn't interest him. I mean, I'm proud of my work, and there are lots of things I like about my books, but I also want to keep pushing myself, and I hope my books in twenty years are very different and far better than the ones I'm making now. It helps to see them through different perspectives.



Our Monster Doodle event on Dublin's Meetinghouse Square was funny; it was supposed to be a collaborative event with Children's Laureate na nÓg Niamh Sharkey and me, but it turned very much into the Hervé Tullet show. Niamh and I didn't mind, it was fun watching how Hervé worked, and we both had other events later on the square. (My Monster Comics Jam was the next day and Niamh's is on Sunday.) So we were his silent-but-very-glamourous assistants. Here we are, getting materials ready with the Children's Books Ireland team.




And here's the square, covered in painting!



Photo taken from The Ark's Facebook page

Some of the dots and circles, with stems and leaves added at the end to turn them into flowers.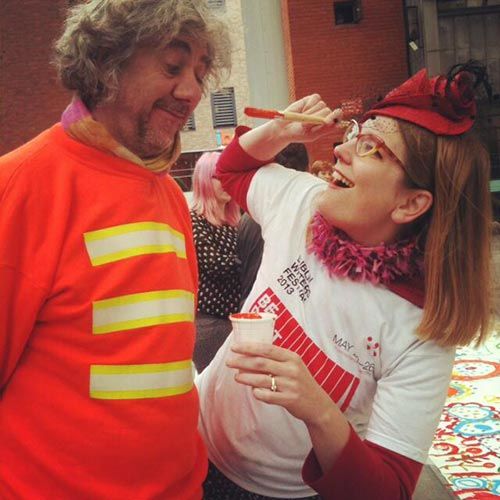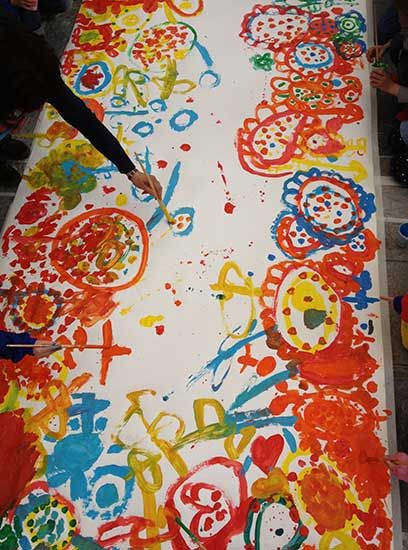 It was so fun getting to hang out with Niamh (pronounced 'Neev'). She's a great Laureate, relates so well to kids and has really gotten involved in coming up with ideas and setting up programmes for children and children's books in Ireland.





Here she is, in front of a cutout of one of the monsters she created.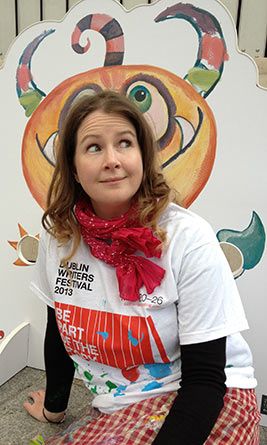 Recently Niamh's been working with Brown Bag Films</i>, a Dublin animation studio, on bringing her monsters to life in a Disney children's TV show called Henry Hugglemonster.



Oh, who's this? It's Bob Johnston from the nearby Gutter Bookshop!




After the Monster Flower Doodle, Niamh, Mags Walsh from CBI and I popped over to the bookshop to check it out and play with their monster puppets. Lovely shop! They dealt with all our book sales while I was in Dublin, good people.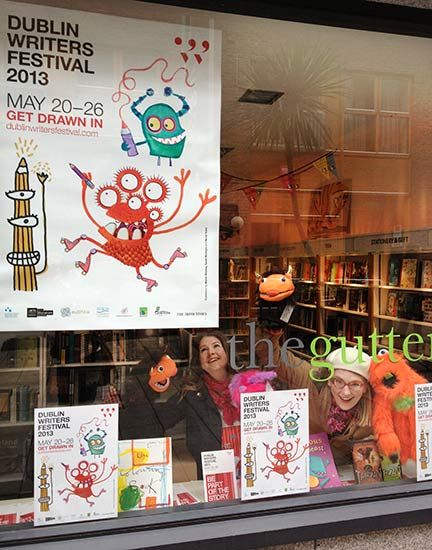 Then Niamh, Mags and I went around the corner for lunch and cake at The Queen of Tarts, which makes such awesome food that you must check it out if you're ever in Dublin.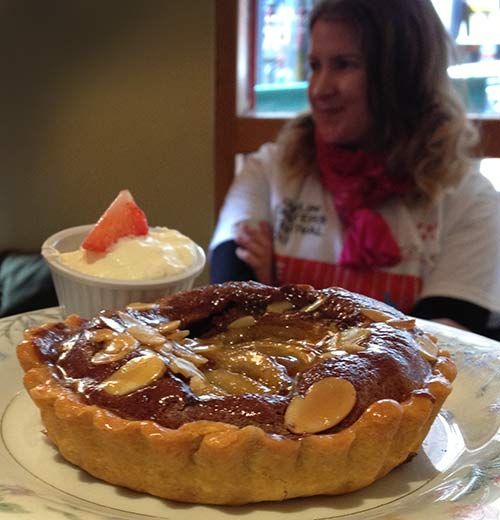 Hanging out with Hervé was good fun. The CBI Conference was still happening on Sunday, and I popped in later to hear Jon Klassen's talk, but we took some time off and strolled together over to The Hugh Lane Gallery. It's an odd sort of place, a real mish-mash of eras and styles and no obvious order to any of it. But worth a visit, all the same.




The main reason we went was to see Francis Bacon's studio, removed piece by catalogued piece from London to Dublin.




I photographed some of Bacon's quotations on the wall, not because I thought they were particularly profound, but because I would have loved to use them as a teenager as ammo when my parents complained about my messy bedroom.





My favourite part was seeing all the paint daubs on the wall, Bacon's exact colour palette, and looking not that unlike his paintings.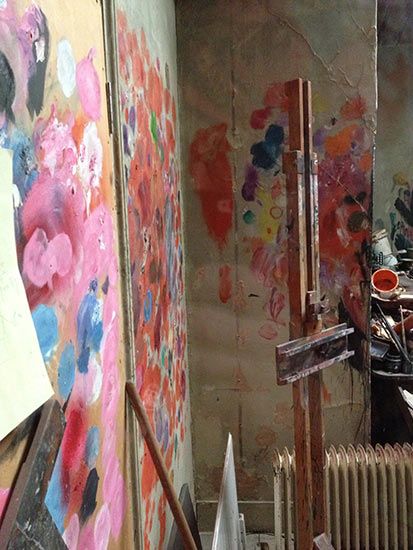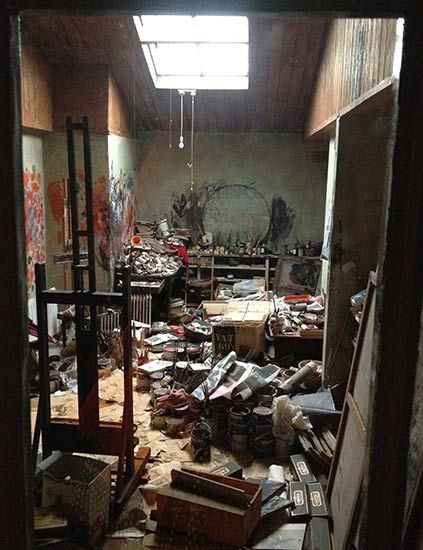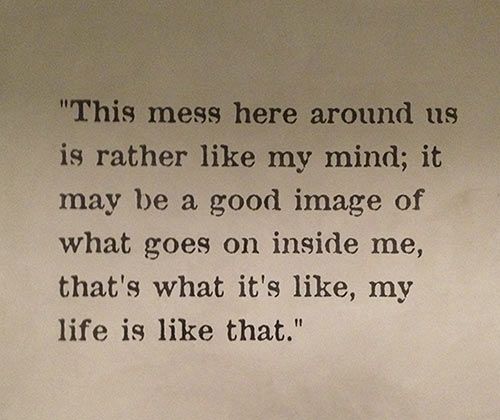 My studio is messy, too, but I don't particularly like it; I just never seem to get around to tidying it. And I always have too much stuff and not enough shelves and holes to put away everything. Way too many books. But I suspect that even if I had an enormous studio, I'd still fill it up and think it was too small.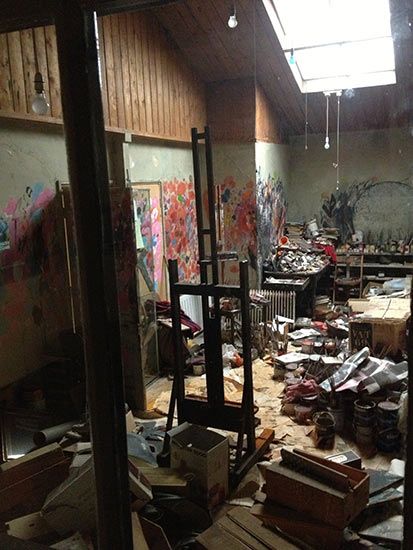 Festivals are brilliant for getting artists together and making new things happen. I never would have been working on the four books with Philip Reeve if it hadn't been for Edinburgh Book Festival, and I've learned a lot from Audrey Niffenegger, whom I met at the Cheltenham Festival of Literature. She has a new blog, by the way, and she reblogged my Raven Girl drawing here. Go have a peek!




You can see more photos on the Dublin Writers Festival website here!